Construction begins on the East Boston electrical substation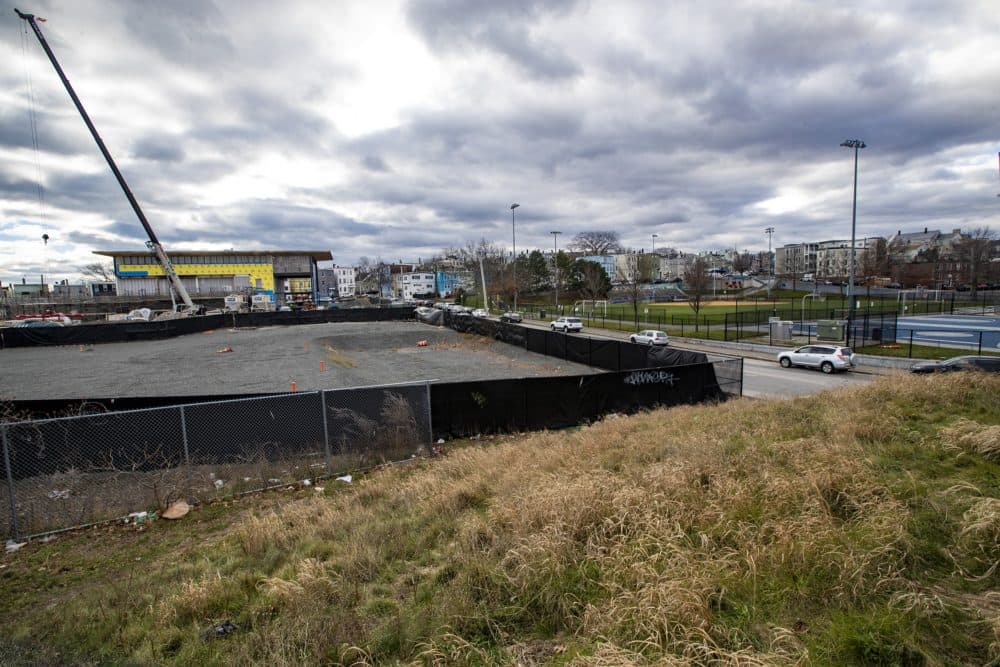 Eight years after Eversource first proposed building an electrical substation in the Eagle Hill neighborhood of East Boston, the utility is finally breaking ground on the $103 million project.
The site near Chelsea Creek, which has sat relatively idle behind a black mesh fence for several months, will soon be filled with work crews, vehicles and other machinery, Eversource spokesman Christopher McKinnon said. The construction will last about two years and is not expected to cause any electrical service disruptions for local residents.
John Walkey of GreenRoots, the environmental nonprofit that has led the fight against the substation, visited the construction site Wednesday. He said there wasn't much activity yet, but he saw a few workers and some newly posted signs saying "no trespassing" and "hard hat area."
"It's very disheartening," he said. Imagine "you've spent nine years of your life saying, 'hey, this is a bad idea, we shouldn't do this.' And you're seeing that this thing — there's a porta potty on site! — is ready to go."
Eversource received the go-ahead to begin construction in late November after the state's Energy Facilities Siting Board granted the company a special certificate that allowed it to bypass 14 state and local environmental permits it was struggling to get. GreenRoots and the Conservation Law Foundation have appealed that decision to the state's Supreme Judicial Court, but the case has not been heard yet.

Electrical substations are a critical piece of energy infrastructure; they serve to "step up" or "step down" the voltage of power as it moves through the grid. In the case of the substation in East Boston, the facility will lower the voltage of electricity from a transmission line running under Chelsea Creek so the power can be used in homes and businesses.
While substations are ubiquitous part of the American energy landscape, this one in East Boston has been particularly controversial. Throughout the eight-year state approval process, residents have repeatedly told state and company officials they're concerned about the facility's location. The substation is being built on the banks of the flood-prone Chelsea Creek, across the street from a popular playground and near huge tanks of jet fuel and a gas station for the newly built police station.
Though rare, substations can catch fire and explode — during Hurricane Sandy, a flooded electrical substation in Manhattan exploded and turned the sky a blue-green color. Earlier this summer, an Eversource substation in Newton caught fire, injuring a worker, and then a few weeks later, another Eversource substation exploded in downtown Lexington.
Safety concerns aside, residents have also said this project is an "environmental injustice." East Boston is already home to Logan Airport, much of the region's fuel oil reserves and several big highways. It has some of the lowest tree canopy coverage in the city and very little public access to the Chelsea Creek waterfront. Adding another piece of infrastructure to an already overburdened neighborhood is unfair, residents have argued — especially in a lower income area where many residents are immigrants and don't speak English as a first language.

Even with construction beginning, some residents say the fight continues. Between the appeal of the special environmental certificate and residents' hope that a newly sworn-in Gov. Maura Healey will find a way to step in and stop the work, they say they're not giving up.
"I think there's still time to make decisions that could ameliorate the situation or improve it," said East Boston resident and Salem State professor Marcos Luna. He notes that the state rescinded an air quality permit for a controversial biomass facility in Springfield years after it was issued largely because it recognized the disproportionate burdens it would create for local residents.
"There's definitely this feeling that we can't pack it in. We still have to fight it right to the very end," Walkey from GreenRoots said.
"This may be a done deal" from the siting board and Eversource's perspectives, "but deals can be undone."