Bay State College loses accreditation, plans to appeal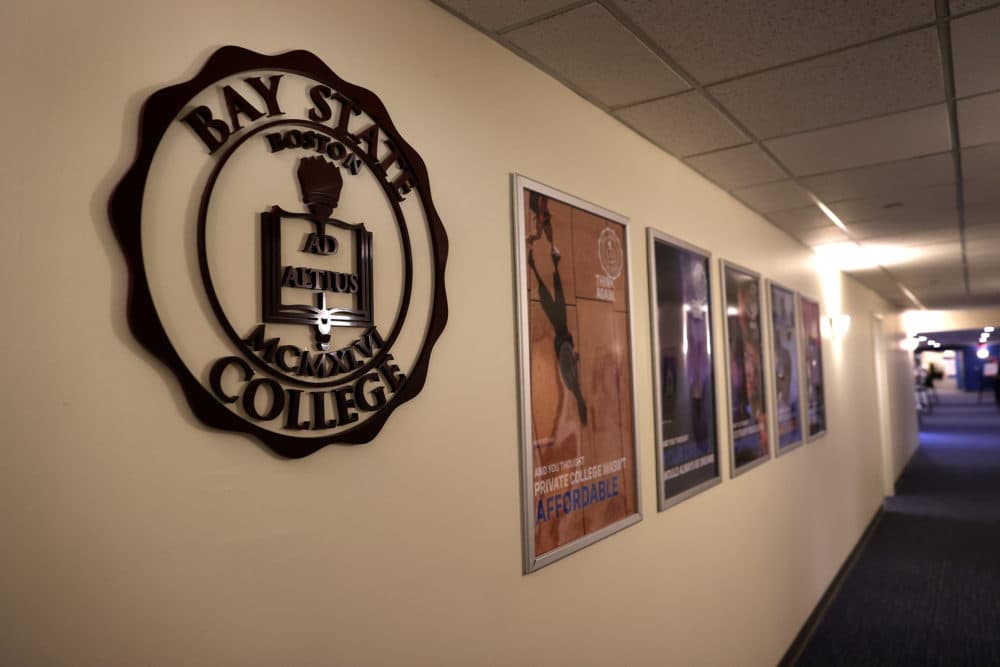 Last week, higher education accreditors called a special meeting to deal with the troubled case of Bay State College, a small for-profit institution based in Boston's Back Bay.
On Monday, the New England Commission of Higher Education, or NECHE, announced its decision to withdraw accreditation from the college starting in August, due to financial and organizational shortcomings.
Staff at the small, for-profit college say even the agency's accelerated actions may have come too late.
They say upper administrators downplayed the college's obvious financial woes, resulting in an unnecessary shock to Bay State's roughly 300 students.
As a veteran administrator at local institutions like Brandeis and Bridgewater State University, Raymond Guillette said he hadn't been at Bay State too long before he knew that "something was up."
Guillette joined the staff in October 2021 and worked there until May of last year.
"You had students complaining: not getting [staff] to answer phones, not returning emails," Guillette said. "I had one student tell me he called 12 offices and never got an answer back."
Amid canceled classes, enrollment declines and high staff turnover, Guillette said most on campus knew that Bay State was facing financial woes but that school leaders downplayed them.
"They had a meeting when a couple of people [asked if] we've got two to three years to work through this. The indication was, 'yeah, yeah — we're gonna be OK,' " Guillette recalled.
Since 2016, Bay State has faced stark declines in enrollment and tuition revenue. NECHE highlighted the school's recent withholding of benefits for its veteran students as one reason its accreditation is set to be revoked.
In a message sent Monday to the campus community, Bay State interim President Jeff Mason said his team is "heartbroken" over the accreditation decision, and plans to appeal.
The grounds for an appeal of an accrediting decision are strict. College leaders would have to show, for example, that NECHE showed "bias" or relied on "factually incorrect information" as it made its decision this week.
Mason also wrote that senior leadership "still believe that the College was turning a corner financially," citing a $10 million investment in the last six years, made under Ambow Education, the Chinese holding company that owns Bay State.
It wasn't enough for accreditors. But that doesn't mean the state should expect more closures like this one, said Lawrence Schall, NECHE's president.
"It's my view that our institutions in New England are of high quality, have good leadership [and] are quite entrepreneurial," Schall said. "You'll continue to see more merger activity than you'll see closures."
As to whether NECHE could have acted faster, Schall said that Bay State wasn't placed on probation until last spring, and that "the Commission acted as expeditiously as it could" in making its decision this week.
Schall said they delayed the formal withdrawal of accreditation until August so that "students will not end up having their education disrupted," beyond the need to change schools.
Meanwhile, Guillette said that Bay State failed fundamentally to adapt to a changing higher-education marketplace, saying they didn't set up certificate programs, embrace online learning or develop a "strategic admissions plan."
As a result, he said, they let down hundreds of students they served, whom Guillette said tended to be "the people who couldn't go to college as a young person."
"I've heard that 50% of those students, at a college that closes abruptly, never finish school," he said. In this case, he added, "I hope they transfer to the place where they really need to be."