New Bedford houses one of the oldest jails in the country. A new sheriff wants to close it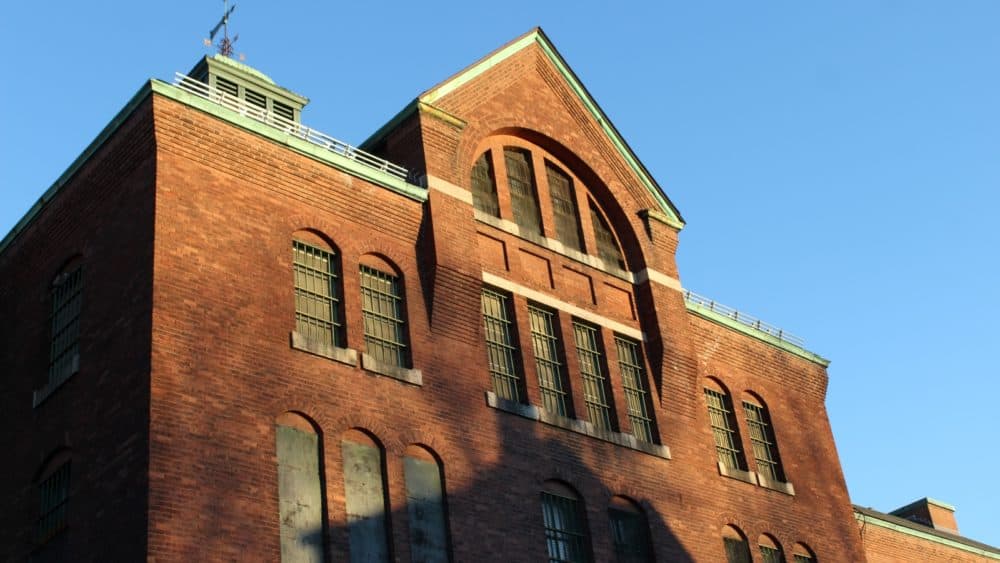 As far back as the 1980s, Sheriff David Nelson said he hoped to close the Ash Street Jail. Working with state officials, Nelson constructed a new house of correction for Bristol County in the nearby suburb of Dartmouth.
But by the time it opened in 1990, Nelson said the era's tough-on-crime policies had created a surge in the number of people incarcerated.
"Once the new jail opened, we had a severe overcrowding situation," Nelson recalled. "Not only in Bristol County, but throughout Massachusetts."
And so Nelson kept the Ash Street Jail open, even though today he calls the living conditions inside "Dickensian."
The jail first opened in 1888 and briefly housed Lizzie Borden before she was acquitted at trial for the murder of her parents. Executions have taken place inside the jail's storied walls, including what a spokesman for the sheriff's office called "the last public hanging in Massachusetts."
Today, much of the jail's original infrastructure remains in use.
Nelson, who still lives a few blocks from the jail he once hoped to close, retired as sheriff in 1997. He handed the keys to Ash Street to a new sheriff named Tom Hodgson, who earned himself a national reputation for giving the inmates in Bristol County a tough ride.
Protesters fought for Ash Street's closure
Under Sheriff Hodgson's watch, the Ash Street Jail took on an almost mythic status locally. Protesters would picket outside the jail to share horror stories about the alleged conditions inside: stifling heat waves that reached over 100 degrees, creeping black mold, and raw sewage dripping out of rusted pipes.
Throughout his 25-year term as sheriff, which ended last month following a close election, Hodgson defended the conditions inside Ash Street with characteristic confidence.
"It is the oldest operating jail in the country," Hodgson said after a protest outside the jail in 2021. "It's also one of the cleanest, quietest, safest jails in the United States. And it wasn't always that way when I took over, but it is today."

The group that organized that protest, Bristol County for Correctional Justice, lent key support to a Democratic candidate that defeated Hodgson, a Republican, in last fall's election. The group's volunteers encouraged then-Attleboro Mayor Paul Heroux to enter the race, and later staffed his campaign pro bono.
Last week — just 15 days into his new role as sheriff — Heroux announced to reporters that he intends to close the Ash Street Jail. His message, however, came with a serious caveat.
"It's an idea," Heroux cautioned. "It doesn't mean it's going to happen. Certainly, if we can do it, it's not going to happen anytime soon."
To actually close the jail, Heroux said he needs to find new cells for about 100 prisoners still living at Ash Street. Most of them are pre-trial detainees unable to post bail, though others are criminally sentenced inmates who, for various reasons, are kept in isolation from the roughly 600 sentenced inmates at the Dartmouth House of Correction.

Heroux already has an empty building on the Dartmouth campus picked out for the inmates from Ash Street: a former ICE detention center. The facility was shut down by the Biden administration in 2021 amidst allegations that Hodgson and his staff used excessive force to subdue a riot there.
Heroux, who said he is working with back-of-the-envelope calculations before commissioning an official study, estimates that renovating the former detention center would cost about $10 million. Most of that money, Heroux said, would pay for subdividing the building's group dormitories into individual cells.
New sheriff seeks support for jail's closure
As Heroux tries to muster political will to greenlight the renovation, he is inviting politicians to see the inside of the Ash Street jail for themselves.
The jail is dark and damp inside. Sound travels from open-air cells through hallways stacked four stories high. Most surfaces — from floors and walls to railings and cell doors — have a bumpy patina from the countless coats of paint they have received since the jail's completion in 1888.
Cells are just large enough to fit a small bed and a toilet side by side. Many of them are now empty, as the county's jail population continues to decline relative to the peaks experienced during the 1990s and 2000s.

Heroux said the savings from closing Ash Street would eventually cover the cost of renovating the former ICE detention center in Dartmouth. The Ash Street Jail's monthly utility bill can reach up to $10,000, Heroux said, and additional costs are incurred transporting food and staff from Dartmouth to New Bedford each day.
It's these cost savings, rather than the conditions inside Ash Street, that Sheriff Heroux emphasized when he announced his proposal to close the jail.
Some state legislators have already expressed support for the plan. So have several New Bedford city councilors, including Scott Lima, who represents the residential neighborhood surrounding the Ash Street Jail.
"If you asked me, would I rather have the oldest jail in the country in my ward, or housing in my ward, I'd rather have it as housing," Lima said.

But Heroux has a long list of other stakeholders to convince. In addition to the legislature and city council, he'll need buy-in from the governor, Bristol County's commissioners, Dartmouth's town government and New Bedford's mayor, Jon Mitchell.
Mitchell has already expressed skepticism about whether the project makes sense. In an emailed statement, he said the "hefty price tag" could have a "negative impact on other pending requests for state capital funding in Greater New Bedford."
The mayor said his support for the project also depends on what the redevelopment plans look like for the actual jail building on Ash Street. So far, Heroux has said only that he is leaving that decision to the state government, which owns the deed to the property.
The work of getting his critics on board with closing the Ash Street Jail will ramp up later this week. Sheriff Heroux is scheduled to lead politicians on a tour of his jails prior to a press conference about the proposal on Friday.
This story was originally published by The Public's Radio. The Public's Radio in Rhode Island and WBUR have a partnership in which the news organizations collaborate and share stories.