Mayor touts Boston's electric school bus pilot program as 'largest of its kind' in the Northeast
Boston's new electric school buses are quiet  — so quiet they emit only a soft buzzing noise when in motion.
And for passengers, the ride might not smell like a regular diesel bus: no fumes from a tailpipe, and therefore, less pollution.
Those were just a few features Boston Mayor Michelle Wu touted Monday morning as she welcomed the arrival of the first couple of electric school buses to service Boston's schools. Later this month, BPS will phase in a total 20 electric school buses in a pilot program Wu called "the largest of its kind in the Northeast."
The buy is part of Wu's Green New Deal plan to make the city more environmentally friendly.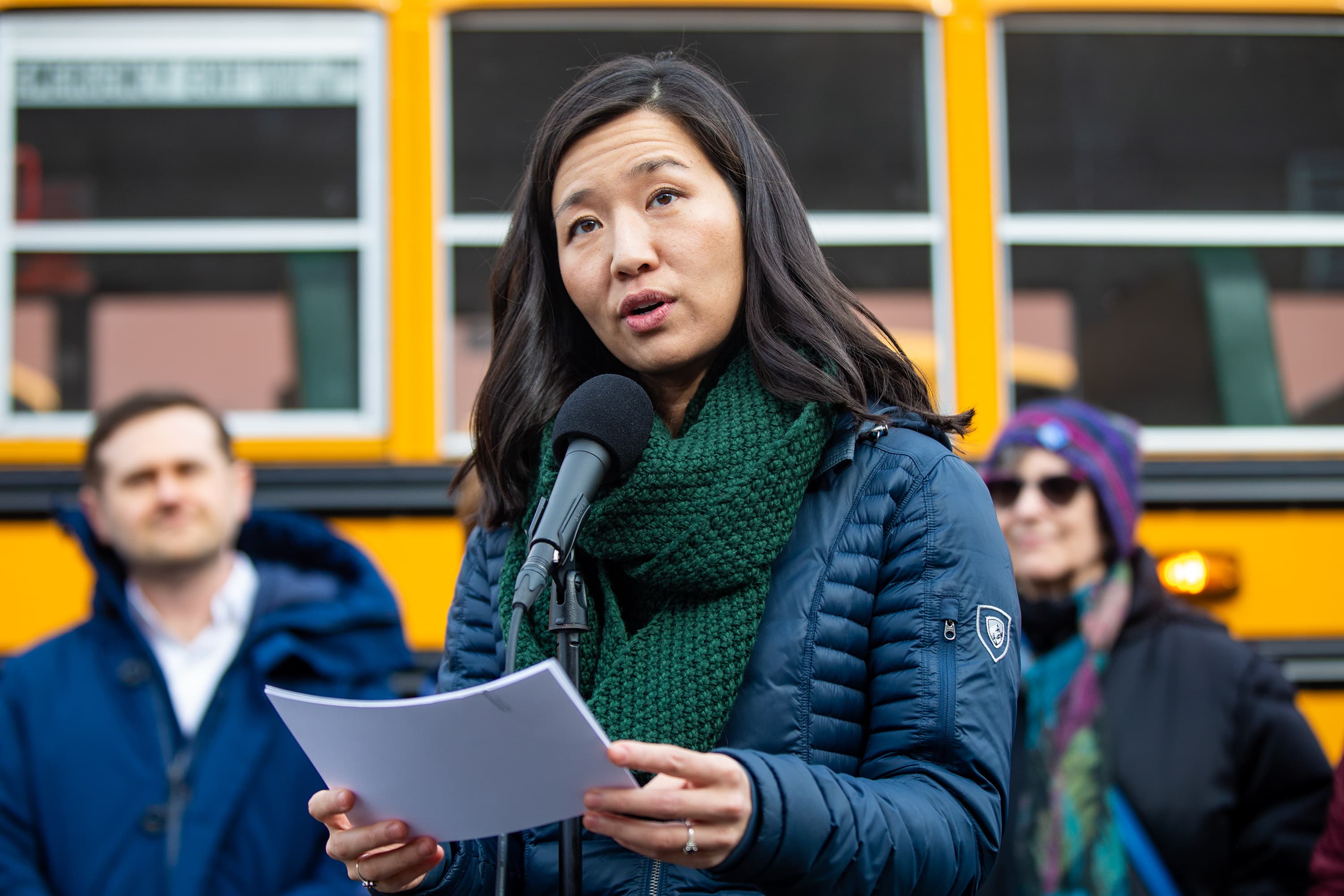 "We want to set up a city where health is a given, and the jobs that come with this green economy are also a given," Wu said at the Readville bus facility in Hyde Park. The school district is in the process of installing charging stations at the bus yard.
Boston schools plan to keep adding electric school buses until its entire fleet is fully electric by a target date of 2030. For now, the pilot program will serve around 2,500 children across 42 schools, including the Rafael Hernández Dual Language K-8 School in Roxbury and Mary E Curley School in Jamaica Plain.
Boston currently has a fleet of 620 traditional buses that transport around 21,000 students on a daily basis.
"The routes are set. They're actually going to be traveling through basically every neighborhood of Boston," BPS Director of Transportation Dan Rosengard said of the electric buses. He added that routes were selected based on "servicing the economic justice neighborhoods within Boston" and finding routes that "make the most sense, given traffic conditions."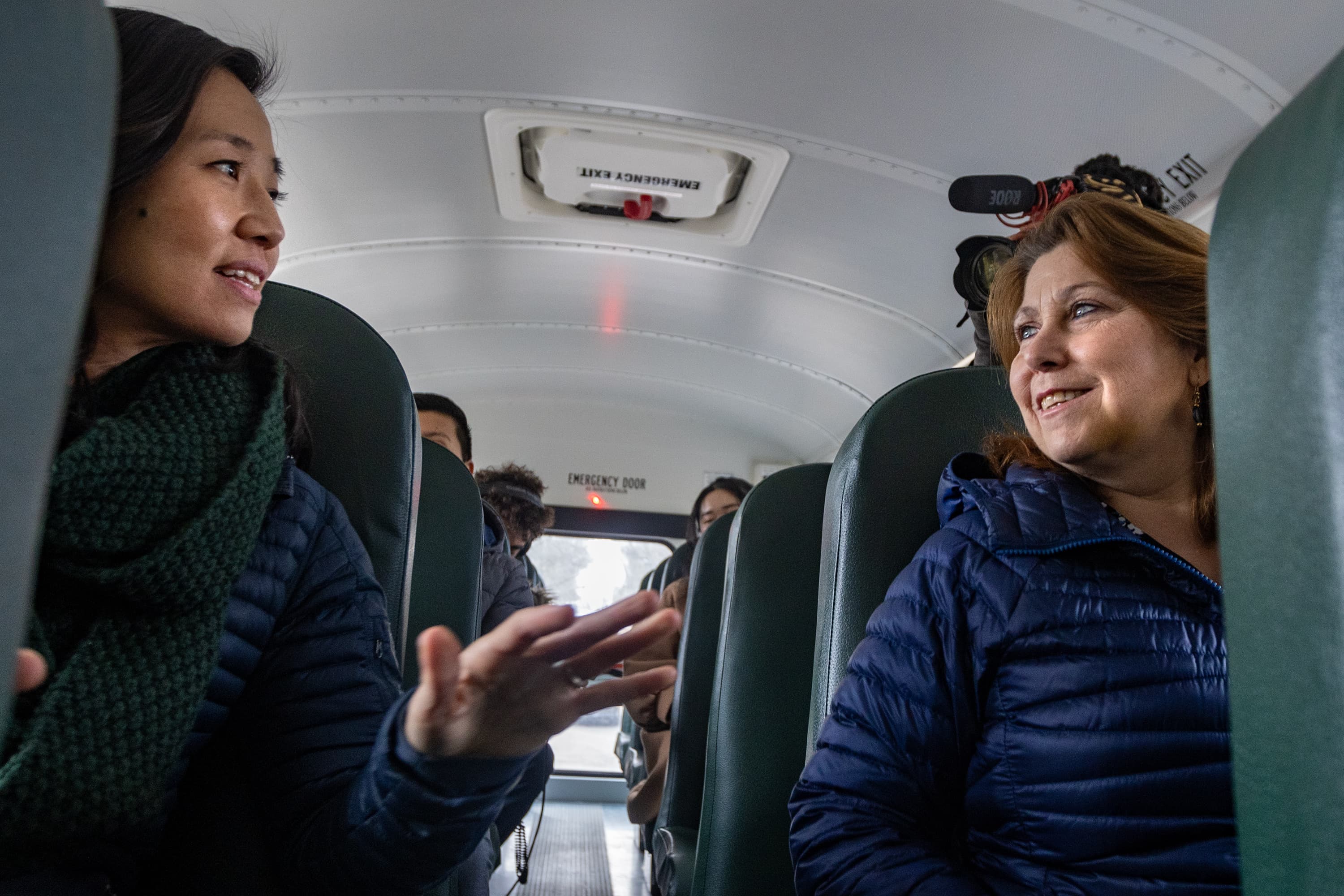 The first 20 buses were purchased with $7 million in COVID relief funds. City officials said the cost per vehicle is around $350,000, or three-times the price of a diesel bus. But they expect cost savings over the long run due to less maintenance.
The initiative comes in tandem with a new curriculum at Madison Park Technical Vocational High School that trains students on how to service electric vehicles.
"This will give our young people a head start on the skills necessary to secure solid, well-paying jobs in a green economy," she said.
Improving ride reliability
The new buses are equipped with something called "regenerative braking," a technology that increases battery capacity. Rosengard, BPS' director of transportation, said it will take roughly three to four hours to fully charge the buses.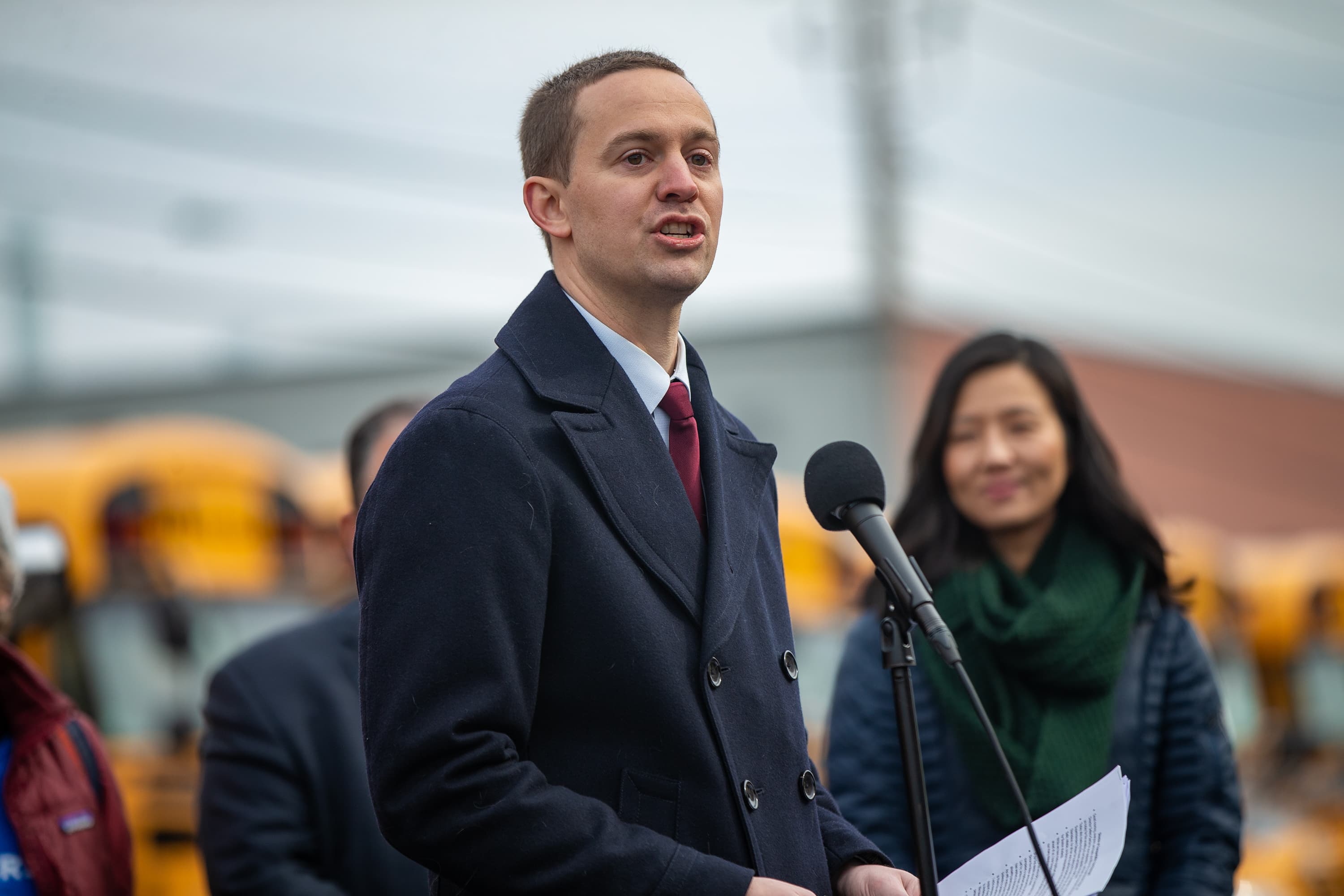 "One charge should be able to do a full day of routes," he said, "but we'll also be bringing them back to the yard in the middle of the day to do a top-off charge."
Boston is not the first district in Massachusetts to power students' commutes with electric buses. Beverly Public Schools was among the first districts in Massachusetts to introduce the greener technology. Still, fewer than 1% of the nation's school buses are electric, a 2022 report found.
The electric bus pilot comes amid heavy scrutiny of Boston's existing school bus transportation infrastructure. Buses are frequently delayed, causing tardy arrivals to school. A recent audit of BPS transportation by an outside firm concluded that various school start times – and need to transport private and charter school students – contributes to the frustrating delays.
School officials said the new electric buses are "one piece of the puzzle" for improving on-time performance of BPS buses. New buses can feature technology upgrades that better capture bus ridership, they said.
BPS Superintendent Mary Skipper said the electric buses represent a new chapter for Boston students.
"This is truly exciting on so many levels," she said, calling the buses "a wonderful model, an example of what's to come in the future."