Boston unveils new rules for outdoor dining — with restrictions in the North End
Editor's Note: This is an excerpt from WBUR's daily morning newsletter, WBUR Today. If you like what you read and want it in your inbox, sign up here. 
---
It's nearly the weekend — and maybe a long weekend or week-long school vacation for some of you. So, let's get straight to the news:
There's going to be a lot less outdoor dining in Boston's North End this year. Mayor Michelle Wu's office announced a new permanent outdoor dining program last night allowing restaurants across the city to set up patios on sidewalks or in parking spots if they pay a fee beginning May 1. But in the North End, the al fresco dining will be limited to only sidewalks (if they're wide enough). That means patios will not be allowed in public on-street parking spaces in the North End like the last few years.
Why? Wu's office cited "unique challenges" and concerns voiced by residents in the dense neighborhood about traffic, sanitation and accessibility during the previous outdoor dining pilots. Officials also said they expect the months-long Sumner Tunnel closure to increase traffic in the North End this summer.
The new rules come after North End restaurants fiercely clashed with Wu's office last year over a $7,500 fee to help mitigate the impacts of outdoor dining in the neighborhood. This year, all restaurants in Boston will instead pay a monthly fee for outdoor dining ($399 if they have a liquor license; $199 if they don't).
Some North End restaurateurs are again unhappy with the city's policy. "It's not just us. It's our employees, it's the waitstaff, it's the kitchen staff that is really going to be hurt by this," Karen Pellino, the co-owner of Casarecce Ristorante, told WBUR's Dave Faneuf. "So, we're fighting for them, too."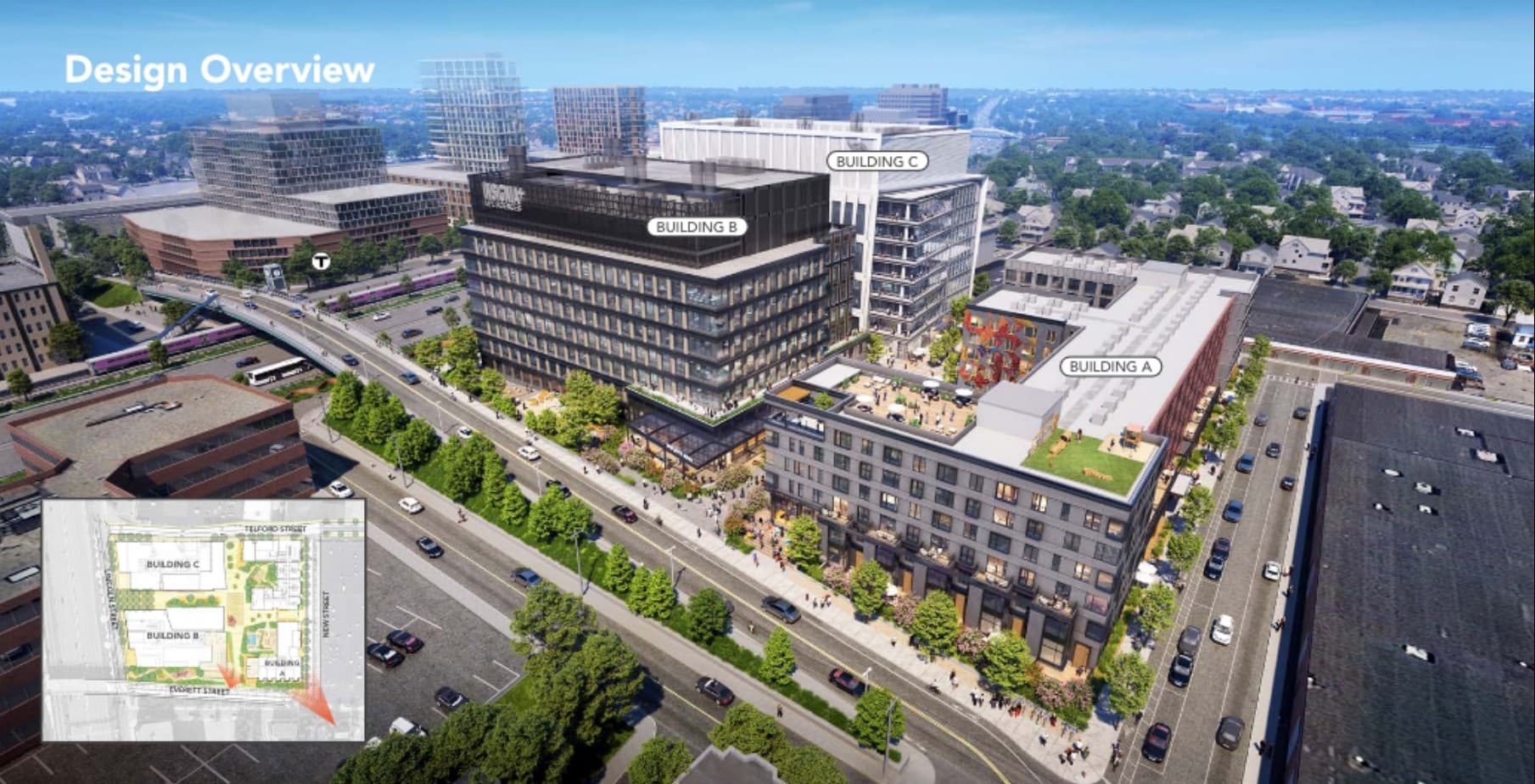 You know that mammoth warehouse by the Mass. Pike in Allston? (You've definitely seen the eyesore if you've ever crossed the highway using the Everett Street bridge.) It's been vacant for over 35 years. But that is poised to finally change. The Boston Planning and Development Agency voted last night to approve a plan to redevelop the five-acre site into offices, lab space and over 250 apartments (plus shops and restaurants).
Other features: The makeover also includes two acres of open space, fully underground parking and a new, expanded home for the nonprofit Artisan's Asylum — with "makers markets" and other public arts programming — according to Berkeley Investments, the local real estate firm behind the project.
Why has it been vacant so long? The site has a long history — first home to Carnegie Steel and then a moving company, before the internet company Globix signed up in 2000 to turn the giant warehouse into something called "Boston Internet City." But then the dot-com bubble burst, Globix went bankrupt and no one has been interested in filling the space since.
What's next: Berkeley still needs approval from Boston's Zoning Commission next month. If that happens, they intend to start construction in 2024, with the hope of opening in 2027, says Morgan Pierson, the firm's senior VP for development.
Boston Public Schools is working on a new agreement with the city's police department that will not involve stationing cops in schools. The Boston Globe reports it will formalize a relationship between the two entities and better clarify when teachers should call the police.
Police haven't been stationed in BPS schools since the summer of 2021, but a series of recent violent incidents led several city councilors to call on the city to reconsider.
Interim no more. The Boston Celtics named 34-year-old Joe Mazzulla its full-time head coach yesterday. The move means former head coach Ime Udoka — who coached the Celtics to the NBA Finals last season — will not be returning after his yearlong suspension is up.
The team seems to be doing more than fine without Udoka — heading into the All-Star break this weekend atop the NBA's Eastern Conference with a 42-17 record. As a result, Mazzulla and his staff will get to coach in the All-Star Game on Sunday.
Mazzulla isn't the only Celtic participating in All-Star weekend. Jayson Tatum and Jaylen Brown will also play in the game Sunday — and Tatum will compete Saturday night in the 3-Point Contest.
P.S.— A top state official is retiring today. Do you know who he or she is? Then take this week's Boston News Quiz and test your knowledge of the local stories we covered.