As weekend storm brings mix of snow and rain, wind advisory is in effect for coastal areas
Here we are again! The calendar may say March now, but our active weather pattern continues. This means another round of wintry weather is on the way for New England.
This system was responsible for widespread snow and rain, damaging winds, blizzard conditions and record cold from southern California to the southwest U.S. over the last few days. The storm center is strengthening over Arkansas Friday morning and will continue to move northeastward, into Ohio by the evening.
At the same time, a secondary low will develop along the south coast of New England Friday night, at which point it will become primary storm center by Saturday. From there, the system will intensify as it passes over Cape Cod Saturday afternoon before pulling away from the region.
The trickiest part of the forecast is this: how much "warmer" air above the surface will move in?
Seems like a simple question to answer, but this layer of "warmer" air above us will determine when and where we change to sleet and rain — and for how long that occurs. It will come down to a fluctuation between a degree or two.
What is clear is that there will be a very sharp gradient in the snowfall accumulations. I expect very little snow south of where the rain/snow line and mixing will be, and a more sizeable snowfall event north of that.
Timing
Some light rain/snow showers may arrive between 7 and 9 p.m. Friday. But the leading edge of the steadier precipitation should arrive between 10 p.m. and midnight. It will snow at a steady clip for several hours, though some mixing with sleet and flip-flopping between the two is possible overnight.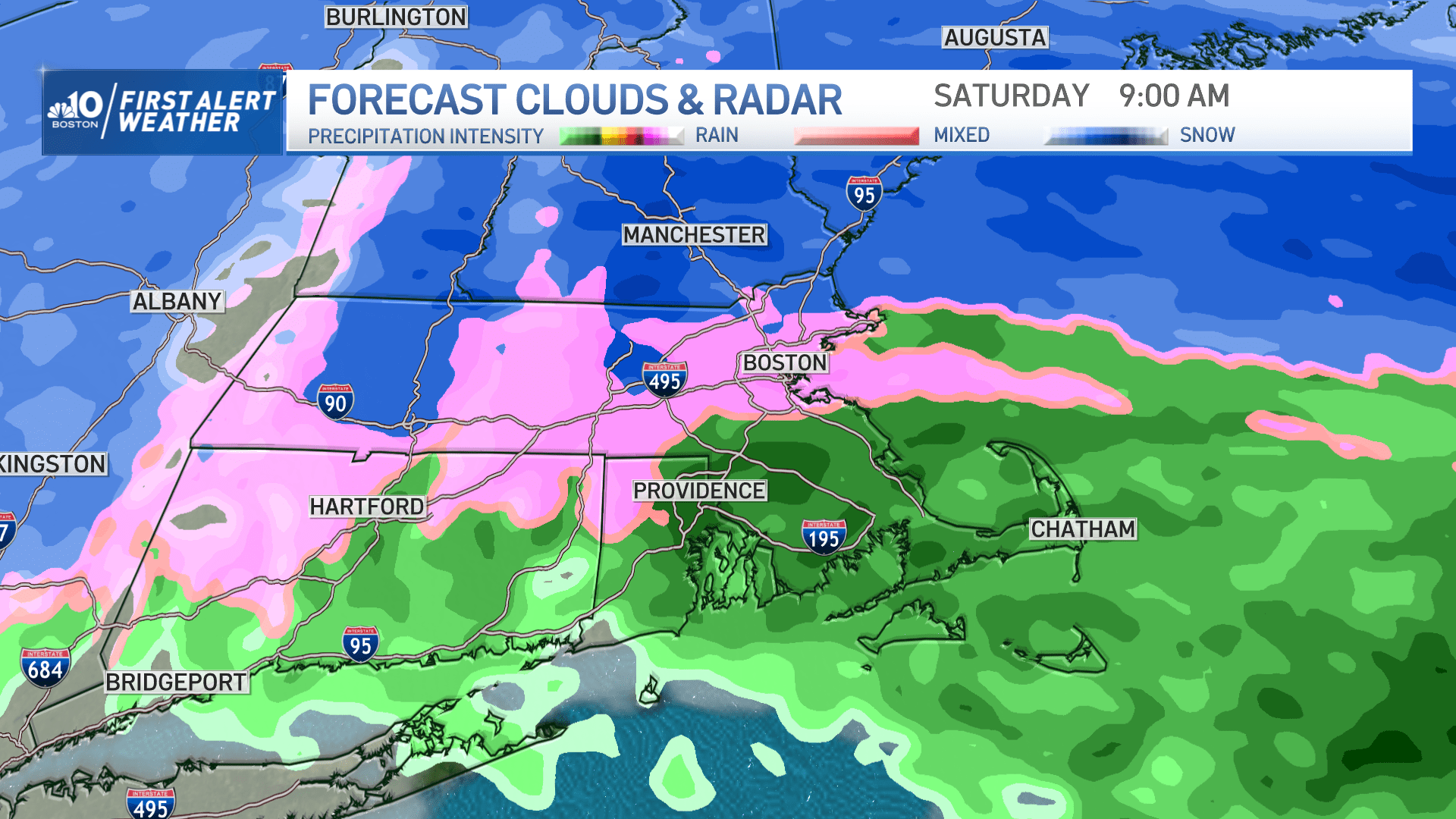 Some mixing with rain will occur along the south coast to Cape Cod, as well as much of eastern Massachusetts to about Route 128. The precipitation will come down hard enough at times that the atmosphere will essentially cool itself and a change back over to all snow is likely, particularly inland.
The temperature should hover right around — or just shy of — freezing for the duration of this event. Areas of snow are likely to continue at times through Saturday afternoon, turning lighter especially after 8 a.m. Everything tapers off during the afternoon; the back edge should arrive between 3 and 5 p.m.
With the stronger March sun angle in place now, little additional accumulation is expected after Saturday morning.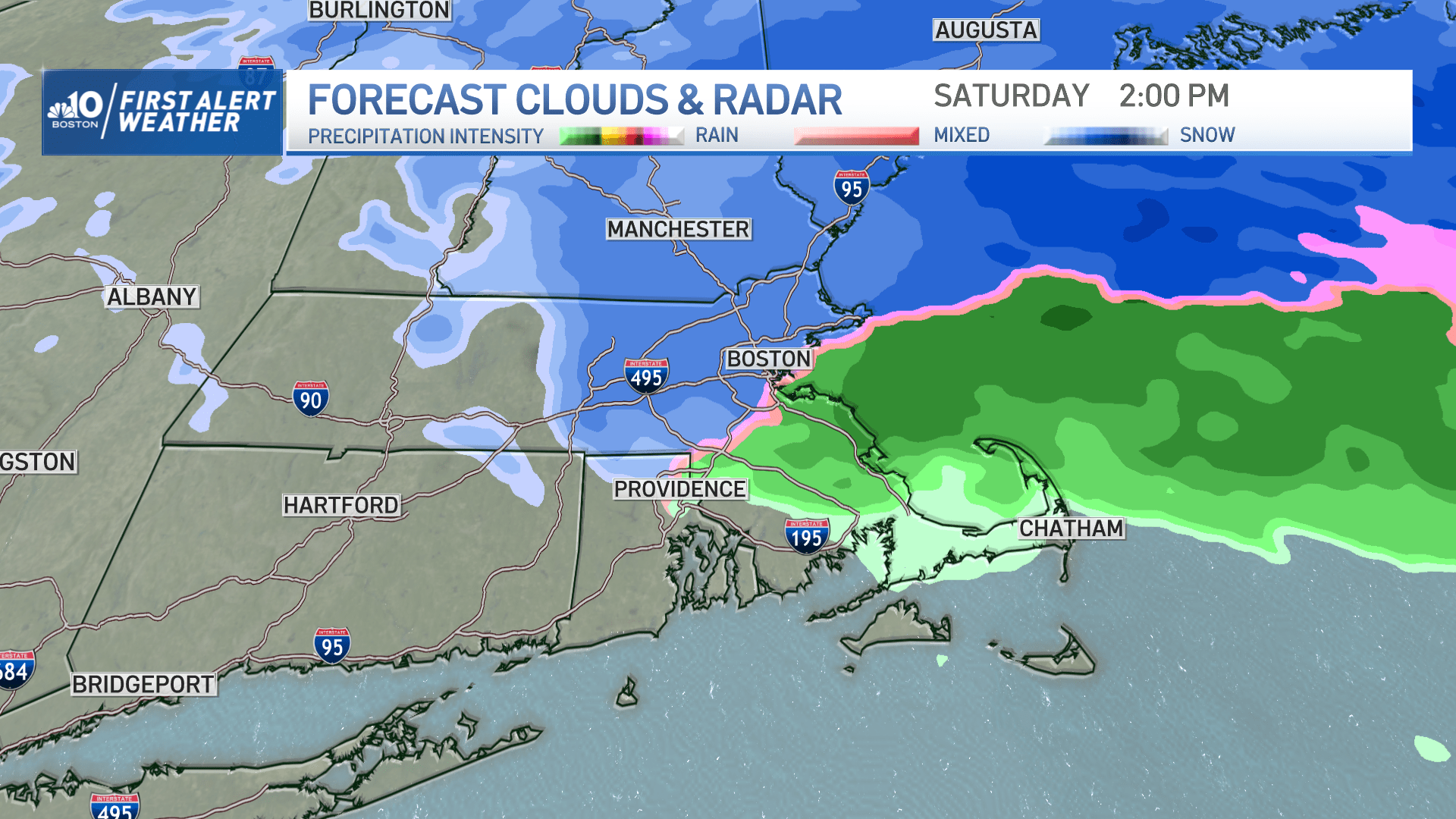 Road conditions
The primary impact will be on travel overnight Friday into early Saturday. After that, road conditions should improve dramatically given treatments and plowing.
Visibility will likely be reduced to around 0.5 mile at times overnight Friday through Saturday morning. This could drop as low as 0.25 mile briefly pre-dawn Saturday. That would coincide with snowfall rates of 1 inch per hour.
Snow accumulation
This storm will produce highly variable snow amounts: a coating to an inch along the south coast and the Cape and Islands, an inch or two along the South Shore, 2-4 inches for Boston and surrounding cities and towns, 4-6 inches north and west of the city.
Some higher totals are likely where we don't mix. That means northern Worcester County, the Berkshires and into much of southern Vermont, New Hampshire and southern Maine.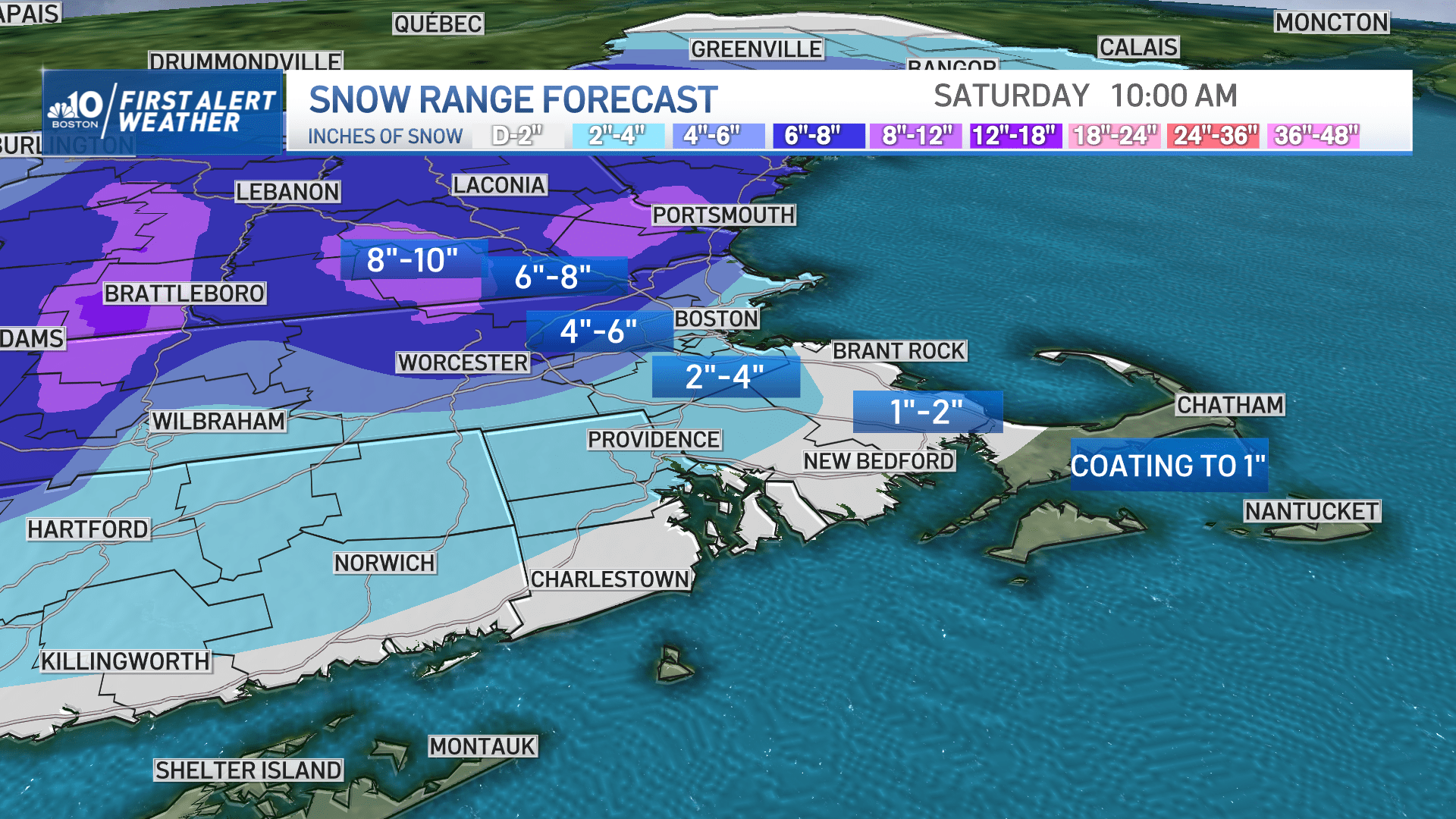 Wind concerns
The wind will ramp up at the coast and gusts 50-60 mph from Cape Ann to Cape Cod could result in some pockets of damage or outages Saturday. A high wind warning is in place for those areas. Meanwhile, a wind advisory has been issued for the remainder of eastern Massachusetts, including Boston, for gusts 40-50 mph and isolated damage. Farther inland, expect some occasional gusts 30-40 mph on Saturday afternoon.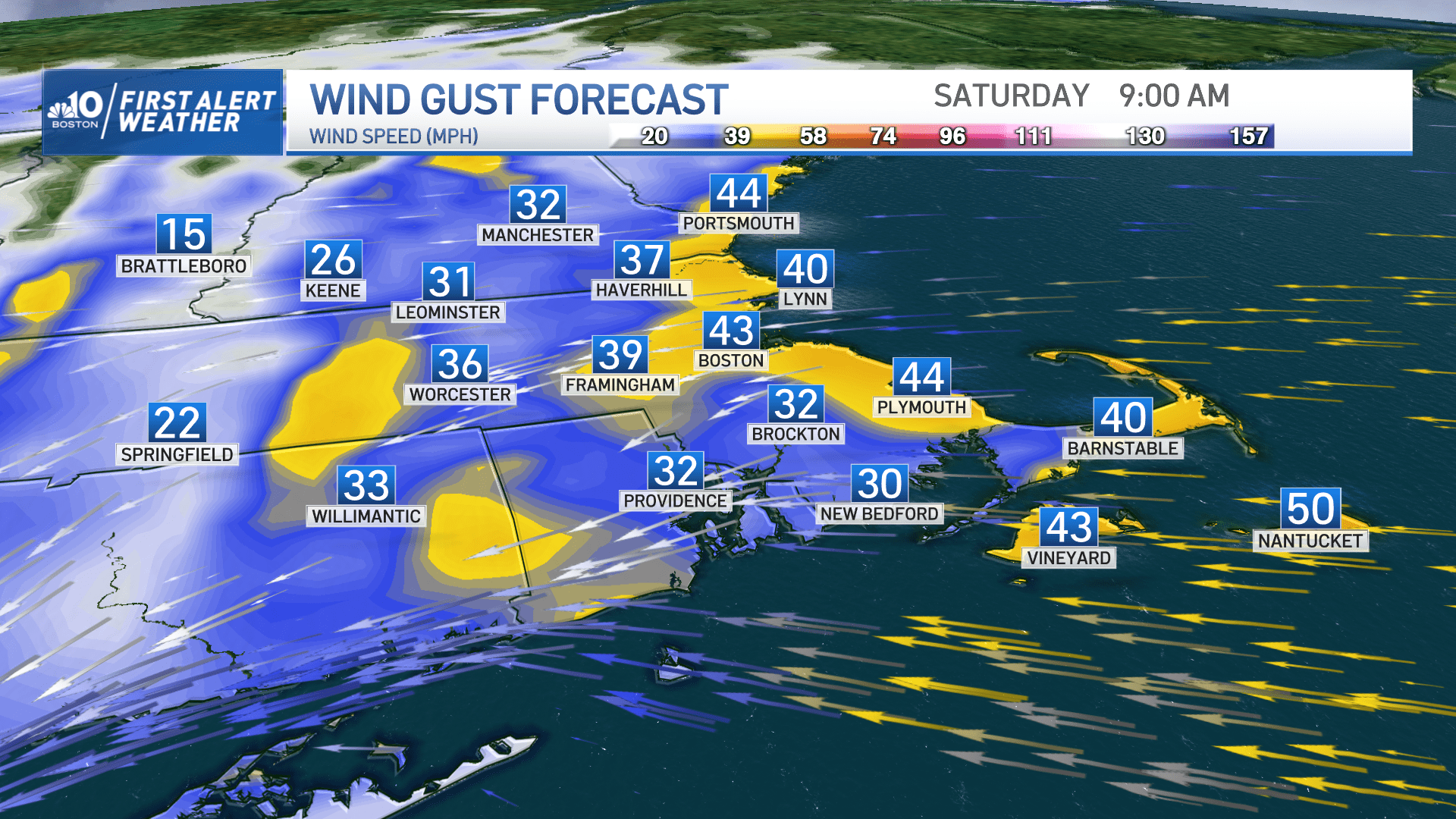 Temperatures will drop into the 20s Saturday night so there will be some icy patches and lingering slippery travel on untreated surfaces. By Sunday afternoon we'll be up around — or just over — 40 degrees Fahrenheit, with highs well into the 40s to near 50 degrees Fahrenheit on Monday.
Another round of light wintry mix is likely on Tuesday.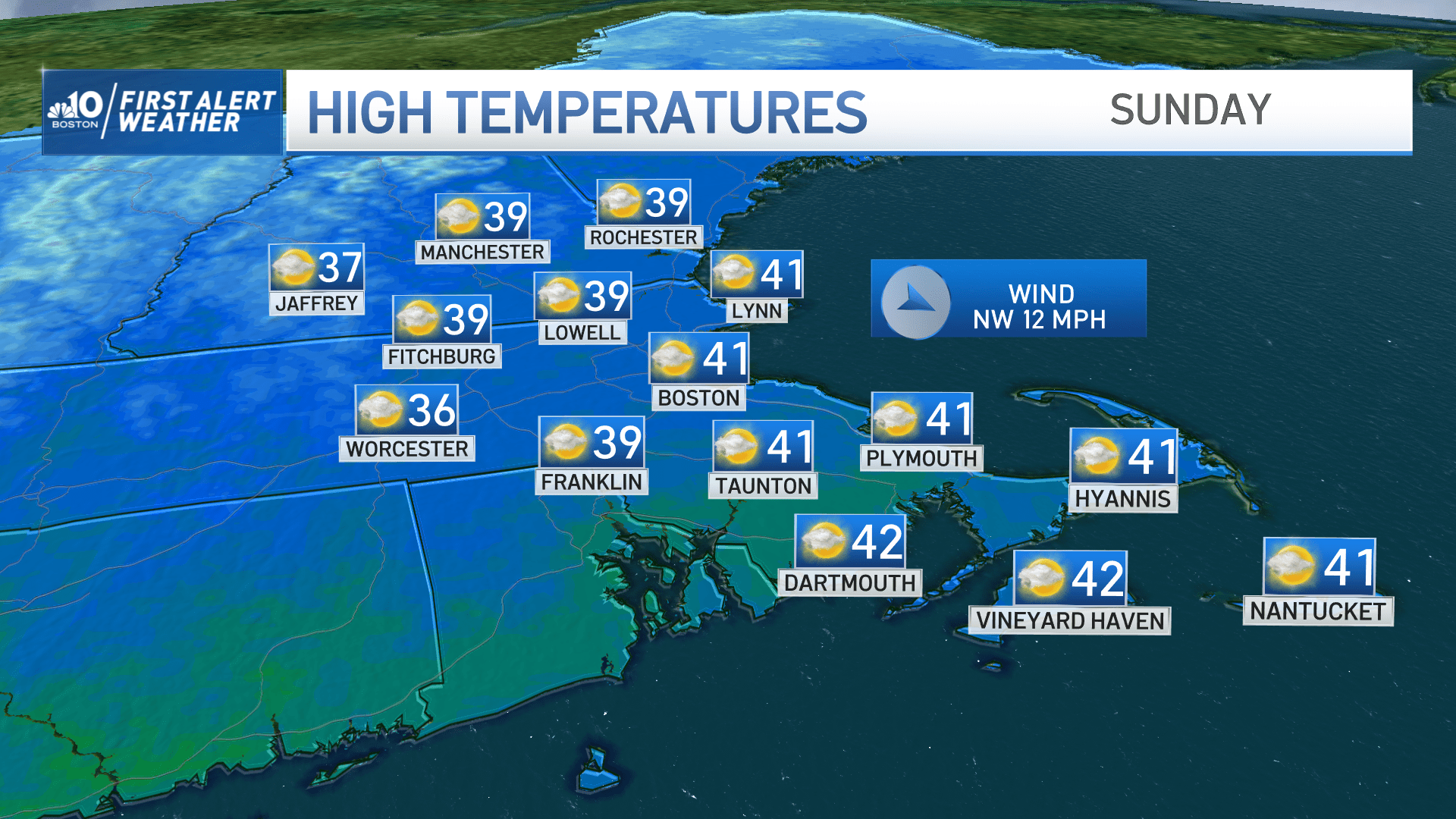 This article was originally published on March 03, 2023.