Powerhouse storm brings heavy snow and damaging gusts
Play
A powerful ocean storm that began late Monday picked up momentum through Tuesday, dumping snow and rain across much of southern New England.
The storm formed a low-pressure center — called a "mesolow" — near Long Island, which increased precipitation in the region and created dangerous road conditions in some areas.
The storm also caused pockets of damage and power outages from heavy snow and fierce gusts, mostly in the western parts of Massachusetts. The Massachusetts Emergency Management Agency reported about 70,000 customers were without power as of about 3 p.m. Tuesday.
Agency spokesperson, Christian Cunnie, said all three major utilities providers in Massachusetts — Eversource, National Grid and Unitil — have declared a "type-3 ERP emergency," meaning it could take up to three days before those who lose power get it back.
The rain/snow line cut through the city of Worcester and wobbled near this zone throughout the late morning. Between 10 a.m. and 2 p.m. the rain/snow line collapsed east, changing the rain to snow for many eastern Massachusetts communities, with the exception of Cape Cod.  The changeover in Boston occurred around noon.
It will keep snowing at a steady clip with bursts of moderate to heavy snow from 12 p.m. to 8 p.m. Expect snowfall rates of 1 inch per hour at times during this period. That means visibility will be significantly reduced and travel may be treacherous.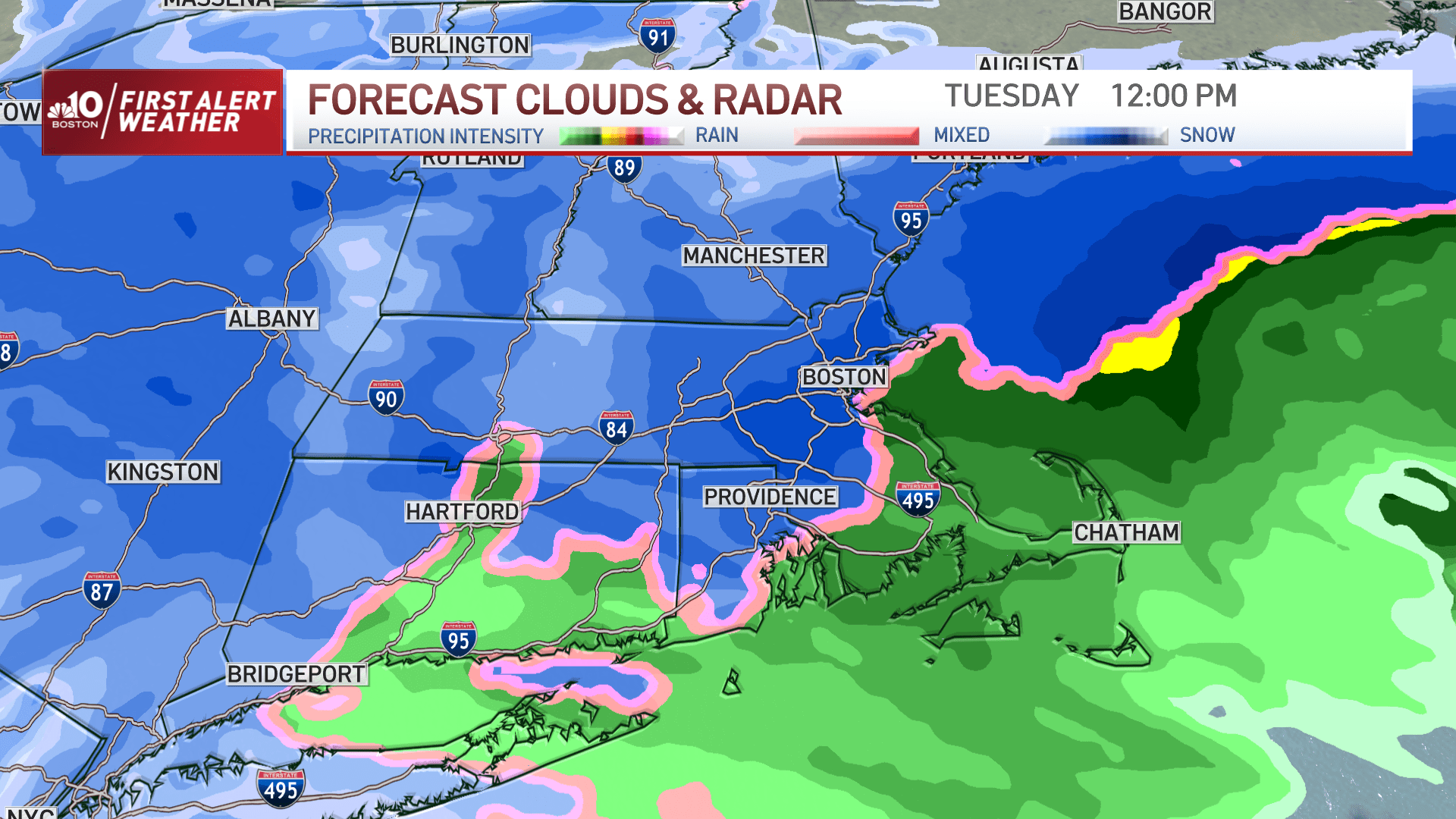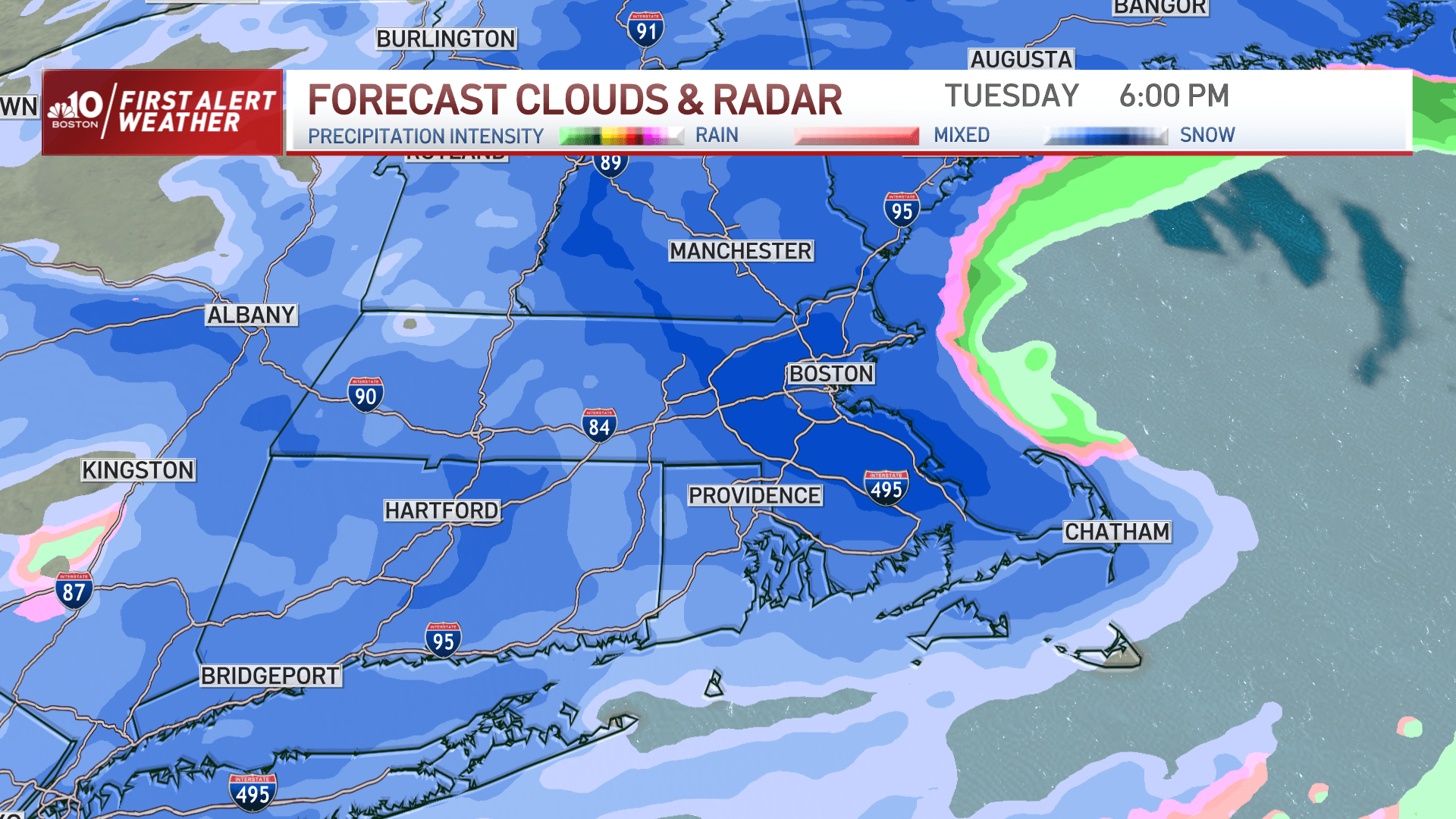 Travel
Road conditions will definitely vary — from totally snow covered in spots to wet in others — at least through the early afternoon.
Highway officials said warm, wet weather has made it hard to pre-treat the roads.
MassDOT Highway Administrator Jonathan Gulliver said people should stay home if they can.
"This is a very worrisome situation right now with this particular storm. It's a powerful storm. This brings in a lot of different elements to it," he said Tuesday morning. "The cold weather that's going to be rolling in later today, along with the snow, means that you could see very icy conditions form on the roadways quickly."
The storm has also impacted air and sea travel.
The flight tracking website, FlightAware, reported more than 100 cancellations at Logan International Airport Tuesday.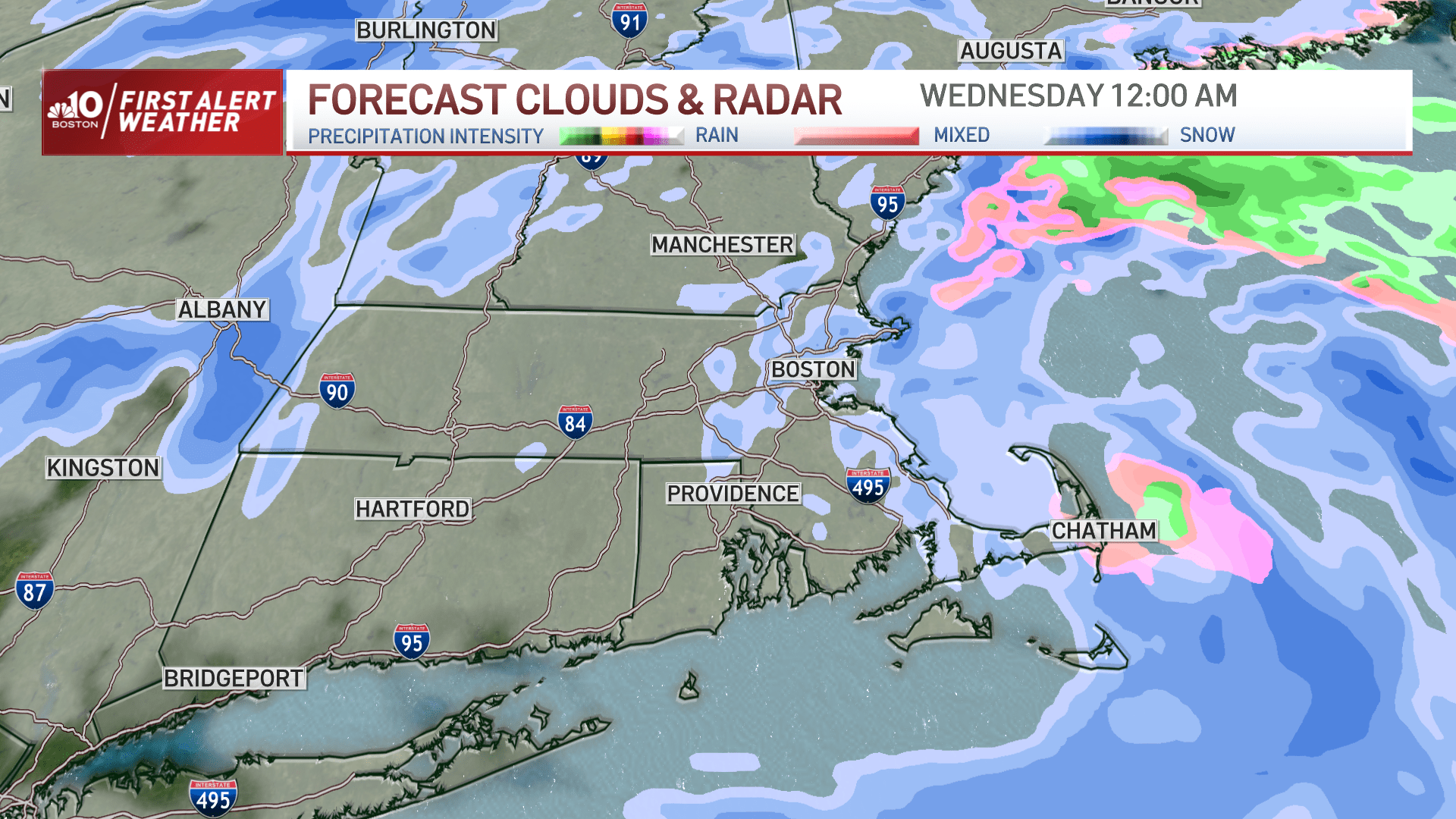 MBTA ferry service and several Steamship Authority trips between Cape Cod and the Islands were canceled Tuesday.
The remainder of the week will feature the melting/refreeze cycle, as temperatures are anticipated to be in the 40s during the day before dropping into the 20s to low 30s overnight. That could result in some additional slippery spots and icy patches.
Snow
The jackpot zone will be north and west of the city, outside of I-495 — from central Massachusetts into southwest New Hampshire. In this zone, expect anywhere between 8-12 inches and 12-18 inches. It wouldn't be surprising to see higher amounts more locally, especially at higher elevations, like in the Monadnock region and the Route 2 corridor.
Otherwise, it's 6-8 inches from I-128 to I-495, 2-4 inches in the city itself to the North and South Shores, and with lesser amounts from Plymouth to Cape Cod.
The snow is very wet and heavy, making it difficult to move around. Several rounds of shoveling or snow-blowing are suggested, as opposed to waiting until the end to do it all.
The snow winds down in intensity between 9 p.m. and 11 p.m. There will be some lingering snow showers and flurries during the first part of the overnight/pre-dawn Wednesday at the coast, but no additional accumulation is anticipated.
Wind
The number of damages and outages was expected to climb throughout the day in two areas. First, outside of I-495 at elevations where the highest snow amounts occur and the snow's heavy, pasty nature weighs down trees and powerlines. Second, at the coast due to damaging wind gusts.
Let's break down the wind some more.
The northeast wind will ramp up during the day Tuesday, with numerous gusts: 30-40 mph inland and 40-50 mph gusts at the coast.
The wind will shift to the north late Tuesday afternoon. At this point, there will be a period of 50-60 mph gusts at the coast (40-50 mph inland), and when isolated gusts of up to 70 mph is possible from the tip of Cape Ann to the outer Cape. This will result in pockets of damage and outages.
During the late evening, on the backside of the storm, the wind will shift to the north-northwest and remain strong Wednesday. During this time, expect numerous gusts at 30-40 mph. At these speeds, restoration efforts may be tough for those that do lose power.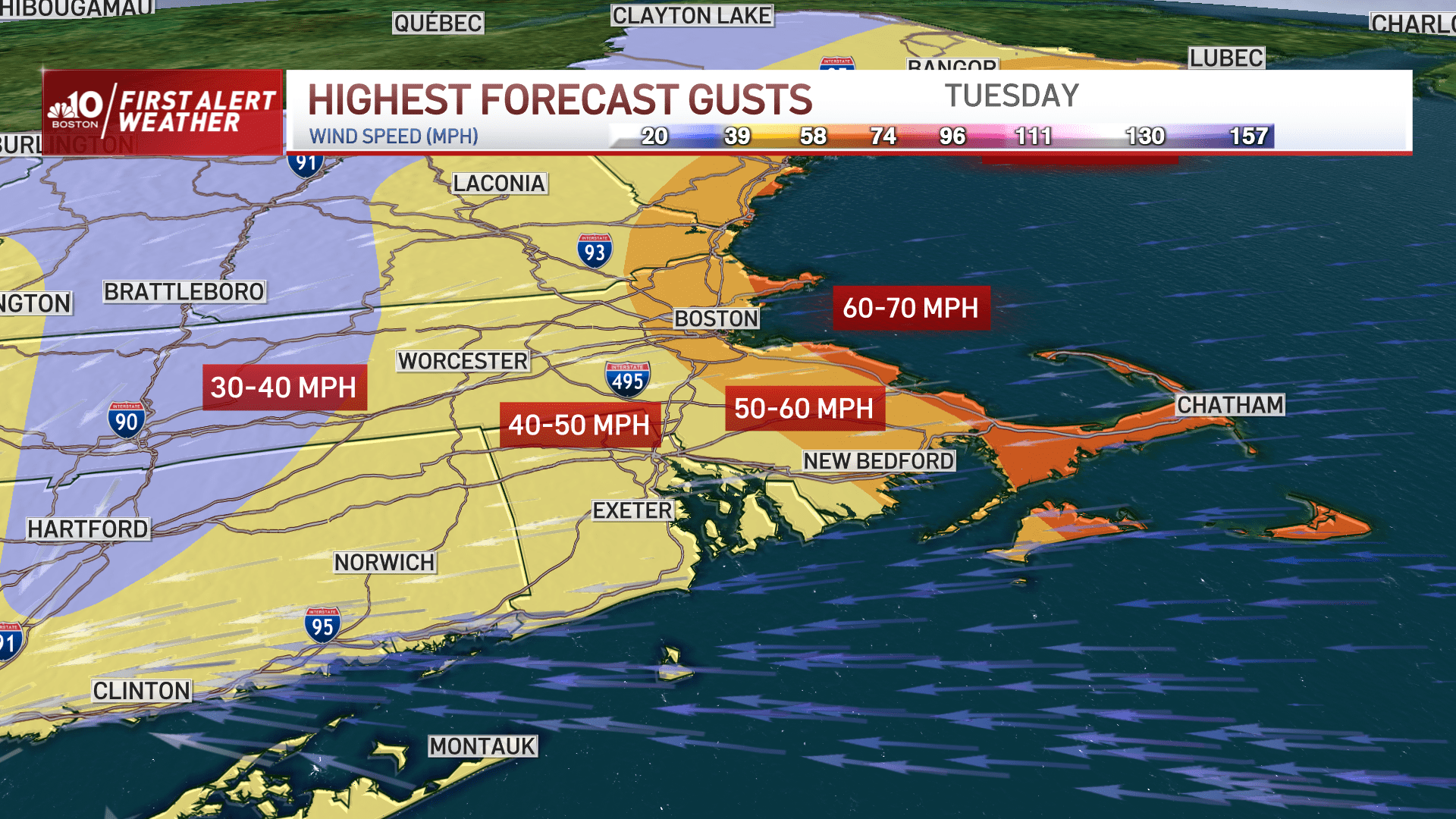 Flooding
Meanwhile at the coast, areas of minor coastal flooding and beach erosion are anticipated for multiple tide cycles: Tuesday morning's high tide, Tuesday evening and Wednesday morning. Surges of 1-3 feet will result in some roads, low-lying areas and basements to flood in the typical spots, particularly from Gloucester to Revere, Hull, Scituate and the bay side of Cape Cod.
With reporting for WBUR's Samantha Coetzee and Miriam Wasser.
This article was originally published on March 14, 2023.
This segment aired on March 14, 2023.