7 albums to listen to this spring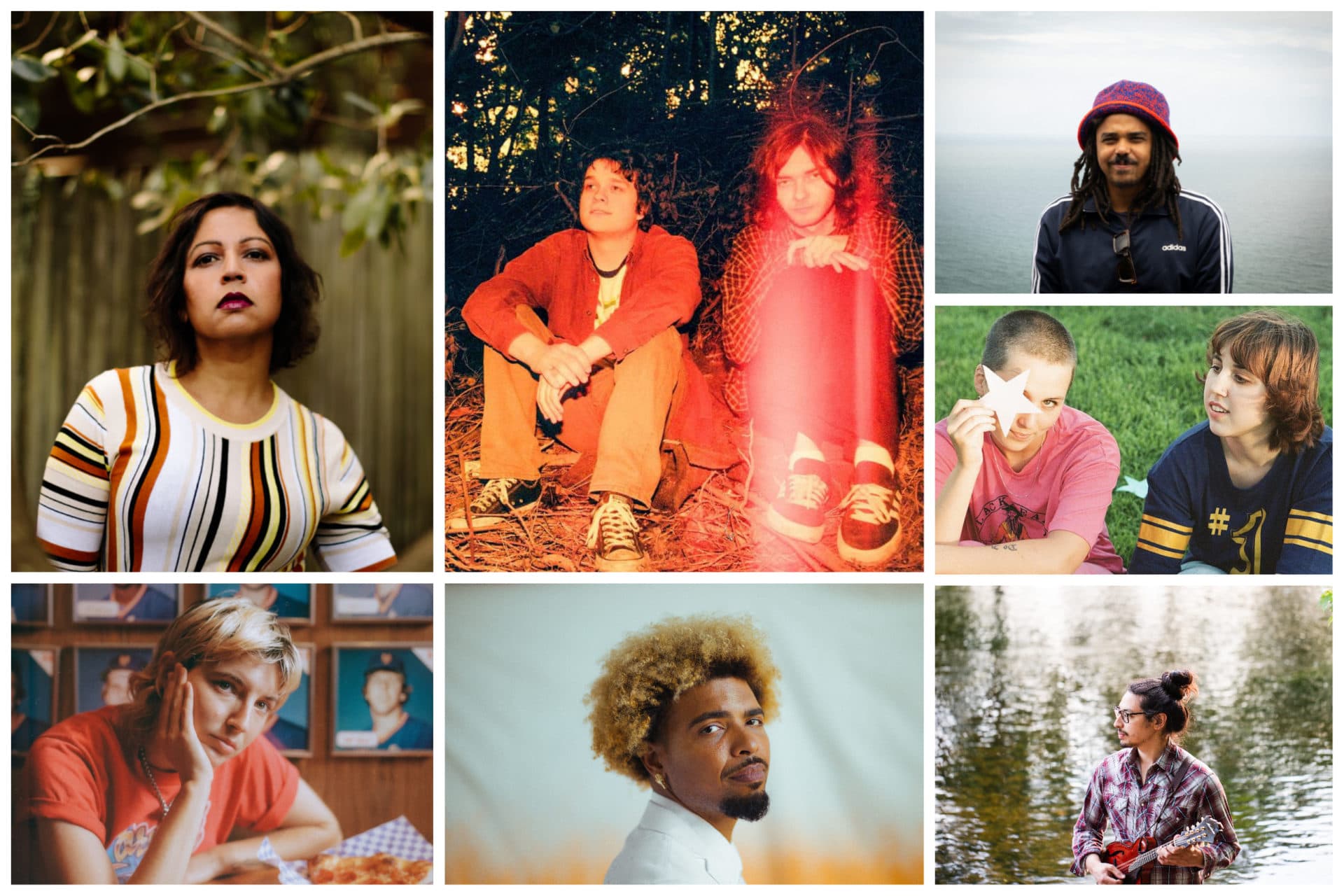 Spring is a funny thing, a "one step forward, two steps back" kind of season. I call the clocks springing forward a small victory; I call mid-March snow a significant loss. Punxsutawney Phil's prediction came in just under the wire; we're just past the sixth week of winter since groundhog's day. Uncanny.
I've been spending a lot of time in rural Pennsylvania, a place of vast silence and stillness that begs for an accompanying soundtrack. Needless to say, I've been listening to a lot of music. At the same time, I'm processing the dissolution of a long-term relationship. It's all left me feeling unsure of my place in the world, and the music I'm gravitating toward tells me that these select artists are feeling the same. To the artists on this list that may be reading this now: Your music has traversed many white-capped mountains and forest trails from within my ears, and I thank you for giving me a companion in the snowy wilderness this spring.
As always, New England is representing several spots on my list, but I reached beyond the Northeast and found great new music from around the globe worthy of your consideration, from South Africa to the Bay Area and everywhere in between. From queer indie pop to bluegrass phenoms and heady, spiritual jazz, the artists on this list are generally in a state of unrest and with plenty to say. Follow my lead: Put the sounds of bleeding hearts in your ears. All I'm asking is that you listen, too.
Caroline Rose, 'The Art of Forgetting'
March 24
Since beginning a budding music career at Wellesley many years ago, we've never seen Caroline Rose as vulnerable as they are on "The Art of Forgetting." As laid out on the bedrock of their last two releases, 2018's "Loner" and 2020's "Superstar," Rose's crunchy pop rock exhibits a heavy dollop of whimsy—an unabashed freakdom paraded within richly-storied indie pop. But their latest release, a self-designated breakup album, finds the singer-songwriter swirling in a state of existentialism. The album is a pondering chamber of self-reflection with sprawling yet punchy music to match. Think of it as a tragic comedy produced by Kevin Parker.
---
Portland, Maine's Ethan Setiawan is proving that the mandolin is largely under-utilized. On "Gambit," the songwriter's second full-length release, Setiawan employs an all-star cast of musicians spanning the field of americana, bluegrass and instrumental folk, including Darol Anger and Mike Marshall. But "Gambit" reaches beyond the traditional confines of bluegrass, showing a wide breadth of compositional styles from loose country jams to new age, jazz-tinged ballads. It's an audacious reminder of why Setiawan once won the National Mandolin Championship.
---
Mediocre, 'To Know You're Screwed'
April 7
Boston's Mediocre are reviving the blithely, tape-worn sounds of MTV's "120 Minutes." Falling somewhere on the spectrum between Liz Phair and The Breeders (and with a dash of Snail Mail), the queer duo of Piper Torrison and Keely Martin channel the foregone peak of alternative rock on "To Know You're Screwed." Its relation to its predecessors is uncanny: soft verses to loud choruses, charmingly irreverent, a hearty handful of certified hooks bouncing between cranked amps. Blake Babies for the Tik Tok generation, perhaps?
---
Forest Bees, 'Between the Lines'
April 7
Formerly of shoegaze group The Stratford 4, the Bay Area's Sheetal Singh somehow found time to form Forest Bees—she's a mother of two, a writer and the executive director of an innovation lab—and I'm glad she did. "Between the Lines," the second release from Forest Bees, is an ambitious exploration of racial identity, human connection and postpartum depression, and that's just within the first few songs. It's a bit Trish Keenan of Broadcast, a bit '90s industrial and a bit shoegaze. It checks a lot of boxes for me.

---
You'd be hard-pressed to find a more diligent student of R&B classics than Nashville's Devon Gilfillian. On his latest release, the boundlessly groovy "Love You Anyway," Gilfillian soulfully reveals how to blend the old school with the new, showing bits of Marvin Gaye with flashes of Miguel. The album possesses a backbone of Motown melodies backed by glossy production, '60s Detroit and the hazy glam of 2020's Los Angeles. Think: Danger Mouse meets Billy Paul.
---
Asher Gamedze, 'Turbulence and Pulse'
May 5
The sound of avant-garde jazz is changing in Cape Town, South Africa. Drummer, bandleader and political activist Asher Gamedze's sprawling new double album, "Turbulence and Pulse," says so much without actually saying very much at all. "Turbulent times call for extreme measures/ the heart beats even in the coldest weather" is one of the few lyrical offerings we're handed. And it's how the album starts, setting a momentous tone for the music that follows. It's dark like Mingus, charged like Fela Kuti and boundless like Kamasi Washington.
---
waveform*, 'Antarctica'
May 12
waveform*, the Connecticut duo of Jarett Denner and Dan Poppa, are the latest group breaking waves in New England's lofi DIY scene. "Antarctica" finds waveform* at the precipice of their vision with a collection of endearingly hazy songs sauntering between slowcore and bedroom pop, a sound in line with the likes of Alex G and Pinegrove. Much like the continent it's named for, "Antarctica" conveys the beauty between extremes, showcasing the emotional range bounded by stillness and havoc with quiet intimacy and towering walls of guitar fuzz.