Wind could give fly balls and fans a hard time for Red Sox home opener
The MLB season officially begins Thursday in Boston with the Red Sox home opener against the Orioles. If you're lucky enough to have tickets to the game or plan on heading down to the Fenway area to enjoy some of the Opening Day festivities, you'll want to dress appropriately.
The calendar may say March, and our average high temperature today should be 50 degrees Fahrenheit in the city, but it's going to feel like winter across the region.
Temperatures will struggle to get out of the low 40s in many areas, including at Fenway. We've seen these kinds of cool temperatures for three of the past five Opening Days, but the wind will be a factor in how it will feel out at the ballpark.
Expect a sustained northwest wind of 15-25 mph through the duration of the game, with gusts to 35 mph adding insult to injury. In turn, the wind chill value, or "feels like" temperature, will be right around 30 degrees.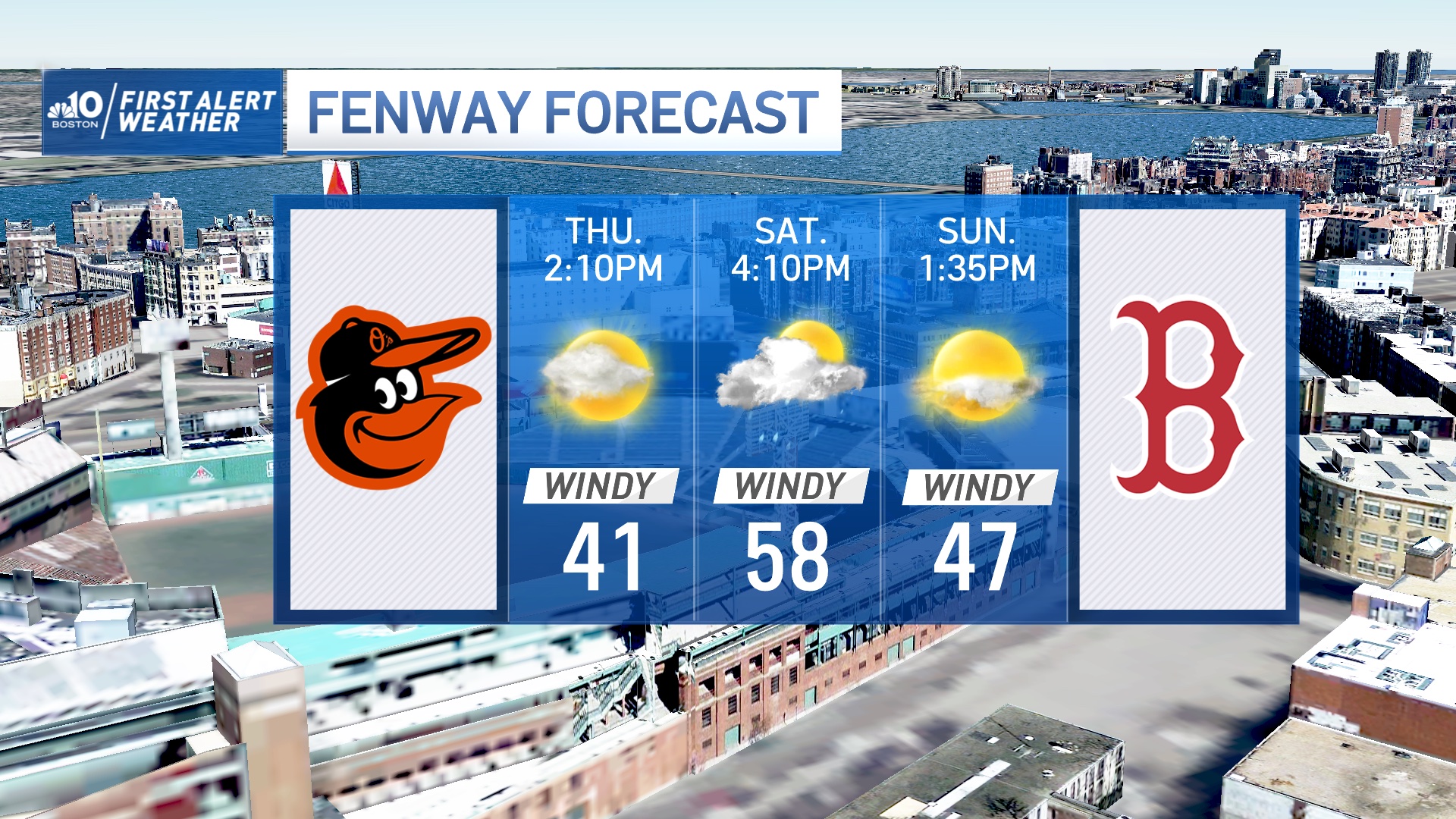 Remember that wind chill values only pertain to exposed skin — so as long as you're bundled and layered up, you're good to go. For some perspective, our record cold high temperature for the date is 29 degrees set back in 1887, and Boston received 2.4" of snow on this date back in 1922.
For the players, the wind poses an additional challenge: it'll be extra tough to hit it out of the park, particularly to left field. As batters step up to the box, they're facing northeast. Gusty winds overhead, blowing from third to first base, add more drag on the ball, slowing it down, and deflecting it to the right, toward center field. At its farthest point, the center field wall is 420 feet away from the batter ... so what may typically be a home run over the Green Monster would become a fly ball — and would need more force to make it out of the park.
There won't be any precipitation to worry about today though, so no need to pack anything waterproof. If you're headed to Saturday's game, it may be worth packing the raincoat; areas of rain in the morning to midday should break apart by first pitch, though I can't rule out an additional passing shower during the game.
The last game against the Orioles for this stint on Sunday will be dry and sunny, though chilly and windy again with highs in the upper 40s.
Go Red Sox!