New novel 'The One' takes readers behind the scenes of a reality TV dating show
In her debut novel, "The One," Cotuit native Julia Argy takes readers behind the scenes of a reality TV dating show, exploring the seductive allure of fantasy, the cost of self-deception and the consequences of denial.
Emily Boylan is in her early 20s and freshly laid off when a casting producer for the titular show plucks her off the street, promising to give her life some much-needed direction. She enters the competition as a wide-eyed innocent, having never seen the show before and clueless about its contrived structure and the role she is expected to play. Thankfully, her fellow contestants are happy to give her pointers, especially the charismatic, self-assured Sam, who Emily quickly bonds with.
Each week, they compete to win a golden necklace from Dylan, a generically handsome bachelor, in the hopes of becoming "The One." Few, if any, of the women are genuinely looking for love — most hope to parlay their TV time into a career as an influencer or generate publicity for their business endeavors.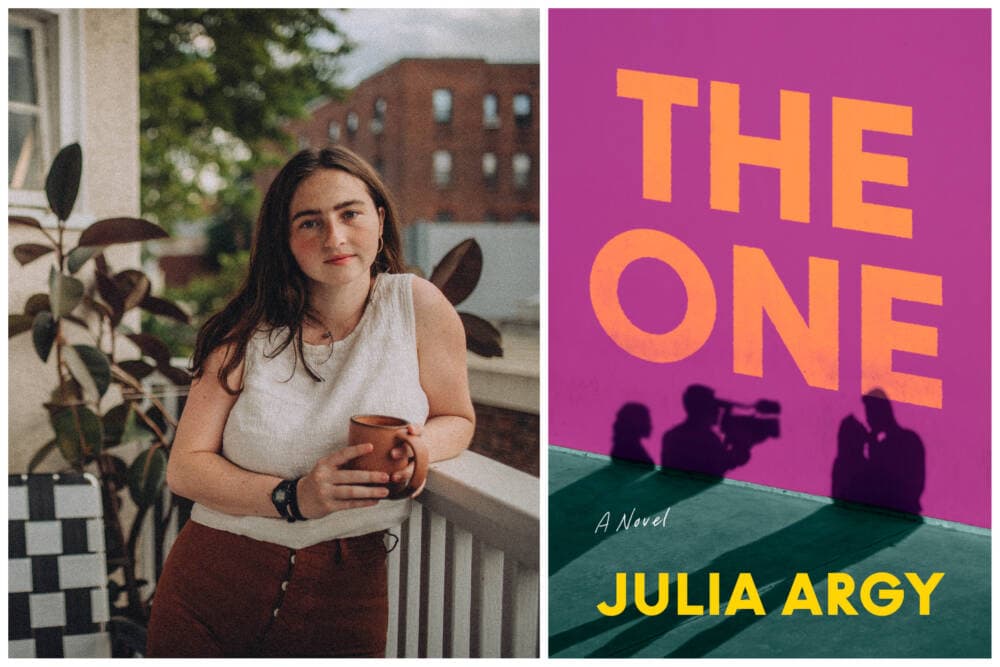 Emily has no particular agenda in the game or in her life. She's hopelessly passive, utterly disassociated from herself and continually acceding to the whims of her hyper-religious parents, the myriad boyfriends for whom she seems to feel nothing, and Miranda, an ambitious producer who feeds Emily lines and assures her that winning will finally make her feel whole. "They can all do whatever they want to me," she tells herself, resigned to her fate.
As the competition draws on, Emily pushes herself to want what everybody else wants, whether it's Dylan's attention or simply the fame and prestige that will come with winning. "I'm supposed to like Dylan," she says, "and I'm a good girl, so I do what I'm told." But as she struggles to let herself be swept off her feet by her suitor, she finds she's becoming increasingly attracted to Sam. And the feeling is mutual. It's a real powder keg, the kind of thing that could make for legendary television. But Argy shies away from this scenario's explosive potential. She sets the stage for conflict but, time and time again, lets the tension dissipate, sometimes unbelievably so.
When a fellow contestant discovers that Emily and Sam's relationship has become something more than friendship, she assures Emily that she won't blow their cover, even though doing so would give her a much better chance at winning Dylan's affection and the competition. And when Sam's producer, Wyatt, discovers the pair in a compromising position, he opts to concoct a convenient cover for them instead of using his newfound leverage to gin up the kind of ratings-grabbing controversy that would surely benefit the show and his career.
Throughout, Argy seems to be maneuvering Emily, Sam and Dylan into what should be a fraught love triangle but goes out of her way to not connect the dots. For a moment, it seems like Emily and Sam will be forced to choose between their newfound affinity for one another and the promise of reality TV fame as they square off at one of the show's final selection ceremonies; instead, circumstances contrive to prevent this, leading to a surprising anticlimax. When Emily finally admits what she really wants and resolves to chase after it, the story hints at a big, showy, romantic conclusion but denies us the satisfaction of seeing it come to fruition.
In some sense, it's commendable that Argy has endeavored to avoid predictable plot beats and genre tropes, but she fails to replace them with anything else and, as a result, promising threads simply fizzle out. Even her depiction of "The One," the show within the book, is too reserved.
"The One" is not a biting satire or critique, and it doesn't capture what draws people to these shows. There are no big twists or fights, no backbiting or backstabbing. It lacks the frisson of sensationalism that makes reality TV both compelling and repulsive. Apart from a few oblique barbs, such as when one of the contestants implies that her rival, a ballerina, is actually an exotic dancer, the women on the show seem like they really are there to make friends.
In one of the book's strongest sequences, Emily and Miranda are shooting pickups at the end of the season — faking confessional interviews by filming them all at once and inserting them into earlier episodes. With the knowledge of how Emily's time on the show turned out, they work together to revise the narrative that had been developed for her, giving her a different personality and making her less endearing to viewers. This metafictional touch suggests the possibility of a sharper, bolder story — one that was willing to let its characters look a little less than perfect and wasn't afraid to get its hair mussed with a little conflict. That might have been a story worth tuning in for.
---
Julia Argy will discuss "The One" with author Jane Roper at Harvard Book Store on Monday, April 24.