Tips to avoid losing money or getting scammed by competitive suppliers
Have you ever had someone knock on your door and ask to see your electric bill? They probably told you that you're paying too much, and that they have a electric plan that will give you cheaper power. Maybe you've received offers in the mail for 100% renewable electric plans, or a phone call from a salesperson promising fixed rates.
These are competitive suppliers, and in Massachusetts you can choose to buy electricity from them instead of a utility like Eversource or National Grid.
There are about 50 suppliers operating in the state, and for the most, experts say they're not a good deal. State data show that between 2015 and 2021, ratepayers in Massachusetts collectively paid $525 million more than they would have if they'd kept their utility as their supplier.
Many of these companies use aggressive — and often deceptive — marketing tactics to get customers to enroll. But here are some tips to help you make informed decisions and avoid getting scammed:
1. Understand your supplier options
Many Massachusetts residents actually have three electric supply options.
A utility. This is known as basic service, and it's the default supply option.
A competitive supplier. This is a private company that buys power in the wholesale market on your behalf.
A municipal aggregator. This is when your city or town contracts with a private company to buy power on your behalf.
Note: Approximately 50 communities in Massachusetts are served by municipal light plants. These are like mini city-owned utilities, and they are different than municipal aggregators. If you live in a town that's served by a municipal light plant, this is your only electric supplier option.
2. Learn to read your electric bill
It's not uncommon for people to have a competitive supplier and not know. When you sign up, nothing physically changes about your electric service and your monthly electric bill still comes from your utility.
Your bill does say who your supplier is, but you have to know what you're looking for to find it.
Here's where to look on an Eversource or National Grid bill:

If you look at your bill, you will see one of three things. Your supplier could be your utility, a competitive supplier, or a municipal aggregator.
3. Know who is on the phone or at your door
Many door-to-door salespeople or telemarketers are purposefully vague about who they are when they talk to you. While there have been documented cases of salespeople lying and telling customers that they work for a utility company, in many cases, they'll say things like, "I'm working with your utility."
They are not. No one from Eversource, National Grid or Unitil will come to your door to talk to you about your electric rates. Utilities don't do this.
Salespeople may also hint (or say outright) that they work for your city or town. Consumer advocates say this often happens around the time a municipality launches an aggregation program. People may be aware that something is changing about their electricity, but they don't understand the details. And competitive suppliers exploit this.
4. Don't show anyone your electric bill
If salespeople come to your door and ask to see your bill, experts all agree: do not show it to them. Even if they say they want to see what rate you're paying and check if you're being overcharged — don't show it to them.
If a person has your utility account number, it's possible for them to sign you up for a competitive supply plan without your consent. This is a practice known as "slamming." It's not clear exactly how common this is in Massachusetts, but experts say it does happen.
5. Consider putting yourself on the "do not switch list"
If you're totally freaked out about competitive suppliers and want some peace of mind, consider asking your utility to put you on the "do not switch list." If you are on this list, the utility will not allow your account to be switched to a competitive supplier.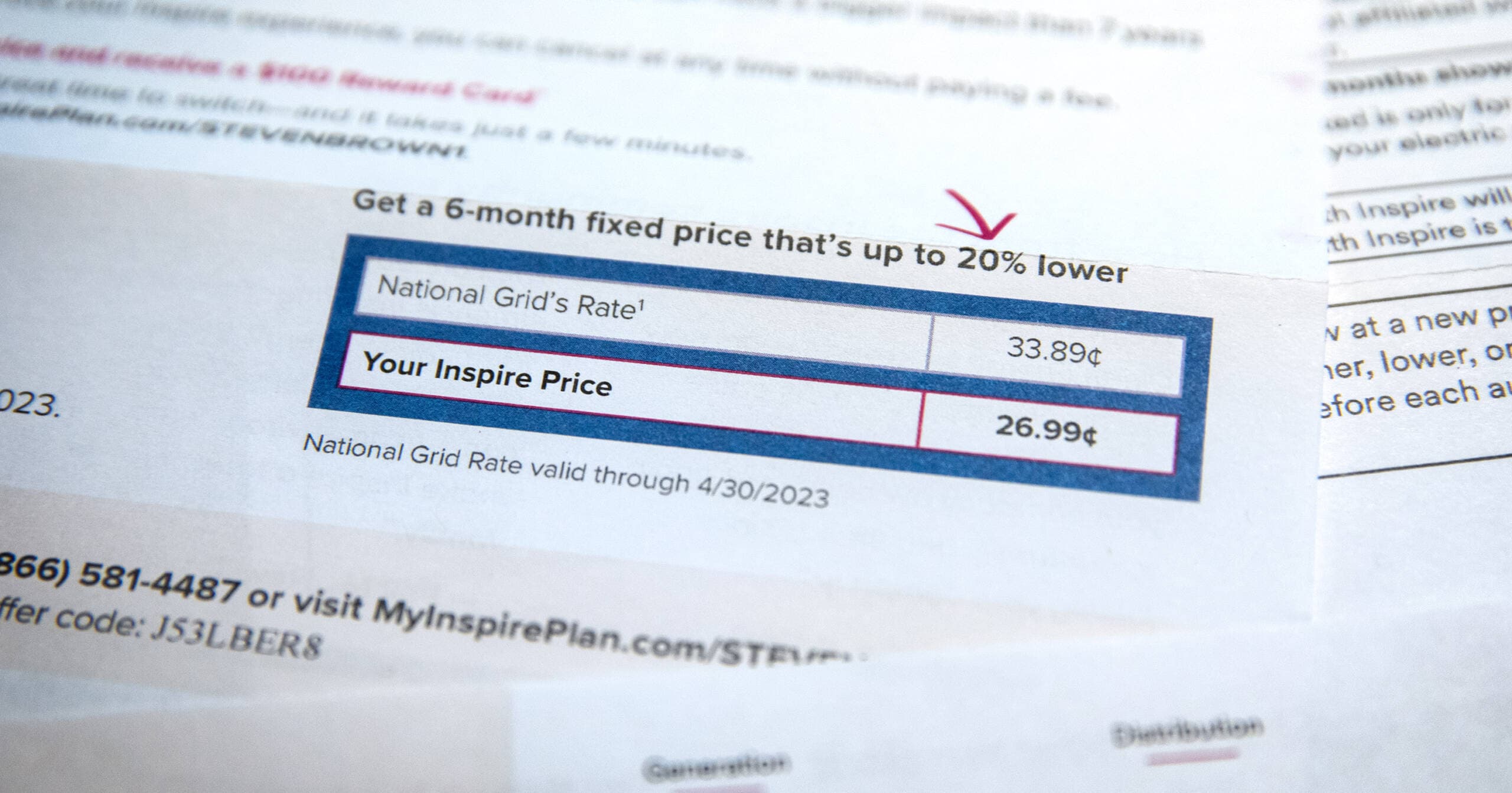 To sign up, call your utility.
6. Check online to compare rates and contract terms
If you're diligent about regularly comparing prices, it is possible to save some money with a competitive supplier. If you decide to enroll, experts say the first thing you should do is check the Energy Switch Massachusetts website. (Sometimes, the rates online are different than what door-to-door marketers offer.)
This website, which is maintained by the Department of Public Utilities, can help you shop for a supplier. It allows you to sort by price or renewable energy content, and it tells you the contract terms for any given plan — how long is the contract for? Does it renew automatically? Is there a cancellation fee?
The website also shows you the rates offered by your utility or municipal aggregator, which is always worth checking. Also, if you know how much electricity you use each month, you can enter that into the website and it will give you more accurate estimated price for your monthly bill.
As you're comparing plans, keep in mind that the rate you see may be an "introductory rate," and that it could balloon after the contract renews.
7. Be aware of service fees
Some competitive suppliers offer low electric prices, but charge a few hundred dollars a month in service or customer fees. A new report from the Massachusetts Attorney General's Office found that residents paid about $5 million in customer fees between June 2020 and June 2021 — this is on top of their regular electric charges. The report also found that low-income residents were 28% more likely to be charged a customer fee than non-low-income customers.
Make sure you read the fine print of any contract you sign.
8. Consider a municipal aggregation program
There are 176 communities in Massachusetts with a municipal aggregation program, and many offer lower rates than utilities. If you live in Boston, for example, the city offers power at about $0.11 per kilowatt hour, while Eversource's rate through June 2023 is almost $0.26 per kilowatt hour.
Municipal aggregation programs also use competitive supply companies, but because a city or town buys power in bulk and has the resources to hire lawyers and other experts to help negotiate contracts, they don't end up with the same type of rates as individual customers who sign up. (For this same reason, consumer advocates say the competitive supply industry has worked well for commercial and industrial customers.)
Many suppliers, including some municipal aggregation programs, also offer "green" or 100% renewable plans. If you're concerned about the environment and willing to pay a little extra, experts say you are better off signing up for the municipal aggregation plan because there's more transparency about where the power comes from and whether the supplier is using renewable energy credits to "offset" the non-renewable energy it's buying.