Art exhibit uplifts Black motherhood and celebrates Black joy
What does Un-ADULT-erated Black joy look like? For a group of Black mothers and artists, it could be double Dutch or roller skating. It could be enjoying a slush puppy on a hot summer day.
All this month at the Piano Craft Gallery, Black joy has been on display through poems, mixed media, wood sculpture and paintings. The exhibit was the brainchild of Alison Croney Moses, Tanya Nixon-Silberg, and Zahirah Nur Truth. Each one of them has their own definition.
"Black joy means to me when all of my identities, past, present and future come together and I experience joy within my body and then it becomes a communal thing," said Nixon-Silberg. "So then other people start to feel that as well. So it starts to be this ripple effect."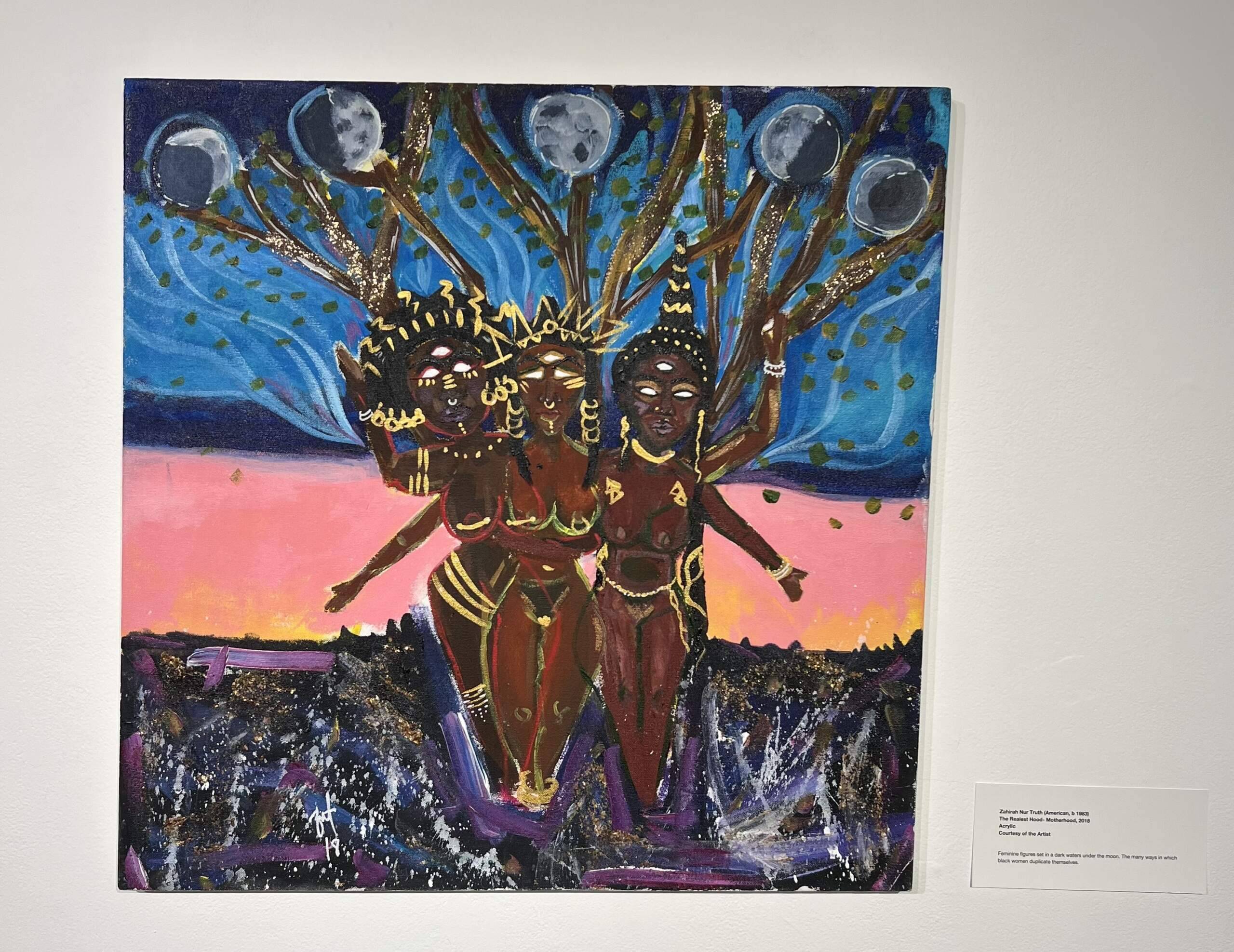 One of her pieces, "Let's Get The Rhythm," is a mirror with two phone cords connected that allows the viewer to look at themselves as they twirl what becomes two jump ropes. She notices that women immediately begin bobbing and swaying back and forth, remembering that staccato sound, that heartbeat as the rope hits the floor.
"Black joy for me is celebrating all of us coming together, sharing our stories, being able to see ourselves in each other's work," Truth said. "But also seeing the community that comes to experience, see a reflection of themselves."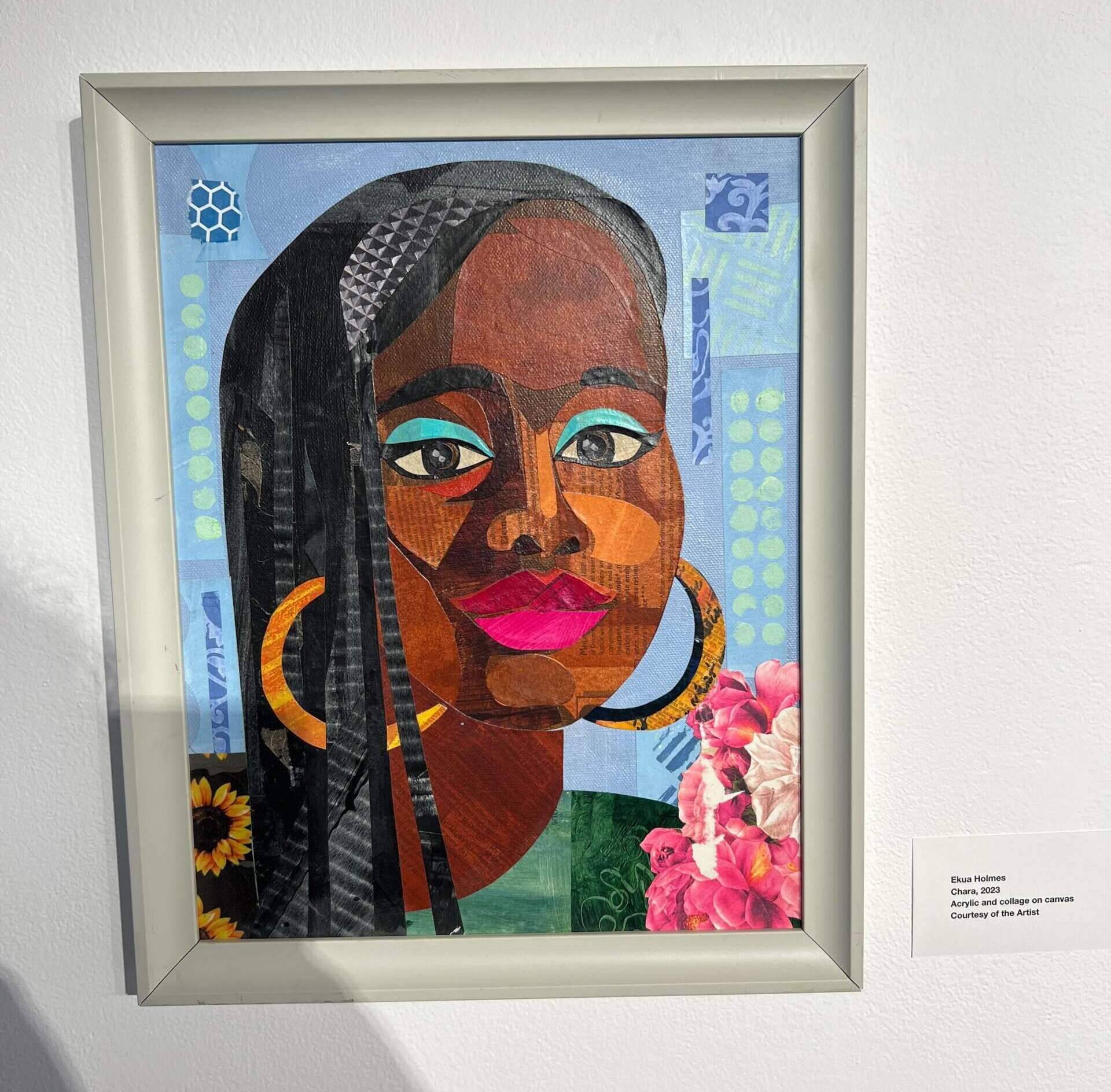 Truth, by complete coincidence, also brought a piece called "Let's Get the Rhythm," but her close-up of hands focused on hand games: the classic Miss Mary Mack or Down, Down Baby.
It was a time to get away, she said, to unburden yourself and be vulnerable. This space feels like a hug, like Black girl magic, like a haven. It took Truth a long time to take her art out of the closet and embrace the title of artist.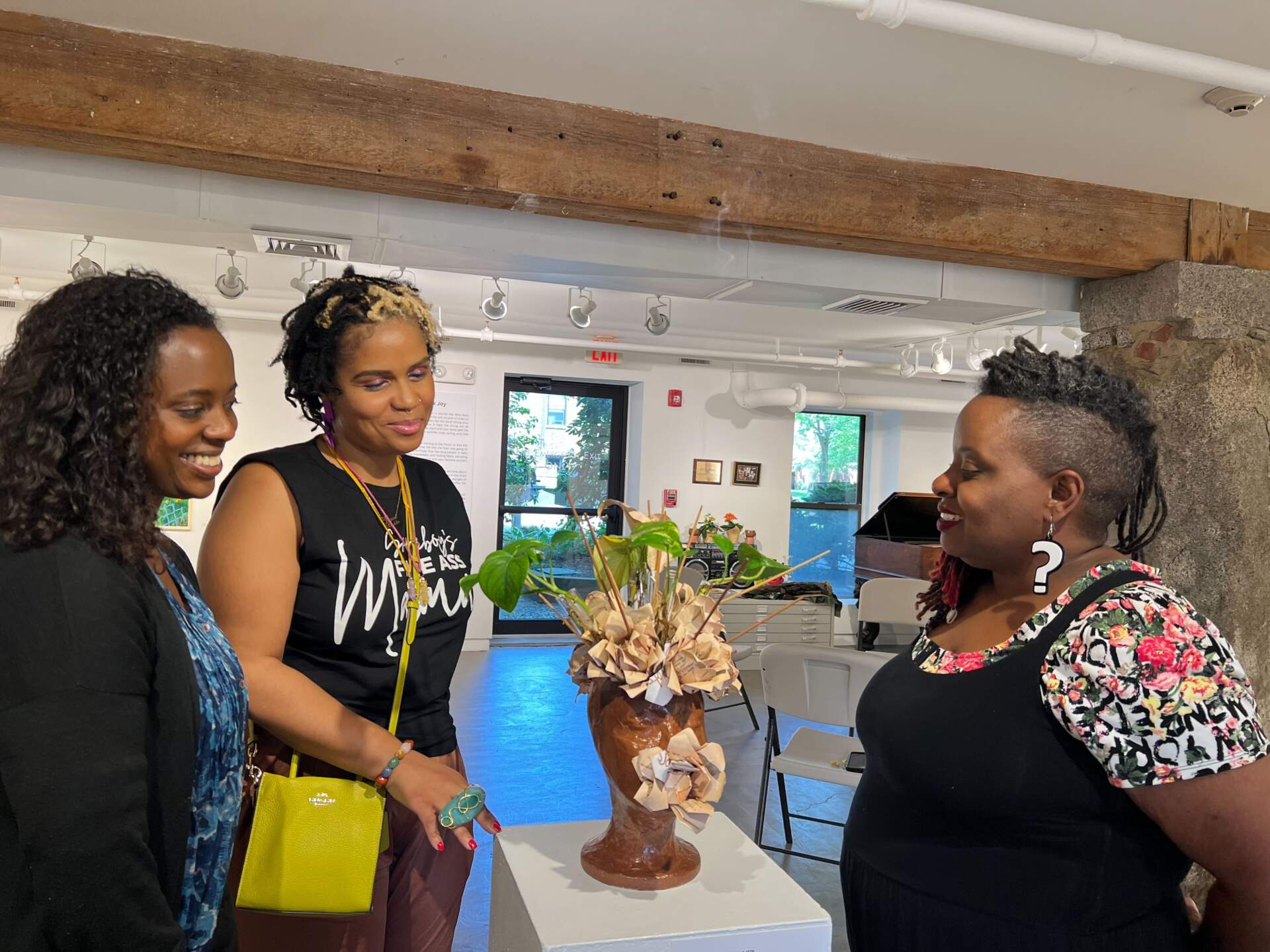 "It wasn't until I had something tragic happen in my life where I felt like life is too short for me not to do what I love," she said. "And it was like that moment maybe six years ago that I was like, I'm going to be an artist."
To Croney Moses, who curated the exhibit, Black joy is everything previously mentioned and a little more about the physical body.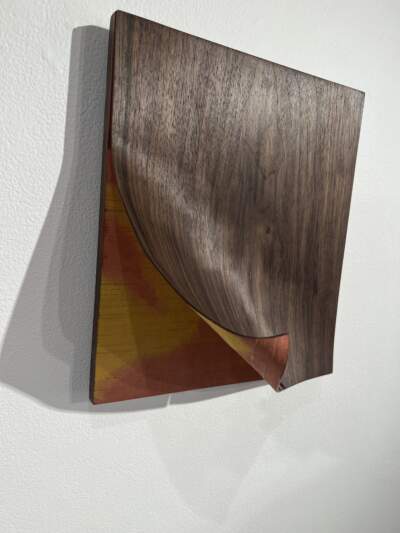 "We did joyous gatherings for Black moms and that was for me like, let's make space together to connect with our bodies, to laugh and play," Croney Moses said. "What could that be for us in Boston? And so that's represented here in my kind of experience of joy in community. But I also did a lot of investigation for this exhibit around physical transformation that's needed to access or re-access joy in my body."
Her woodwork is visceral. It focuses on a time where she wasn't able to lift her kids because of issues that emerged (in Croney Moses' words) from "growing humans in her belly." Her pieces made of a deep walnut wood focus on the repairs that were needed to correct a hernia and gain her strength back. She looked at images from her own surgeries to create her "Unsewn Series."
"Essentially there's rectangles where you cut off a thin layer and they peel away. They're bent to peel away from the primary wood piece," she said." "Right before the surgery, I had to stop holding my kids. I knew that the recovery process would be a long time and based on what I could hold then, I said goodbye to holding them, for good."
She made another piece post-recovery that's similar but emphasized joy coming from strength. As a result of these repairs, she can now hold both her children at once.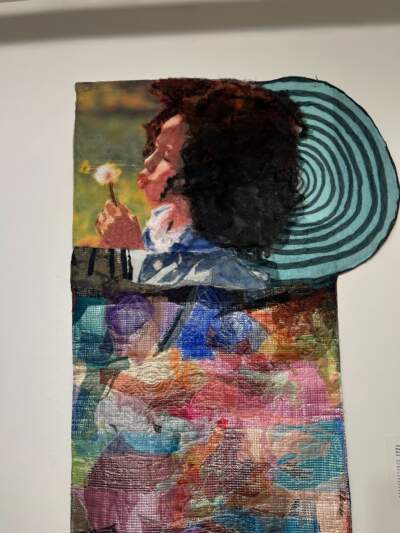 Also invited to participate in the exhibit are two renowned local artists, Ekua Holmes and L'Merchie Frazier. Each of their brightly colored paintings and quilted pieces emphasize Black girlhood, innocence, joy, and the relationships between Black mothers and their sons.
On a recent Sunday, all the artists participated in a talk back at the gallery, but just prior to the conversation was a workshop for Black mothers.
Together, they crafted butterfly lanterns and talked about their lives.
"We're engaging in self-care and real talk," said artist Lisa Lee, who held and guided the workshop. "And all of that is therapeutic, including making things…as we talk about serious matters like raising a Black son? What sirens do to us when we hear them in the night and what relief we get when we go look in the room and they're in there."
Then, in a small dark room the mothers shined a light through the center of each lantern. On the ceiling, the shadows looked like butterflies.
Inspired they lifted their voices and started to sing.
The UnADULTerated Black Joy exhibition is on display through Sunday, May 28 at the Piano Craft Gallery.