Shaken by fallen concrete, Somerville temporarily closes the Winter Hill Community School
School was canceled for over 400 Somerville students Friday after their school building was deemed unsafe.
A piece of concrete reportedly fell inside a stairwell at the Winter Hill Community Innovation School while the building was empty in the past week, according to sources.
In a letter to families, school officials said the building would close Friday "out of an abundance of caution" while a structural review of the building could be completed over the next several days.
Somerville Mayor Katjana Ballantyne did not offer an immediate timeline for a potential reopening in light of ongoing safety reviews.
"We're working on that … we'll get it to people as soon as possible," she said in an interview with WBUR.
Winter Hill serves as Somerville's only "innovation school," which means the publicly-funded school has some autonomy when it comes to designing its curriculum and school culture. The small K-8 facility has a student-approved dress code and special focus on both students with autism and newly arrived immigrants.
Yet long-deferred repairs at the school have been a persistent issue. School parents and educators say the falling concrete serves to highlight longstanding concerns about the 48-year-old building on Sycamore St.
At two school committee meetings this spring, Winter Hill parents and educators raised the alarm about a variety of issues inside the building, including mouse droppings, crumbling walls and stifling, 90-degree heat in classrooms.
Brendan Buckland, one of Winter Hill's deans of students, said Friday those poor conditions overshadow everyday life at the school.
"I hear from kids a lot about how their school isn't as nice as some of the [others] in the district," said Buckland, who himself works out of a converted supply closet. "Their reaction to the nicer things on offer for other children is really telling."
As Somerville school buildings gradually reopened after pandemic closures, Winter Hill's did not.
"The building was deemed unsafe because of the air quality, and we had to go to Somerville High," said Kara Dodd, an 8th-grade special education teacher.
That was when the new $256 million high school building had yet to open. It's now occupied, and Dodd said that Somerville lacks other space to house the Winter Hill community should another prolonged closure be necessary.
"To be in this position again … I'm feeling frustrated," Dodd added. "We've been asking [city leaders] for contingency plans and for timelines and haven't really gotten much."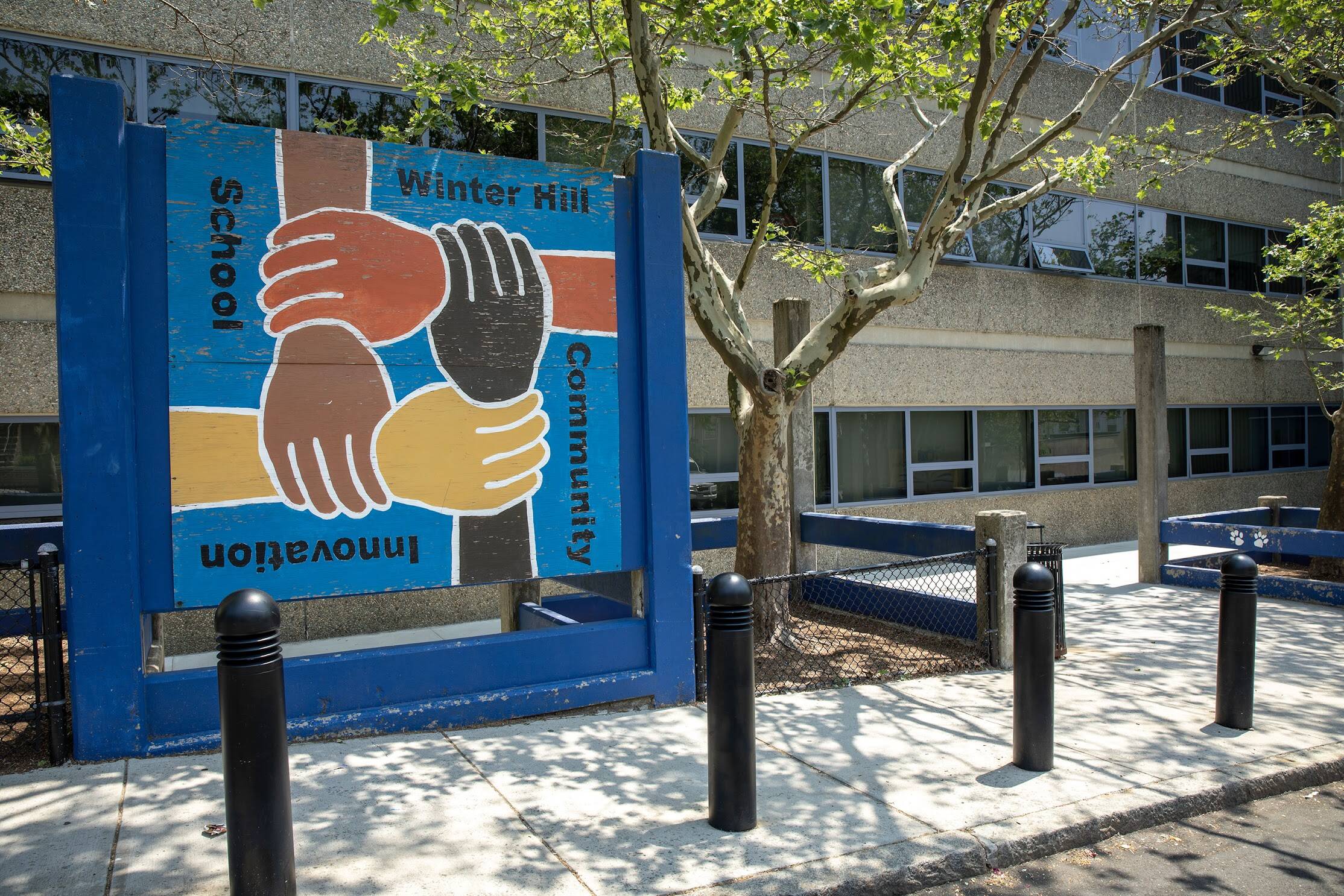 In a statement of interest to the Massachusetts School Building Authority in a plea to fund building upgrades, Winter Hill school leaders said the school showed "evidence of deferred and under-executed maintenance," as reported by Cambridge Day.
Now, the prospect of plunging concrete hangs heavily over parent Angelina Schultz, whose kindergartener son loves the Winter Hill.
After getting the call announcing the closure, Schultz said she wondered, "One, what would've happened if that had fallen on my child or another child? And two, should I be sending him to this school?"
Buckland and Schultz gathered in the heat with other parents — many with their children by their side — outside Somerville City Hall on Friday. They discussed plans to lobby city officials and delivered letters to Ballantyne asking her to prioritize both short-term repairs and a new building for the school.
Ballantyne said the city of Somerville is not alone in the country when it comes to problems with aging school infrastructure. "I inherited this," she said. "But investments in our schools have always been a top priority for me."
"We will get to the bottom of this as soon as we can," she added.