The Trial of Vladimir Putin, as imagined in stirring Ukrainian play in Cambridge
Theater ripped from the headlines has a tendency to stumble over its own lack of hindsight. It's a rare talent that can seamlessly juxtapose laugh-out-loud satire with recent accounts from the victims of horrific war crimes still being committed. Ukrainian playwright and director Sasha Denisova does just that in her latest play, "The Gaaga," an absurd fever dream that feels devastatingly real.
A Ukrainian girl who's deported to Russia for adoption after losing her parents in the war imagines a future where Putin and his cronies are put on trial at the Hague. The Girl is played by 17-year-old Taisiia "Taya" Fedorenko, who fled her hometown of Kyiv when the war began. Her performance is confident and heartbreaking, and you wouldn't be able to take your eyes off her were it not for the 17 other outstanding ensemble members who never miss a beat as they weave through this chaotic nightmare to their bitter ends.
Denisova, a celebrated Ukrainian playwright who had been living in Moscow, fled for Poland in the first days after Russia invaded her home country. "Russia bombed Kyiv and my mother, Olga Denisova, who was born under the bombing of Kyiv on July 7, 1941, refuses to leave and awaits victory in her home," Denisova said in a press statement. "During these months, I thought about what would give hope to me and those who fled the war. A trial of Putin and his government was the biggest expectation."
She spent months in a refugee camp interviewing officials and fellow refugees to create "The Gaaga" (or The Hague), which is now playing in Cambridge through June 18 after its world premiere run in February at Theatre Polski. The piece was brought to the U.S. by the innovative Arlekin Players Theatre & (zero-G) Virtual Theater Lab helmed by Ukrainian-born artistic director Igor Golyak, who co-directed the show with Denisova and designed the virtual elements which will stream to a global audience.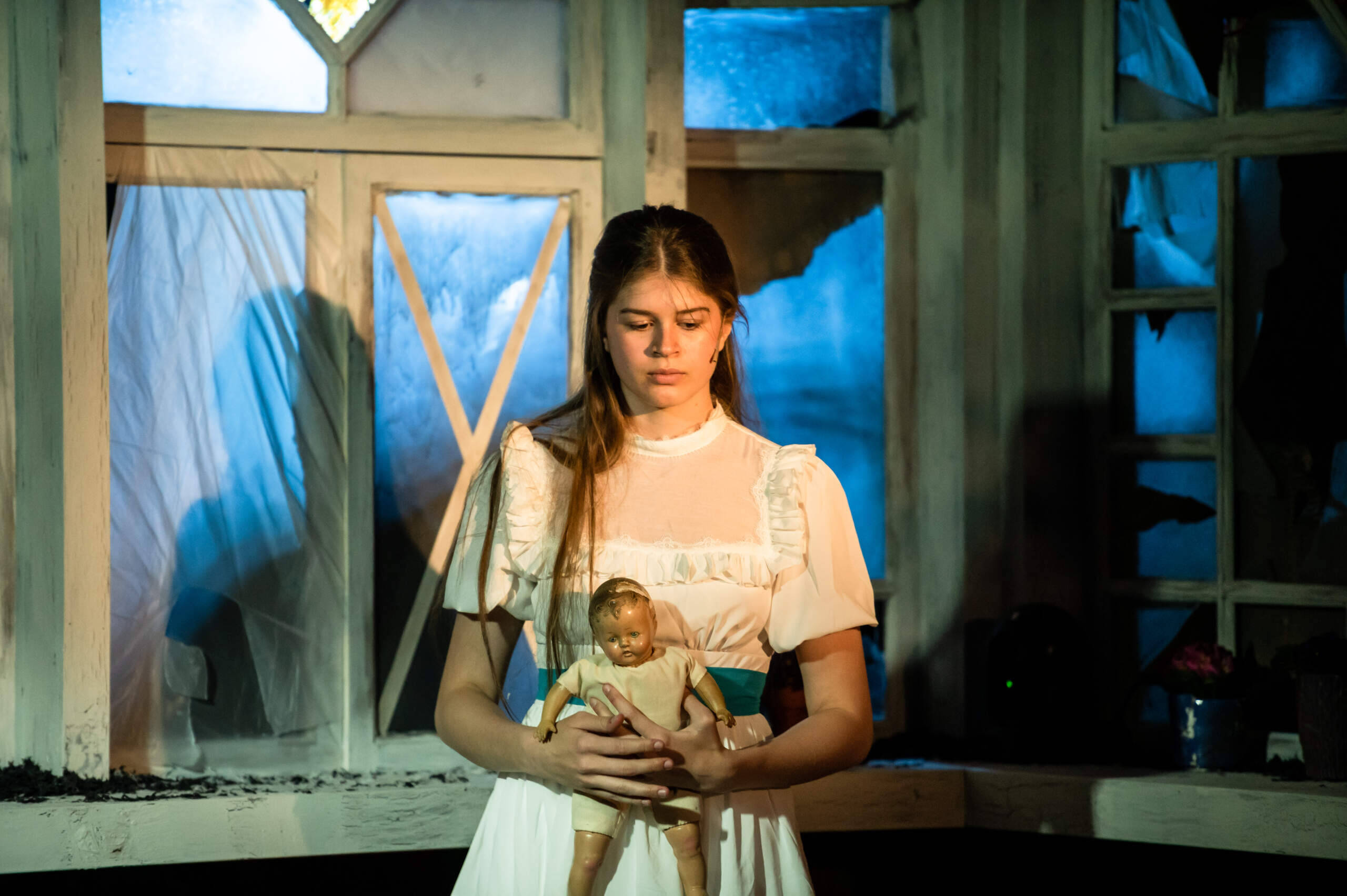 Polina Dubovikova delivers an uncanny Putin (with help from fantastic costuming and makeup by David R. Gammons and Anna Furman), a brilliant choice to play the Mad Hatter to a tea party of war criminals who appear even more buffoonish when speaking the actual words of their real-life counterparts. Darya Denisova (no relation to the playwright) is hilarious and captivating as RT propagandist-in-chief Margarita Simonyan. Garrett Sands, Irina Bordian and Irina Vilenchik chillingly depict accounts of atrocities that Russian soldiers have committed against Ukrainian civilians.
Those are just a few highlights among a phenomenal group of actors, each one offering such a stellar performance that the two and a half hours flew by despite the rather uncomfortable seating in a cramped house. It's staged at the pandemic-shuttered former Beat Brew Hall in Harvard Square, transformed into a bomb shelter. Irina Kruzhilina's environmental design begins the immersive experience from the moment you walk down the stairs and see the windows leading into the basement space covered with cardboard boxes. It's unsettling how much it feels like walking into a bomb shelter, gawking at someone else's tragedy while embodying how easily it could be your own.
The show provides just enough hand holding to catch Western audiences up on the key players and the national mindset and propaganda machine that's enabled Putin. Denisova's play transcends this one terrible war that has changed the world in ways we can't yet imagine, and those still living its horrors are grasping to the dream that one day these villains will be held accountable. This production voices those yearnings with humor and urgency.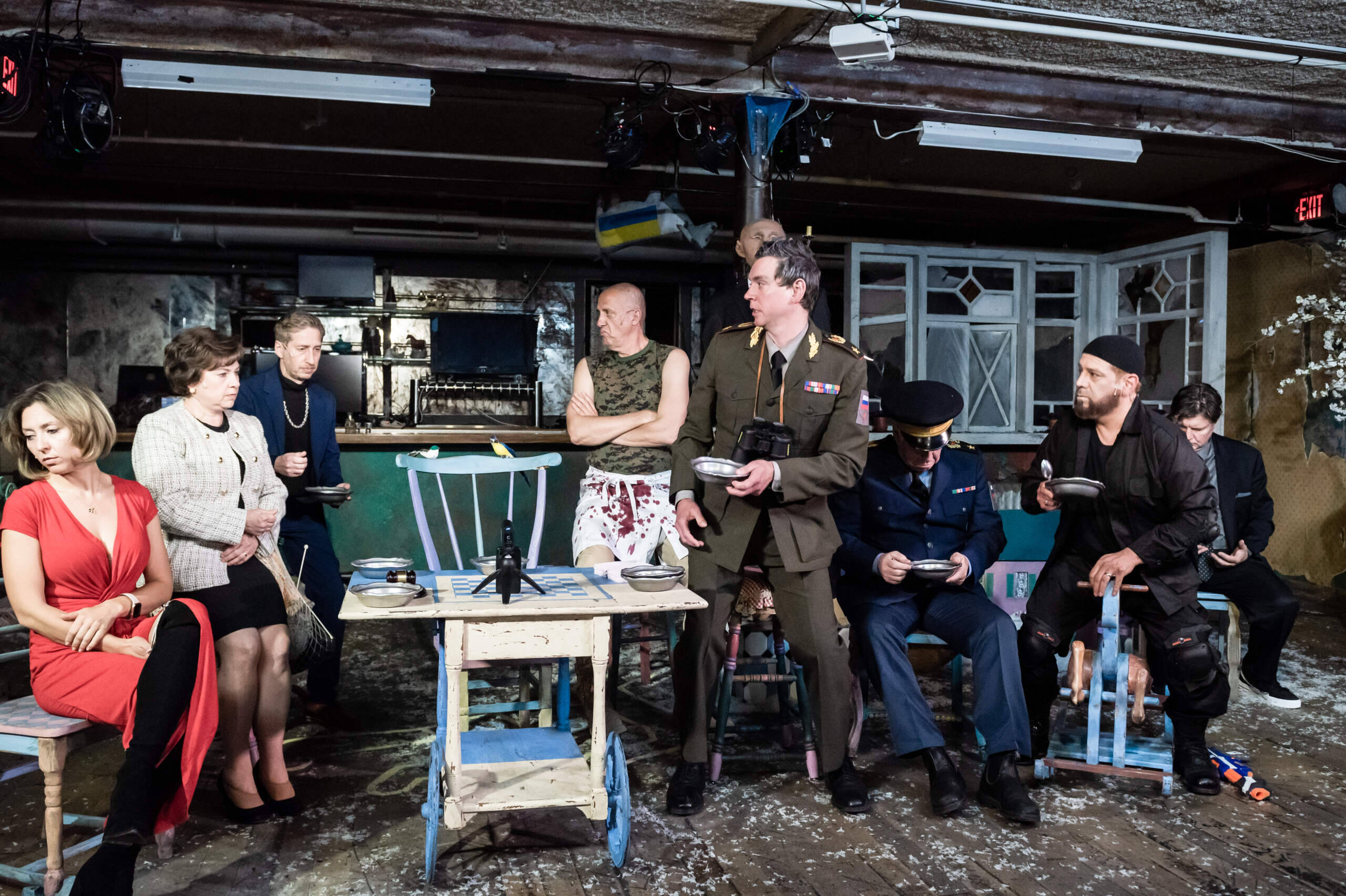 ---
"The Gaaga" runs through June 18 at the Beat Brew Hall in Harvard Square; the virtual elements are available to stream worldwide June 8-18.