Inside the plan to expand universal pre-K in Cambridge
Resume
Cambridge plans to offer free preschool to all 4-year-olds in the city starting in the fall of 2024, becoming one of only a few Massachusetts cities to guarantee free access to all eligible kids.
Children who turn 4 by Aug. 31, 2024 are eligible to apply starting this winter. The planned expansion will also reach a limited number of 3-year-olds.
The Cambridge Preschool Program builds beyond the current lottery system for 3- and 4-year-olds offered through the city's public school system, Department of Human Services Programs, Head Start and community-based programs.
Currently, these programs serve over 700 Cambridge 3- and 4-year-olds. The expansion will boost that capacity to approximately 1,000 slots for 4-year-olds and up to 300 slots for 3-year olds who meet specific eligibility requirements.
The new universal pre-K program will expand seat capacity by using private child care centers and in-home family child care providers as well as public schools, according to Lisa Grant, the director of the Cambridge Office of Early Childhood.
"It's about aligning programs and systems within our community within one umbrella — making it more equitably accessible to families," she said.
Participating centers will be required to use a pre-approved curriculum, such as Montessori, creative curriculum, or HighScope, and submit to regular quality audits from the city, Grant added.
Cambridge has allocated $20 million to get the program off the ground in 2024. City leadership isn't planning to raise taxes to pay for the service; instead, they're shifting funds in the municipal budget.
Most of the funding will go toward securing equitable wages for preschool teachers who work in child care centers or in-home family child care providers. Early educators in Massachusetts who work with kids under five in private settings make just over $40,000 a year, while public school teachers make on average $88,000 a year in Cambridge.
"Our intent with this work is to ensure all teachers, if they have a certain level of qualifications, [are paid] on par with their school district peers," Grant said.
Cambridge plans to launch a website this winter to streamline the application process for open seats in either the public school system or through a private child care operator.
The city will distribute funds to private centers, which will have discretion in how they use the money. Officials are still working to nail down specific details on exactly how much funding per student they'll give to participating private providers. Quality standards and enforcement are also still in development.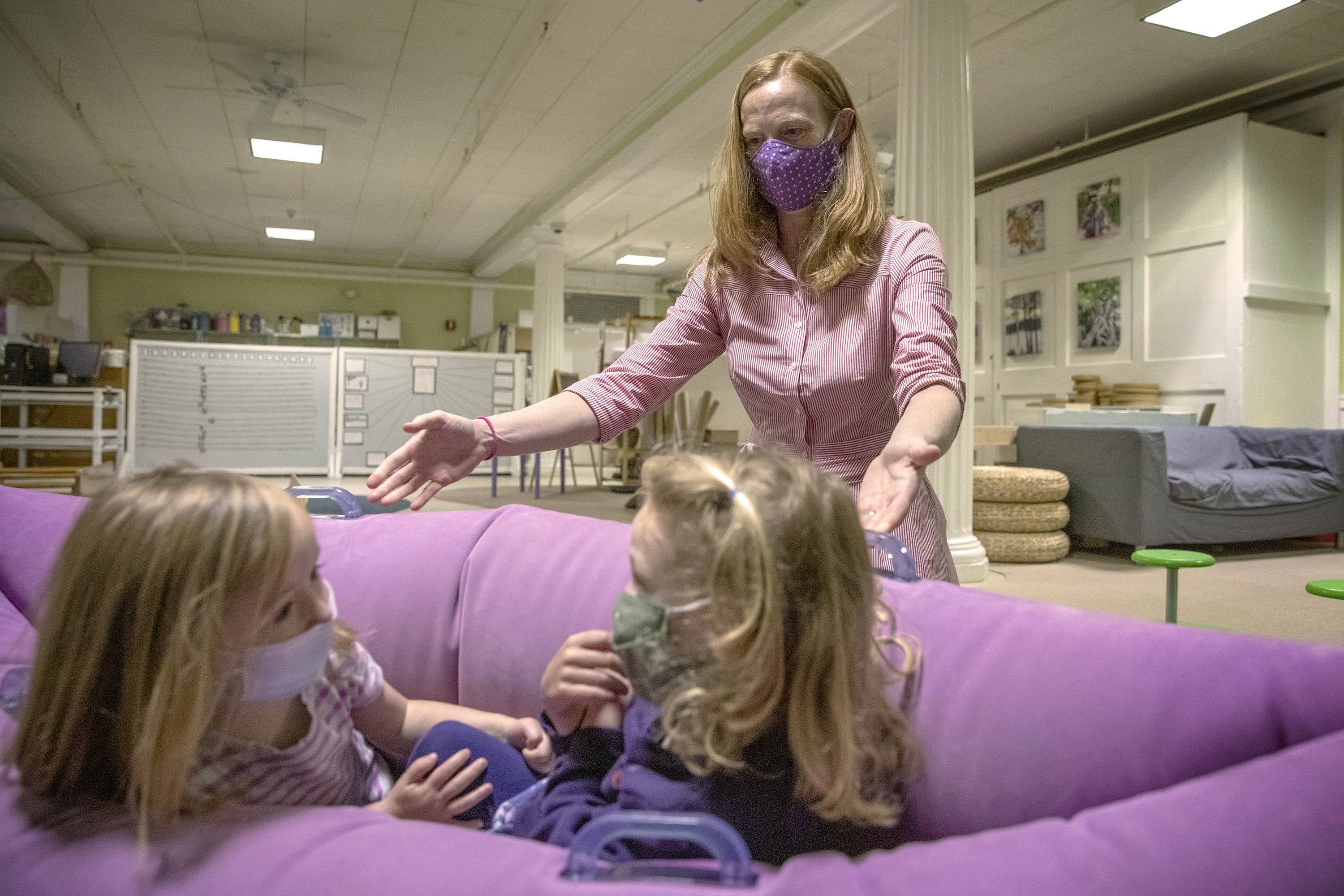 Caitlin Malloy, executive director of the Newtowne School, a private preschool in Cambridge, is excited about the plan.
"Logistically and fiscally, yes, take advantage of the things that already exist in your community," she said. "Why build new infrastructure and take up those resources when you already have them?"
She said she's hopeful her center will be able to participate. Malloy anticipates that she'll opt-in as long as city regulations won't force her school into massive curriculum changes.
"Depending on how this part is going to look, it might be the make-or-break-it part of buy-in for many programs," she said. "And it's not yet clear from the city what the lift, burden on programs will be."
This should also give families more options for early learning.
"What we don't want to have happen is parents making child care or preschool choices based on what they can afford," she said. "Different environments work well for different children and different types of families."
Amy O'Leary, an early education advocate with nonprofit Strategies for Children, said Cambridge is one of a growing number of cities in Massachusetts trying to expand free preschool by using a public-private partnership model. Other places include Boston, Somerville and Holyoke.
If everything goes according to plan, Cambridge's plan is guaranteed to cover every 4-year old in town. The only other Massachusetts city that offers that level of access is Springfield, though most of that expansion is via the public school system.
While local advocates applauded the expansion of universal preschool in Cambridge, the state still faces inadequate funding and preschool access remains below pre-pandemic levels, according to the National Institute for Early Education Research.
Massachusetts ranked 25th in the nation in 4-year-old preschool enrollment, reaching just 25% of kids in that age group compared to 32% nationally. And the state ranked near the bottom as far as average spending per child, at $2,027 compared to the national average of $6,571.
Despite the state's middling rankings, O'Leary and other advocates said they're encouraged by the recent progress Massachusetts has made when it comes to state and local support for affordable access to early education and child care.
When more students have access to preschool, it makes kindergarten and first grade a smoother experience for all because kids are on similar levels when it comes to social and emotional development, communication and problem-solving skills, said Dan Monahan, president of the Cambridge Education Association.
"It just levels the playing field," he said. "We have intense inequities in Cambridge and educators think this will make for a more equitable experience for our scholars."
This segment aired on June 9, 2023.