The entire MBTA Blue Line will be free during 2-month Sumner Tunnel closure this summer
Editor's Note: This is an excerpt from WBUR's daily morning newsletter, WBUR Today. If you like what you read and want it in your inbox, sign up here. 
---
Some housekeeping: you may have noticed some recent change in WBUR's on-air weekend schedule: There'll be more Wait Wait… Don't Tell Me! in the mornings and two back-to-back hours of The Moth. Boston University's long-running Marsh Chapel Service will move to an online livestream Sunday mornings.
Now let's get to the news, starting local:
The entire Blue Line will be free during next month's big Sumner Tunnel closure, one of several alternative transit options officials announced this morning that will be provided during the disruptive project. It doesn't matter if you're coming across the harbor or would have used the tunnel; Blue Line gates will be open at all stations in both directions from Wonderland to Bowdoin.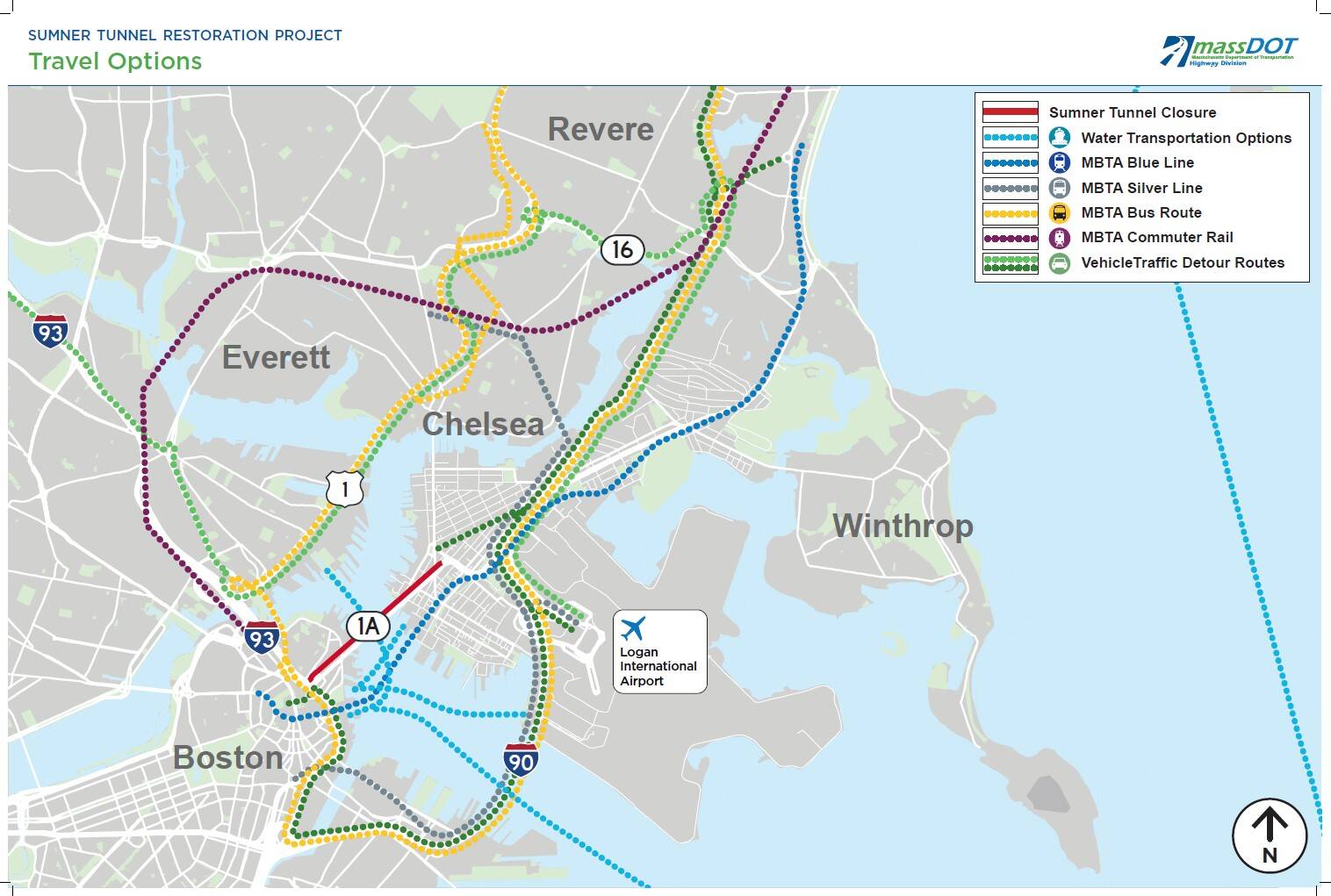 Tomorrow marks the return of a hallmark of summer: Opening Day for the Cape Cod Baseball League. The storied collegiate summer baseball league, which has included stars from Aaron Judge to Chris Sale, is marking its centennial season — literally.
Games will be played with specially marked "100th anniversary" baseballs — a decent souvenir for anyone who snags a foul ball. "You can show up — free attendance — and walk out with a collectors item that will hopefully carry some value for another 100 years," Cape league spokesman Michael Lane told WBUR's Dan Guzman.
Other changes: The Cape league is also adopting the MLB-style pitch clock and extra inning rules this season. Plus, there'll be a big 100th-year celebration during the July 22 All-Star Game.
Who to watch: This season includes a few top MLB draft prospects (Vance Honeycutt and Jac Caglianone), as well as David Ortiz's son D'Angelo. "Hopefully we'll be able to see David at a couple of games down in Brewster this summer," Lane said.
Want to catch a game? The season runs through mid-August. Check out the schedule on the Cape League website. And like Lane said, attendance is free.
The Massachusetts Senate unveiled its long-awaited tax relief bill yesterday. But the most noteworthy aspect of the proposal may be what did not make it in: cuts to the state's short-term capital gains tax. The bill advanced by the Senate Ways and Means Committee doesn't include any changes to the 12% tax — unlike the proposals from Gov. Maura Healey and the House to cut it to 5%.
The scaled-down Senate proposal also includes a slightly increased $310 child tax credit (low compared to the $600 credit proposed by Healey and passed by the House this spring). Senate President Karen Spilka described the overall proposal as "progressive, smart, sustainable and permanent."
On the same page: The Senate bill does otherwise mostly mirror the bill the House passed. Read more here about the potential perks for parents, renters, seniors and homeowners.
What's next: The Senate still needs to vote on the bill. If (when) the bill passes, they'll need to settle those differences with the House to forge a compromise deal to send to Healey's desk.
Heads up: Shuttle buses will again replace Green Line service north of Government Center — including all of the Green Line Extension — this weekend so crews can finish some remaining GLX work. (An identical Green Line diversion is scheduled next weekend, too.)
Behind the scenes: T leaders approved a new budget yesterday with a 7% spending increase aimed at safety and staffing challenges. But they're "going to need more money" beyond what the Legislature currently gives them, according MBTA Chief Financial Officer Mary Ann O'Hara — or else they'll face an even bigger budget crisis in a few years.
P.S.— What new service is in the works to help commuters north of Boston avoid traffic this summer? Test your knowledge of the stories we covered this week and take our Boston News Quiz.