How Montpelier, Vermont residents are faring following the worst flooding in living memory
Resume
The city of Montpelier, Vermont experienced its worst flooding in living memory on Monday and Tuesday, and some businesses and residents aren't sure when, or if, they'll be able to recover.
The water was mostly gone from city streets in downtown Montpelier by Wednesday morning, replaced by a thick layer of sludge that smelled like a mixture of sewage and wet mushrooms.
Industrial cleanup equipment hummed in the background as business owners like Maya Boffa returned to their establishments for the first time since the Winooski River crested its banks on Monday afternoon.
"It's trashed," Boffa said. "The water was up to here."
Boffa pointed to a black arrow she drew on the wall to mark the high-water spot from Tuesday morning. It's about 2 feet above a plaque commemorating peak water levels during the historic flood of 1992.
Boffa knew the flood was coming, and she tried to prepare.
"We raised some stuff up, but we didn't expect it to be this high," she said.
Now, much of the equipment at the salon she's owned for nine and a half years, called Ondine, is a total loss. And like a lot of business owners in Montpelier, Boffa's not sure what's next.
"It seems like for some of the stores this is just too much, and we may be done," she said. "I'm kind of figuring that one out."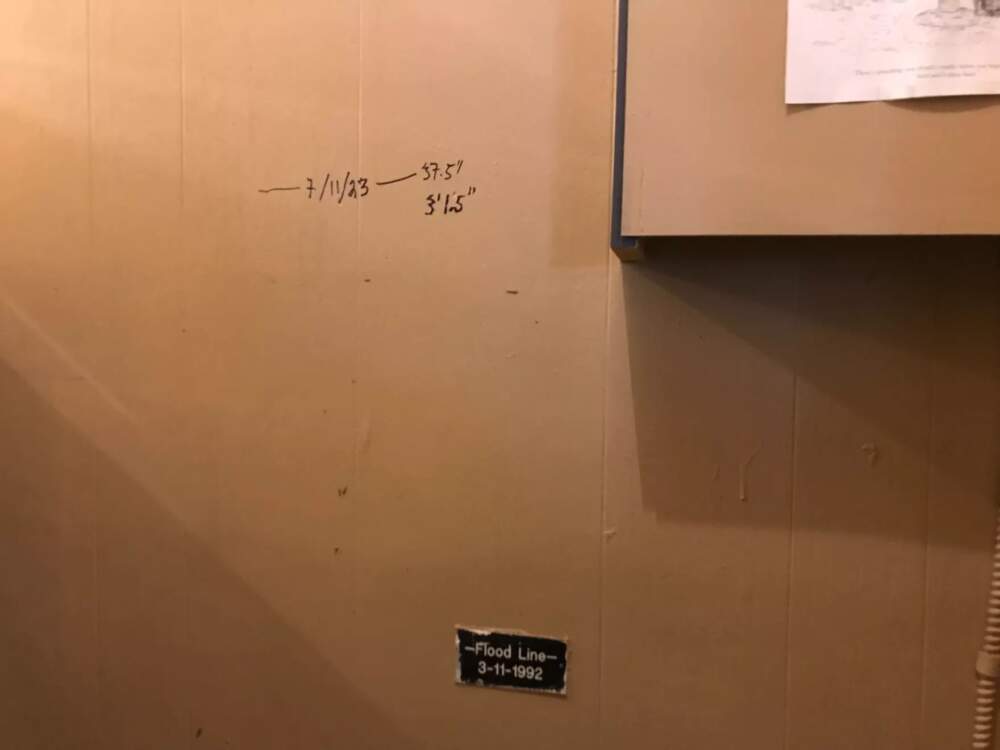 Montpelier is regularly named one of the best small downtowns in the United States by publications like USA Today and Travel + Leisure. And the small, independently-owned businesses that line the downtown lend this place its charm.
Many restaurants and stores had only just recovered from the devastating effects of COVID. Katie Trautz, executive director of a local business association called Montpelier Alive, said this latest hit may be too powerful a blow for many.
"There are many businesses that have recently expanded and invested a lot in their expansion, or their opening of a new business," Trautz said. "And it's just really sad to see the possibility of them not recouping and recovering after this."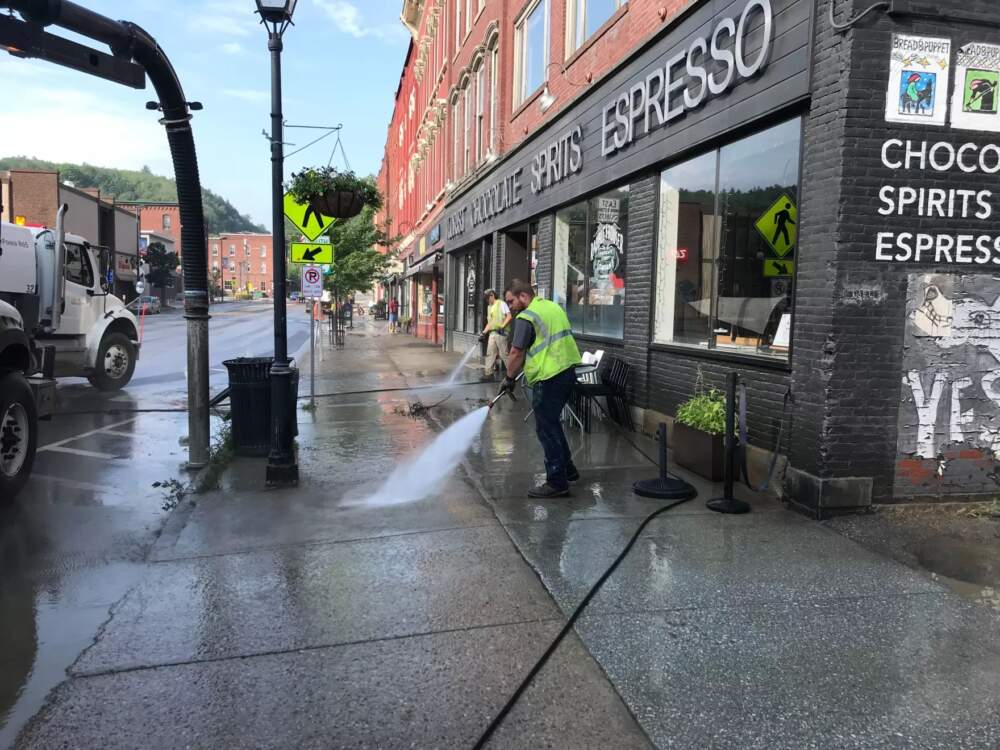 Arandas Mexican Cuisine, located in the same building as a Sunoco convenience store, had only been open for a month.
David Simendinger, who is the president of Champlain Farms and owner of the store, was excited about the restaurant's potential.
"So we had just leased the facility to Dave Thomas. He opened up his second Mexican restaurant — they had a huge Fourth of July down here," Simendinger said.
Now, he said, they were instantly out of business.
"So we are racing around the clock to get this place cleaned up and re-staged and open up again," Simendinger said.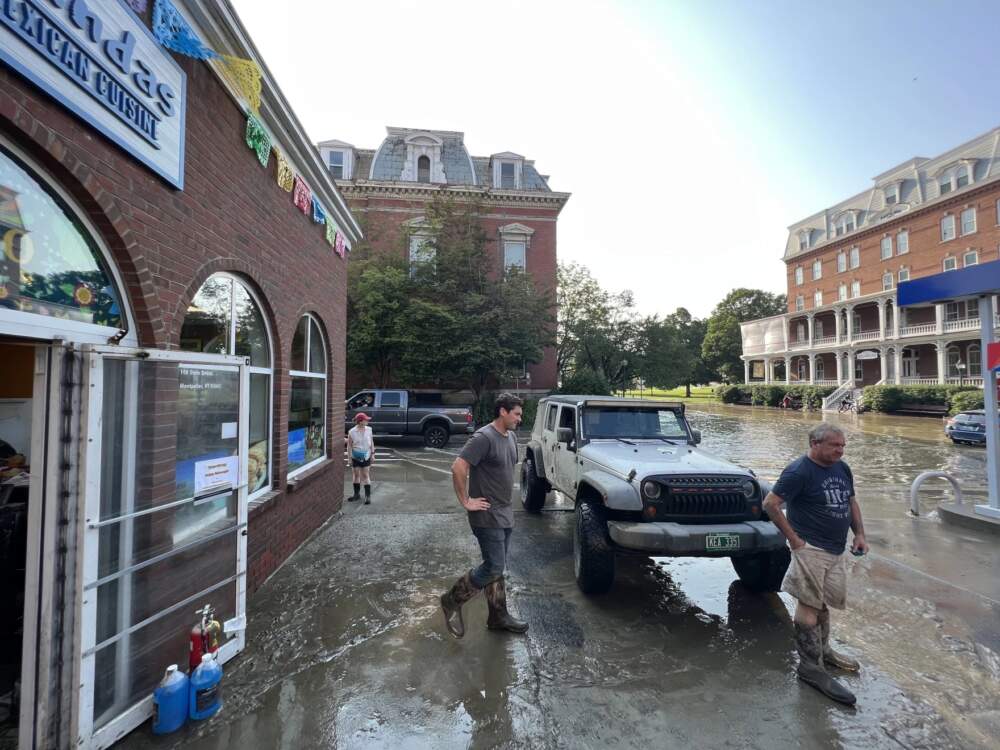 David, his son Kurt Simendinger, and three employees from Arandas were all on hand helping with cleanup shortly after the waters had receded enough for them to get inside the store.
There was equipment, merchandise, food, all needing of disposal; floors, walls, walk-in coolers, all needing a deep clean. It took all five men to get a toppled over refrigerator unstuck from the muddy floor and upright.
"Yesterday was a terrible misfortune," said Jose Dominguez, an Arandas employee helping with the cleanup, speaking in Spanish. "Now we have to work as a team to restore everything. We hope to get back on our feet quickly, and we're going to continue working as a team."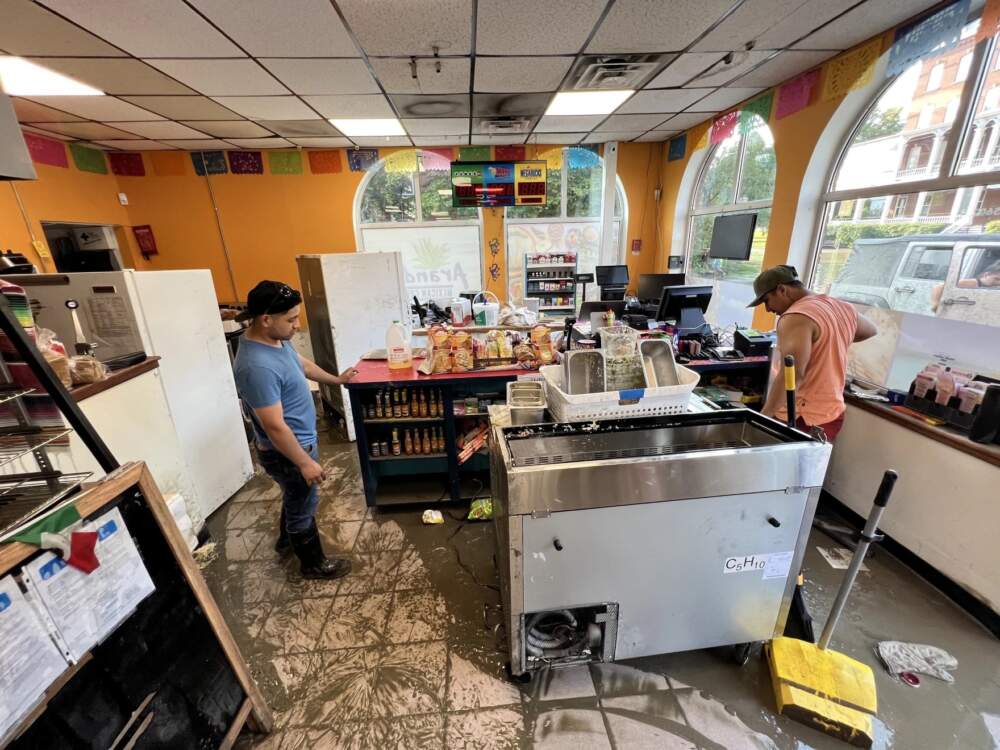 There is one thing working in Montpelier businesses' favor right now — the prospect of free labor.
Trautz said Montpelier Alive has fielded requests from more than 1,000 people wanting to volunteer. And the business association is also establishing a fundraising campaign to generate financial support.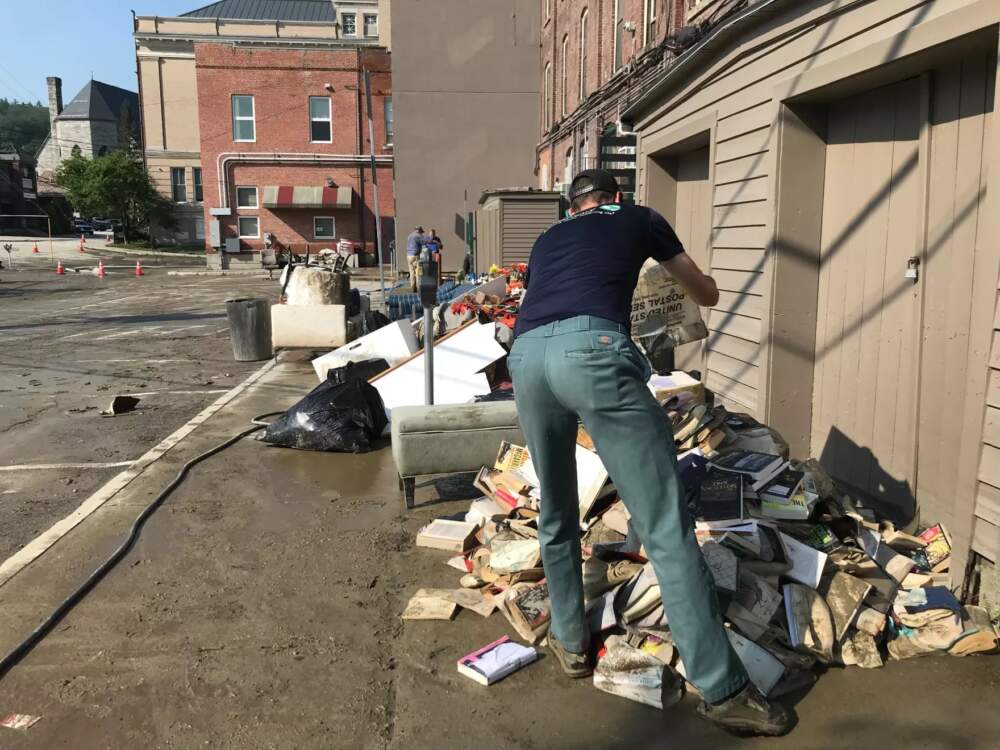 Wes Hamilton co-founded a popular local restaurant called Three Penny Taproom in 2009. He was taking a smoke break outside the entrance on Wednesday morning.
"All of our kitchen equipment is turned over and on the other side of the room … there's stuff everywhere," Hamilton said. "You know, it looks like a really intense episode of one of those hoarder shows."
As flood waters peaked on Tuesday, Hamilton said he wasn't sure about the future of Three Penny.
By Wednesday afternoon, he was feeling more optimistic, thanks in part to the scores of people who've reached out to offer assistance.
"The outpouring of people saying they're ready and willing to help with whatever we need is tremendous. So, you know, one way or another we'll get it done," Hamilton said.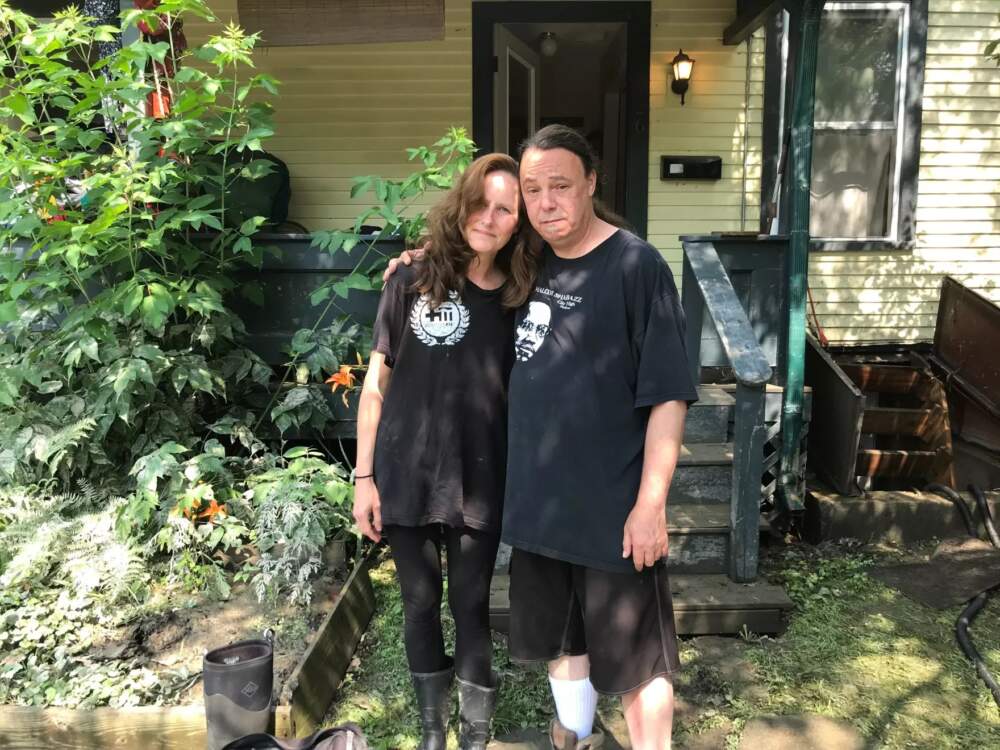 Montpelier's downtown is a residential area as well, so businesses aren't the only ones reeling from the flood.
Ian and Billiejo Quinlan have lived in an apartment on Elm Street for the last 14 years. By 10 or so Tuesday morning, there was 2 feet of water on their ground floor.
"We don't have renters insurance, so we're just going to have to look into like FEMA and any kind of assistance programs that are coming up," Ian Quinlan said. "But it's not like it's easy to find."
The Quinlans will live across town with Ian's mother until they're able to return to their home, but they have no idea when that'll be.
And as is the case for so many entrepreneurs and residents of this hard-hit city, it's unclear when, or if, things will return to normal.
Daniela Allee of New Hampshire Public Radio provided translation assistance.
---
This story is a production of the New England News Collaborative. It was originally published by Vermont Public.
This segment aired on July 13, 2023.