Striking New England SAG-AFTRA members rally on Boston Common
As word of a writer's strike loomed in spring, actor and singer Andrea Lyman said she watched as summer projects began to be canceled and postponed. It was like what happened during the pandemic, she said, but without unemployment and other government checks.
The Newton resident is president of SAG-AFTRA New England Local. She's relied on her singing to pay the bills. She's also starred in indie films such as the short "Plus 1s," which was shown at the Roxbury Film Festival in June. Since last Thursday, July 13, Lyman is one of thousands of SAG-AFTRA union actors (4,000 of which are in New England) on strike alongside members of the Writers Guild of America, waiting for the film and television industry to bargain on issues such as AI and pay models from streaming services.
"Eight months ago, we were looking for a huge summer because of the [Massachusetts] film tax credit," she said. "Lots of films were coming here. Films, TV shows. We were looking at some series coming here…it's been a big, big disappointment."
The contrast between this year and last year is significant. In 2022 alone, over 30 major productions were filmed in Massachusetts. More than 325 productions have filmed in over 235 cities and towns, together spending more than $3.2 billion in Massachusetts since the Film & Television Incentive was introduced in 2006. It's created more than 20,000 new jobs with an average salary of $68,000. Over 70% of those jobs went to Massachusetts residents.
Lyman said there was so much work she was having to choose between opportunities. Now, her budget is, "completely out of whack." Recently, out of the blue, she received one check for a commercial that she had previously worked on, which she wasn't expecting.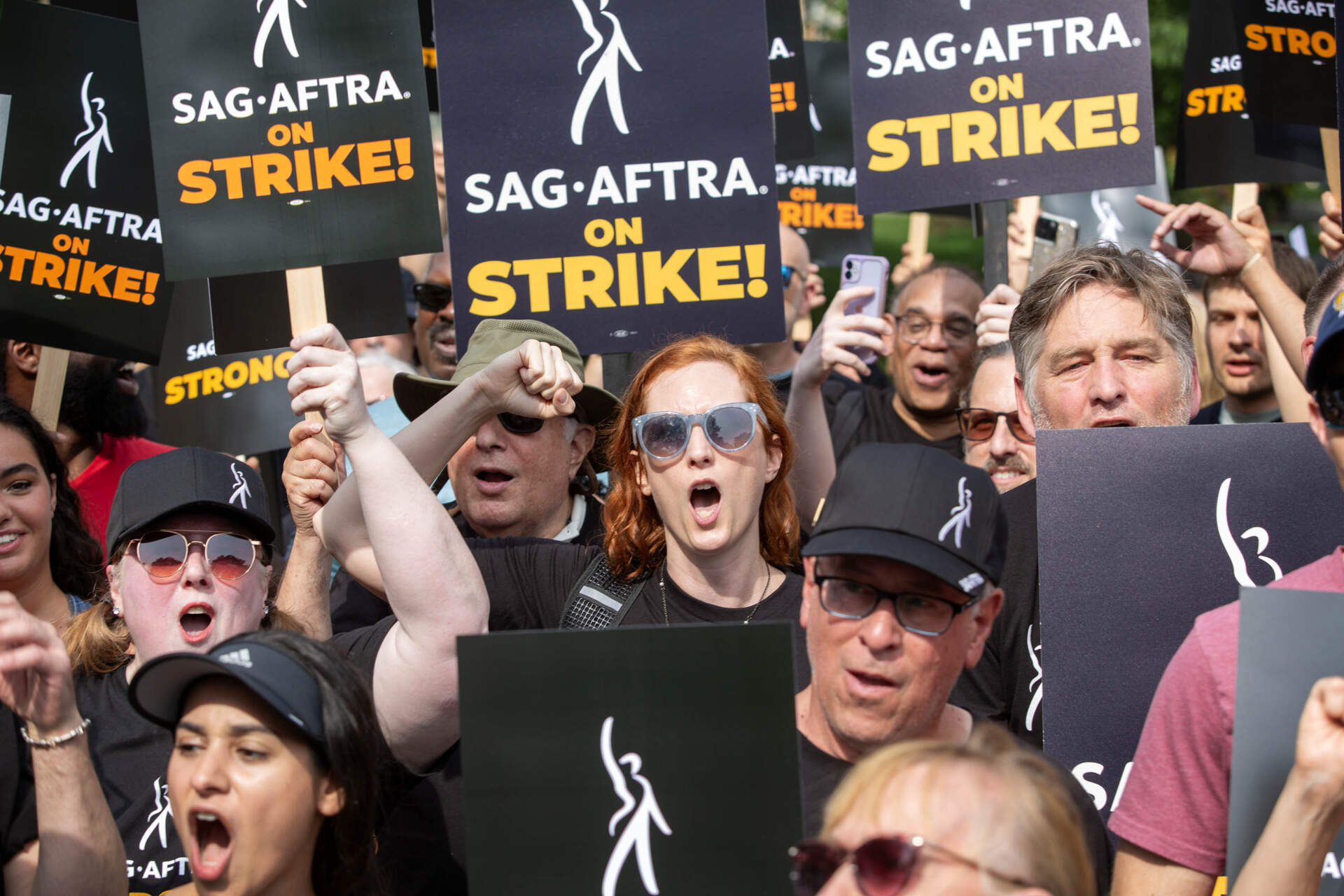 "It was a surprise," she said. "So that was really, really helpful. I don't know what I would have done if that miracle hadn't happened. Other than that, I don't know how much money is coming, so down the line, you know, it's kind of scary, I don't even want to think about it."
Lyman joined others with the SAG-AFTRA New England Local at 4 p.m. on Wednesday, July 19, for a rally. Union chants were heard across Boston Common to the tune of the holiday favorite "Let It Snow." "Their AI proposal is frightful/ And their lies are quite insightful/ Would someone tell these CEOs/ Share the dough, share the dough, share the dough."
"It's a labor-intensive business, making films," said Tom Kemp, vice president of SAG-AFTRA New England Local and vice chair of the National TV Theatrical Negotiating Committee. "You have all the crew, you have the actors, you have the background actors, you have catering, you have the teamsters that are driving us and getting us safely to the set and picking us up."
And it's pretty organized, he said, as virtually everybody on the set is a member of a union. A longtime actor, performer and Milton resident, Kemp has been involved with six negotiations. But he said this is different.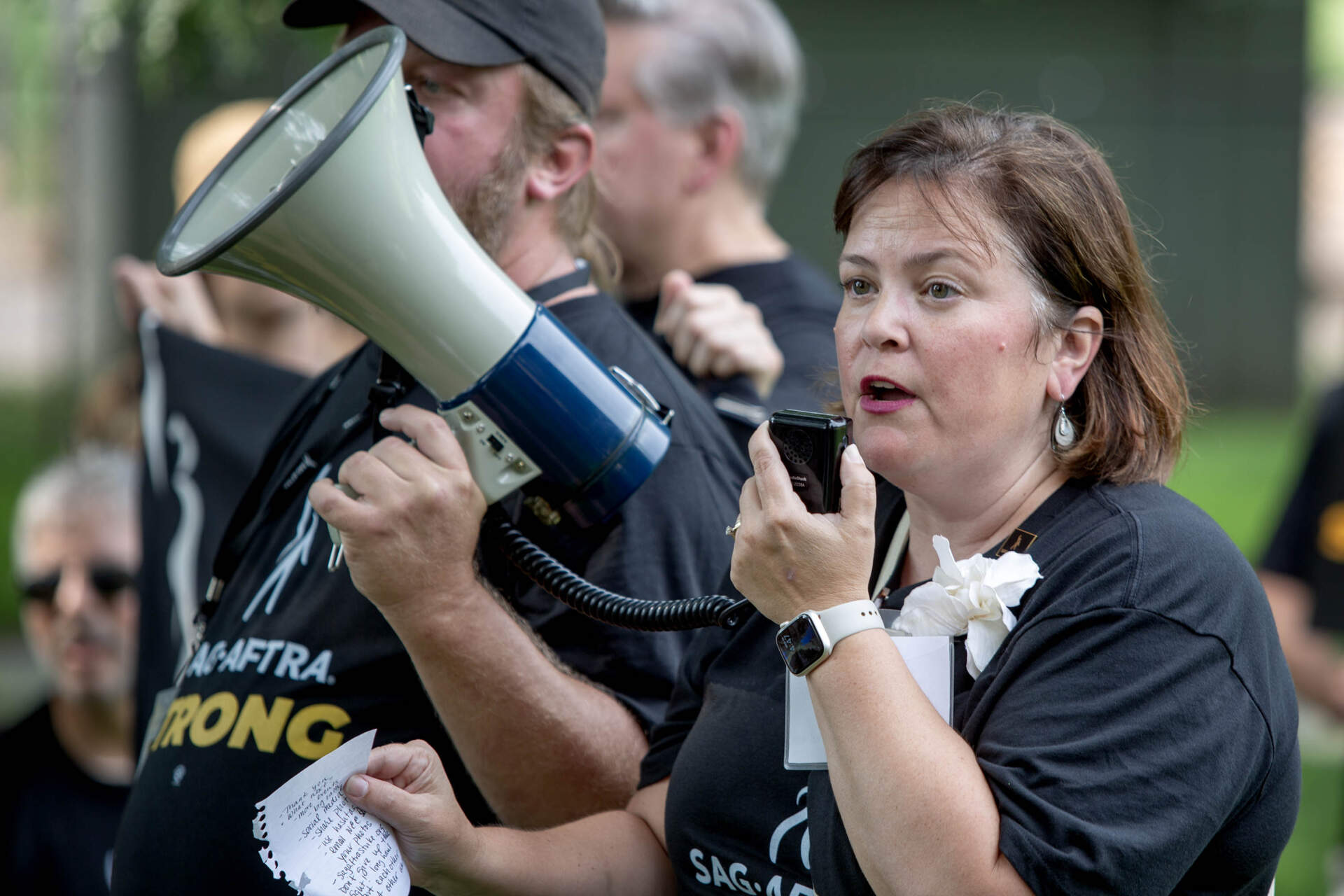 "This whole confrontation here, it goes beyond just actors and producers," Kemp said. "It's this whole fundamental change in our economic status here where we have so few people making so much money and everybody else is on the bottom."
He noted that only 14% of union members make enough money annually to qualify for the SAG-AFTRA health plan. The threshold is $26,470 a year.
"This contract was built and developed on a model of network television shows and movies," Kemp said. "That's not how the business is now."
He said the current model is ancient. If you did a network series, even just as a guest star, you could get decent residuals, but now there are fewer network reruns and even less money from the shows on streaming.
Lyman called Wednesday's rally a success. She estimates nearly a hundred members showed up, and more rallies are expected as the strike continues. Kemp said they're willing to return to the bargaining table in good faith at any moment, but there's been no movement from the Alliance of Motion Pictures and Television Producers.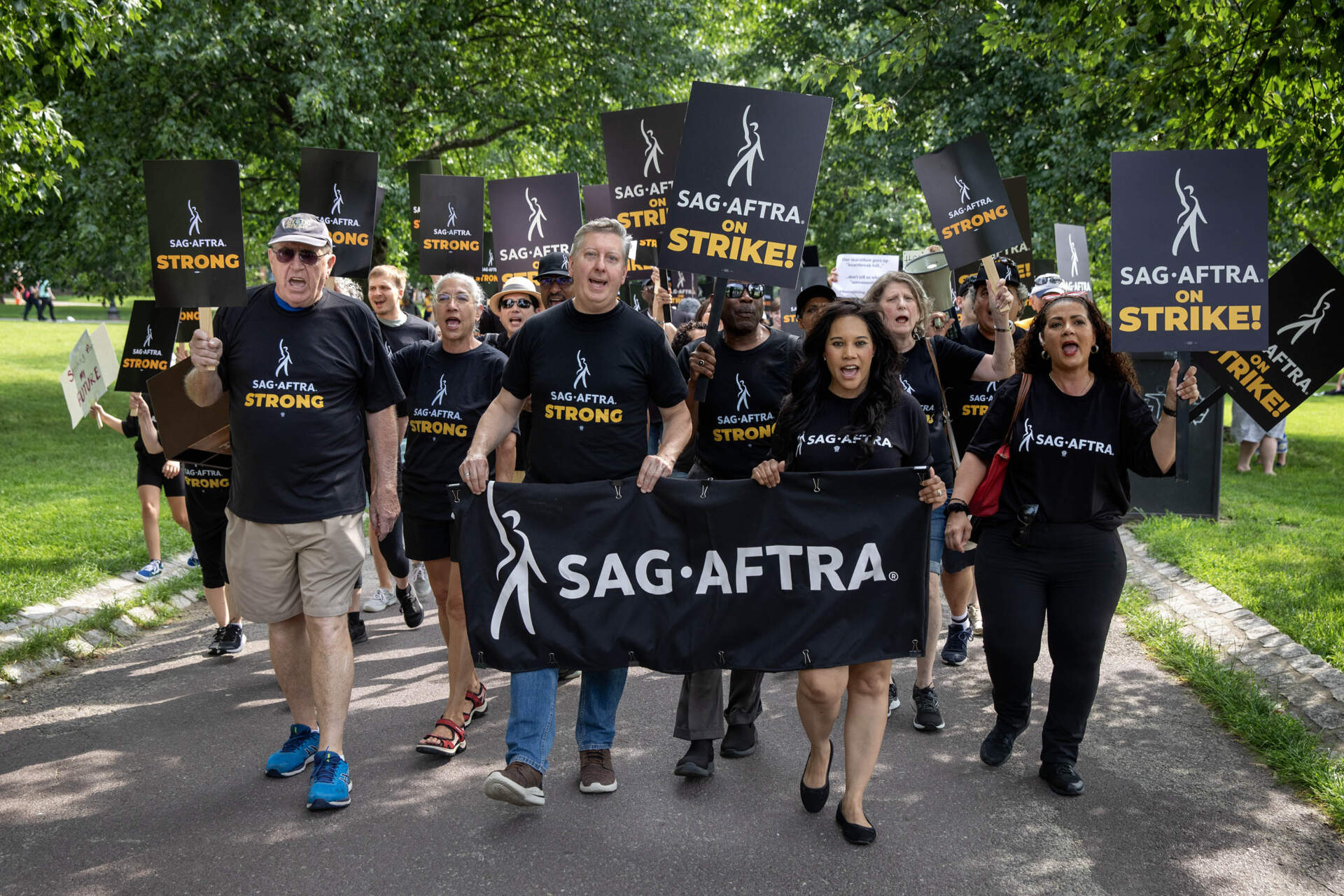 "We're waiting for them," Kemp said. "The next move is theirs. We've offered to keep talking."
The Alliance of Motion Pictures and Television Producers put out a statement on Tuesday, July 18:
"SAG-AFTRA continues to publicly mischaracterize AMPTP's AI proposal. The Union has distorted the facts in an effort to garner support for its work stoppage, but the facts need to be corrected."
AMPTP agrees that "use of a performer's likeness to generate a new performance requires consent and compensation." The statement goes on to say job protection for background actors is maintained by rules that require producers to hire a specified number of background actors under the SAG-AFTRA contract per day.
WBUR's Zeninjor Enwemeka contributed reporting to this story.
Editor's note: Many WBUR employees are SAG-AFTRA members, but they are covered by a different contract than film and television actors.