Sunflower festivals are blossoming in New Hampshire this summer
As summer begins to wind down, New Hampshire is being treated to the bountiful brightness of sunflowers.
In the Concord area, two festivals are taking place over the coming days: one hosted by Sun Fox Farms and another at Brookford Farm. Both celebrations run through Aug. 20.
Greg Pollock, owner of Sun Fox Farms in Concord, was driving through Italy a few years ago when rows of sunflowers captured his attention.
"The flowers were all past bloom at the time," Pollock said. "Part of me just wanted to see them in all their glory. But then another side of me just wanted to learn something new."
Pollock has been farming for about 10 years, mostly raising vegetables. Spotting the sunflowers in 2018 raised his interest and he noticed that New Hampshire had an underserved market: sunflower oil.
"What are the cooking oils that we have? Olive oil and canola. And none of that's really produced in New Hampshire, so we'd have to bring it in," Pollock said. "To just be able to fill that gap is great."
For the past four years, Pollock has been growing the flowers in Canterbury but more recently moved to a farm in Concord after securing a 25-year lease from the city.
Today, from Sun Fox Farm's fields you can see the State House behind rows and rows of sunflowers. With the festival Pollock said he's trying to introduce the agricultural land right in the heart of the city.
But don't think it's just about the market. There's a lot of love behind the sunflower fest that Pollock and his fiancée Amber Brouillette are putting on.
Brouillette has drafted up a seven-course dinner stemming from her days as a dietician and chef.
Menus for dinners at the Sun Fox include nasturtium — a type of flower — and sunflower oil soup with scallop and pickled onion. Chicken tortillas with mushrooms, mole, cream and borage, and slow cooked pork belly with corn croquette are also on the menu.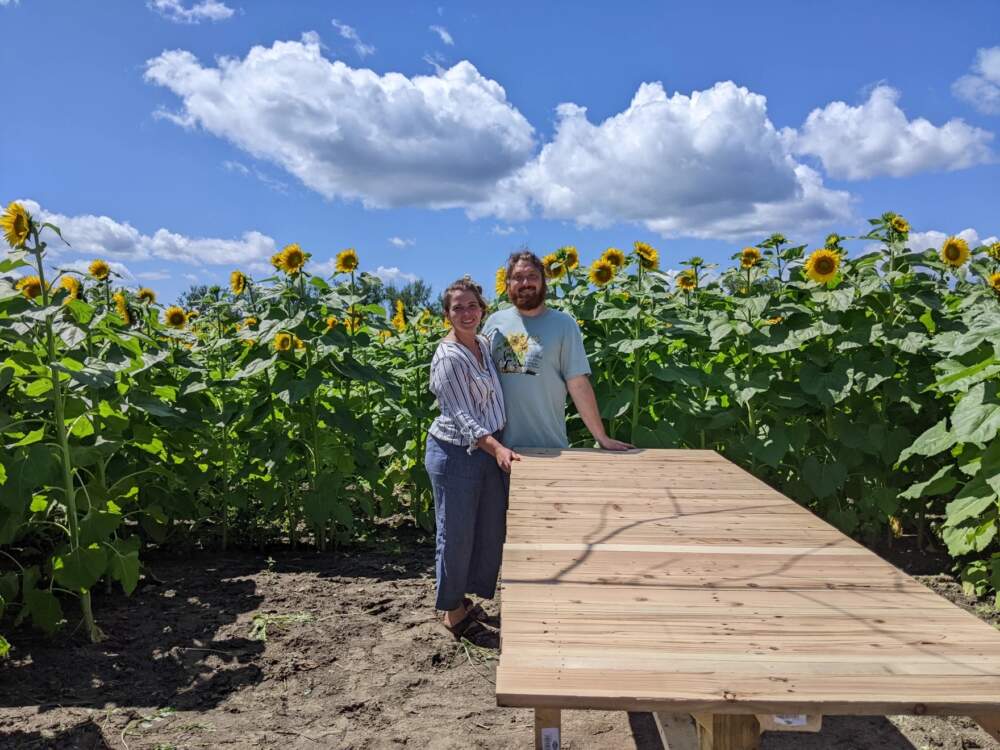 Sunflowers, and food
In Canterbury, Brookfield Farm is hosting a sunflower festival that owner Luke Mahoney says includes more than just the flowers.
"We have intentionally tried to showcase our entire farm. The sunflowers are more important as we have bees on the farm, but they aren't all that we do," Mahoney said. "We showcase the animals, we do hayrides, there's cow parades."
Brookford Farm hosts pigs, chickens and cows, and also offers a creamery and a farm store.
An international food festival will take place at the farm on Aug. 17, highlighting the foods of the farm hands who work at Brookford.
"We have refugees from lots of difficult countries, and employees from lots of different countries," Mahoney explained.
Blooming in popularity
Pollock says there's just something magical about sunflowers that makes people happy.
"And that's part of our love with the sunflowers: just seeing all the smiling faces and the joy that it brings people," Pollock said.
Mahoney said while the animals could be a draw, he thinks people come out to get a picture of themselves with the sunflowers.
---
Editor's note, Aug. 15, 2023: This story was edited to correct a quote that was misattributed.
This story is a production of the New England News Collaborative. It was originally published by New Hampshire Public Radio.