Wu endorses Pepén over Arroyo in city council race
Mayor Michelle Wu has endorsed Enrique Pepén over Ricardo Arroyo in the race for the District 5 City Council seat.
"Enrique is exactly the kind of leader we need in government. He's thoughtful and kind, creative and tenacious—and above all dedicated to serving the community," Wu said in a statement. "As a resident of District 5, I'm excited to vote for someone who not only knows City Hall inside out, but also has lived the challenges of our community through growing up in Boston and now raising his two young kids here."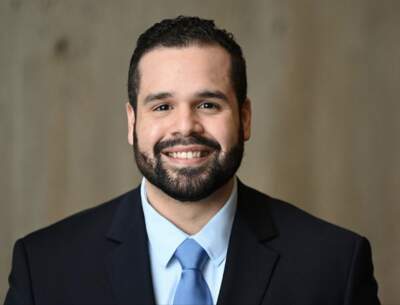 Pepén previously worked in the Wu administration as director of neighborhood services. District 5 includes parts of Roslindale, Hyde Park and Mattapan.
Wu endorsed Arroyo in his bid for the seat in 2019 and supported him in his 2022 run for Suffolk County District Attorney, before sexual assault allegations surfaced against him.
In response to Wu's endorsement of his opponent, Arroyo said in a statement, "I am proud to be the only candidate in this race with a proven independent and progressive record. Like the residents of District 5, I am focused on the issues that impact their daily lives and will continue to be a champion for racial, environmental, economic and social justice."
Arroyo has faced a series of controversies while serving on the council. Along with the sexual assault allegations, Arroyo was fined by the state Ethics' Commission for violating conflict-of-interest laws by representing his brother in a lawsuit involving the city of Boston while in office.
He also faced calls to resign after two federal investigations accused former U.S. Attorney Rachael Rollins of abuse of power, which included election interference in an effort to help Arroyo win the district attorney race.
Last week, an attorney who works for the city council filed an internal complaint alleging bullying and harassment by three councilors, including Arroyo. He has denied the claims.
Others challenging Arroyo for the District 5 seat are Jose Ruiz, a Boston Police officer, and Jean-Claude Sanon, who has run previously.
Arroyo also is facing opposition from a political action committee (PAC) called "Enough is Enough," that last week announced it aimed to oust him from his seat. In filings with the state Office of Campaign and Political Finance, the PAC said its goal is to "Oppose the election of Ricardo Arroyo and to support the election of his opponents."
The preliminary election will take place on Tuesday, Sept. 12. The two candidates who secure the most votes in the preliminary elections will move on to the final election on Nov. 7.
With additional reporting from WBUR's Walt Wuthmann.