Despite this season's challenges, Massachusetts growers show off in annual tomato contest
It's been a tough year for Massachusetts farmers. But in spite of heavy rains and catastrophic flooding, the cream of the tomato crop was glistening in the August sun Tuesday as judges in the state's annual tomato contest mulled over their top picks.
Now in its 38th year, the Department of Agricultural Resources' competition accepts entries from commercial farms that are chopped up into four categories: slicing varieties, cherry tomatoes, heirloom varieties, and contenders for the "heaviest" title. It's a chance to promote and celebrate a crop grown on 569 acres of land and in 16.8 acres of greenhouse space across the Bay State.
Agriculture Commissioner Ashley Randle said the entries were "up in numbers" this year, with 84 selections sent in from 19 farms. Sliced up on tables outside the Boston Public Market, they formed a rainbow ranging in color from bright red to a sunny yellow to a deep, dark purple hue.
"It's a great way to really showcase and highlight all of the tomato varieties we're growing in this state, especially after the challenging year that it's been for our farmers," Randle told the State House News Service.
The challenges for Bay State vegetable and fruit growers started with the Feb. 4 deep freeze, Randle said, followed by a May 18 "frost event" and the torrential rain and flooding in July.
"Typically most tomatoes have ripened at this point, but we're seeing them ripen later because of the impacts with the flood and rain events. And so farmers still have been able to produce a really high quality crop this year, but it's just ripening a little bit later in the season," said Randle, a Gov. Maura Healey appointee who took the commissioner's post in March.
Shoppers at farm stands and farmers' markets will see an "extended" tomato season as a result.
But some farmers have seen their crop lands totally devastated, and MDAR has estimated crop losses at more than 3,000 acres with an economic loss of at least $15 million, a number Randle said "continues to grow" as rain and hot days can continue to exacerbate susceptibility to disease for vegetables and fruits.
All of that notwithstanding, many farms have still seen a "really high quality harvest," the commissioner said.
Among the winners Tuesday was the O'Dwyer family of North Easton — Kevin and Kate — proprietors of the 75-acre certified organic Langwater Farm, which took home trophies for first place in the slicing category and second place in "heaviest."
Kevin O'Dwyer said it's been a difficult growing season, but his family is counting their blessings.
"It has been a strange, crazy year. Heavy rainfalls, many extreme events have been challenging. But we've tried to do what we can to produce a nice crop, and as far as things go, we've been pretty fortunate," he said. "I think a lot of farms out in the western part of the state have had it far worse, and we really feel for those guys."
The annual state competition helps them market their tomatoes, and the O'Dwyers said their customers take an interest and get "really excited" about how their produce places.
Their daughters — Madison, 12, Rachel, 9, and Charlotte, 7 — stood clutching the trophies, and Kate said they were looking forward to proudly displaying the hardware at their stand back in North Easton. The kids help out in the greenhouse, and Madison helped with taste-testing varieties in the barn Tuesday morning to decide which ones to enter in the Boston contest.
"We pride ourselves in our tomatoes. We put a lot of effort into them, a lot of thought into growing them and care into the maintenance and harvesting of them," Kevin O'Dwyer said.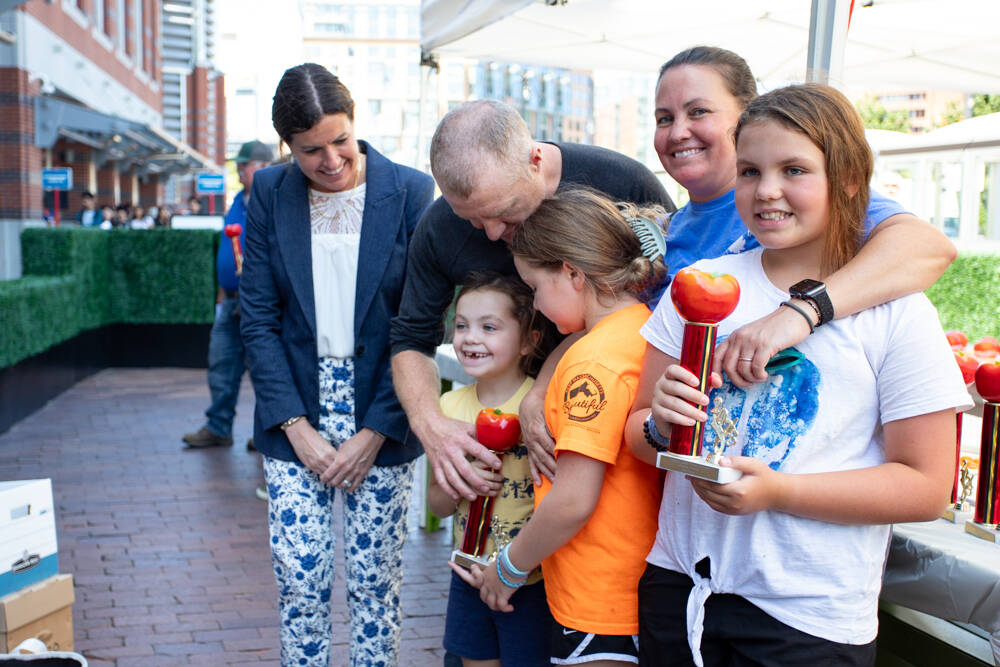 The tomato crop statewide is valued at around $11 million annually, spread across 517 Massachusetts farms.
Ahmad Yasin, owner of Kareem's Catering in Watertown, served as one of the 16 judges this year who perused the tables with a toothpick in one hand and a grading rubric in the other. He said his home garden, which features around a dozen tomato plants, has been hurt by this year's weather but he was "lucky" with some plants.
Yasin said his love of tomatoes goes back to boyhood on his father's farm in Syria, and he's been tasting at the state contest since he first learned about it.
"And by the way, it is the favorite — whether you call it a fruit or a vegetable — it is my favorite. I eat it every day," he said.
Based on flavor (10 possible points), firmness and slicing quality (5 points), exterior color (5 points), and shape (5 points), the judges' rubric advised that the "perfect tomato should have a strong tomato taste, be slightly acidic, juicy and fresh tasting with a tender skin."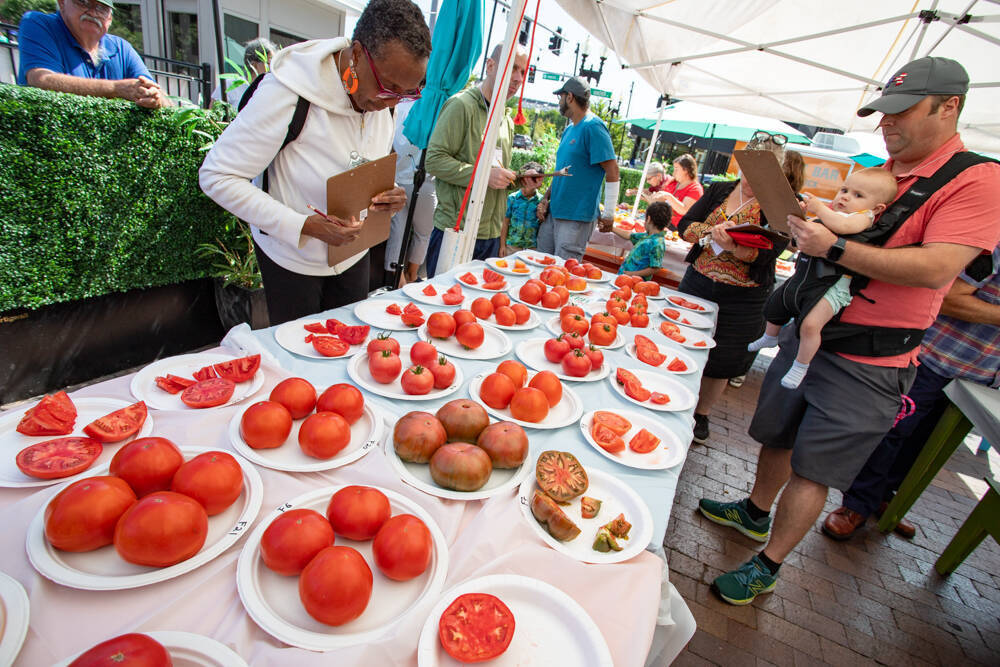 Rose Arruda, a program manager at the Department of Agricultural Resources, was volunteering with her colleagues Tuesday to help set up the contest.
"You never know what you're going to get. But just the different examples of the tomatoes, and the beautiful hues and the colors, and they taste like candy. They're amazing. And it just makes me want to start growing more tomatoes," she said.
Arruda has a garden in East Boston and tells herself every year that she'll add heirloom varieties into the mix.
"I'm going to grab one, save the seeds, and do it next year for real," she said.