After the floods, Vermonters face hard choices about whether to rebuild
The Elmore Branch runs through Andrew Gibbs' backyard in Wolcott, Vermont. Right across the street is the Lamoille River. Last month, when the storm began, Gibbs was keeping an eye on the water level.
"I got a big rock out back there," he said. "I can tell when it just got about halfway, time for me to 'beau-coo.'"
Gibbs, 68, and his 10-year-old son were able to get out before the waters rose too high; some friends came by and picked them up. A neighbor who stayed behind told him that water rose nearly to his bathroom window, which was more than 6 feet off the ground.
On a recent afternoon, about a month after the flood, Gibbs took me around his a small, yellow two-bedroom home. There's plastic wrapped the outer walls and a few no-trespassing signs posted outside.
The smell of mildew and sewage hung in the air. The hallway was nearly impassable — flood waters had knocked over shelves, torn cabinets down and even wretched the hot water heater off the wall. Gibbs says he's crawled through the debris to check out the conditions: the back wall got pushed out a few inches, and the floor has dropped, likely because the slab of the house is compromised, he said.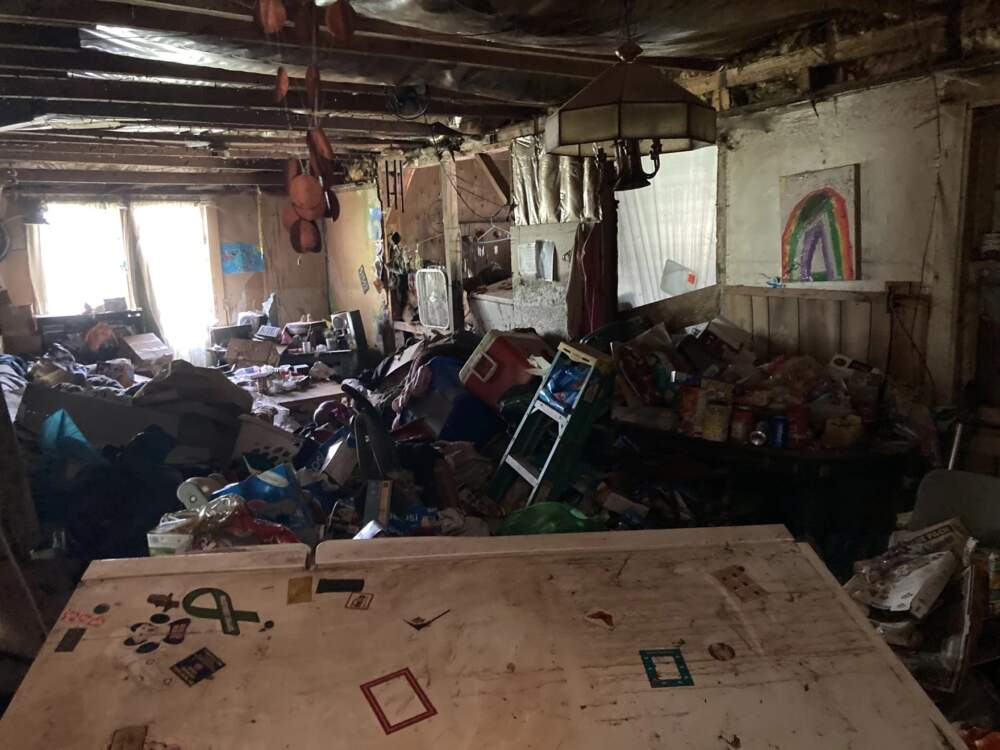 Gibbs pointed to the bathroom, where the toilet was covered in dried mud.
"It pushed everything out of my sewer tank," he said. "My leach field is on the other side of the barn here. I do believe when the water came through and went through my leach field into my sewer tank it pushed it all up into the house… It's a mess, it's bad."
More than a month after rain and floods pummeled Vermont, the immediate cleanup is over. But hundreds of people like Gibbs face a difficult choice: should they rebuild, especially as climate change is expected to bring more frequent severe weather?
Knocking down flood-prone homes is one way to eliminate future risks. Federal and state funds are available to help municipalities buy those properties. But the buyout process is complicated and takes a long time, and it's often a deeply personal decision.
This house has been in Gibbs' family for four generations. It isn't the first time it's flooded. Years ago, after a divorce, Gibbs had moved in and was living with his dad when the river spilled over its banks.
"But we only got a foot or two of water in the house and it didn't really destroy it like it did this time," Gibbs said. "My father took the money and we fixed it up the best we could. And then I went through this one."
Gibbs has been staying with family in Danville for the past month. He doesn't make much money — he's on disability and gets about $1,200 a month.
He did get about $47,000 from the Federal Emergency Management Agency, or FEMA. But that's not nearly enough to rebuild. Gibbs figures he'd have to fix the foundation, put in a new sewage system and get flood insurance.
But even if the FEMA funds were enough, Gibbs wouldn't want to go back.
"That's why I'm just waiting to see what I can do with FEMA," he said. "If I can relocate I'd be really happy … I don't want to go through another flood like this."
It's still not clear the total extent of the damage caused by last month's floods. So far, FEMA has officially determined only nine homes, and two rental properties across Vermont were destroyed. According to the agency, another 234 homes and 91 rental properties suffered major damage, but at a hearing last week state officials said they were concerned that FEMA's assessments don't match the reality on the ground.
There appears to be significant interest in home buyouts from people like Gibbs, according to Vermont Emergency Management. The agency says more than 100 households have filled out an initial intake form. But it'll be a few months before the state starts submitting applications to FEMA.
"This process is not fast — that's the hard problem. If you don't have a house, you're trying to make do with what you can until the money arrives. And it'll be quite a while until that happens."

Kevin Geiger, Two Rivers-Ottauquechee Regional Planning Commission
The entire buyout process can take months, or even years, said Kevin Geiger, director of planning at Two Rivers-Ottauquechee Regional Planning Commission.
"This process is not fast — that's the hard problem," Geiger said. "If you don't have a house, you're trying to make do with what you can until the money arrives. And it'll be quite a while until that happens."
There are other hurdles too: FEMA only pays 75% of the appraised pre-flood value of a home, meaning the state needs to set aside matching funds to cover the remaining 25%. For now, the state has money to cover that gap, said Stephanie Smith, the state hazard mitigation officer at Vermont Emergency Management.
"We have an $8 million total allocation," Smith said. "The intent of it is specifically to provide a match for FEMA projects. So all of the buyouts will get 100% funding."
Not everyone is on board with buyouts. Some towns worry about the loss of revenue that would come with having fewer homes on the tax rolls. Others aren't ready to handle all the paperwork. And there's still a big question of where people who take a buyout can go amid Vermont's historic housing crisis. The lack of available housing has scuttled potential buyouts in recent years, said Seth Jensen, deputy director at the Lamoille County Planning Commission.
"What they could get for a buyout was not enough to relocate anywhere in the community that was outside of the floodplain," Jensen said. "And there are a few cases where those properties were impacted by this flood."
Montpelier was one of the hardest hit places in last month's storms, and downtown business owners and various officials have all suggested it may not be feasible to rebuild in every location. But city officials are wary of using buyouts.
"We don't really want to contribute to that shortage by buying and demolishing other houses," Mayor Jack McCollough said. "The preferable choice for us would be to elevate the buildings. And, you know, that would preserve housing."
It's also harder to get approved for a buyout if your house is worth more than $323,000, or if your house isn't in a FEMA-mapped flood zone. Geiger, with Two Rivers-Ottauquechee Regional Planning Commission, says those maps are notoriously outdated.
"As we say, the maps may be wrong, but they're officially wrong," he said.
"It's hard – real hard. Don't really seem it right now but once I have to walk away it'll probably hit me … How did you give up something you've had all your life? It's hard to walk away."

Andrew Gibbs
According to the agency's maps, Gibbs' home isn't in a flood zone — even though his neighbors' properties, on both sides, are. Gibbs says he did get a letter from FEMA saying he might be able to relocate as part of a buyout. And while Gibbs doesn't want to return to this house, he's torn about leaving it.
"I've never really been in a trailer park or [had] neighbors right next to me," he said. "Here I feel more open — I'm a country boy, you know, born and raised here. I like it."
Gibbs's family milked cows and farmed on this property before selling off most of the 200 acres. Now Gibbs is thinking about saying goodbye to the final piece.
"It's hard — real hard," he said. Don't really seem it right now, but once I have to walk away it'll probably hit me … How did you give up something you've had all your life? It's hard to walk away."
---
This story is a production of the New England News Collaborative. It was originally published by Vermont Public.