Little Amal takes first steps in Boston
Resume
She's roughly three times the height of an average 10-year-old girl. At 12 feet tall, she towers above most other puppets – she even has about four feet over Big Bird. Over the weekend, Bostonians will feel her larger than life presence in-person as she arrives on the commonwealth's shores for the start of her journey across the United States.
While she's made of lightweight materials, such as cane and carbon-fiber, and requires three puppeteers at one time to operate, she's also a symbol of refugee displaced populations now widely recognized across the world. Her name is Little Amal, "hope" in Arabic. She's designed by Handspring Puppet Company of South Africa, the company responsible for the lauded main character in "War Horse." Though she's as expressive as the company's other theatrical creations, her performance has played out across a much wider stage. Amal's first performance took place in 2021. "One side of the stage was the Syrian border with Turkey. The other side of the stage was Manchester in the UK," said David Lan, co-founder and producer of The Walk Productions.
"This started as a one off," Lan said in an interview. "It was going to be one, crazy thing that we did, and if we managed to do it, that would be enough. But as she began to walk, we began to realize the response that she elicited from people in the street that she met, and then her presence online in various ways, that she was resonating very strongly in people's imaginations." Word spread, and it didn't take long before groups from around the world sent invitations to Amal. These invitations have led to an extension of the original concept to tours through Europe and last year in New York City. Since her first steps at the Syrian border, she's traveled 6,000 miles. Over nine weeks, Amal will double that journey, traversing another 6,000 miles up, down and across the United States, visiting hundreds of local organizations that have partnered with The Walk Productions to host events and programming for Little Amal.
One of those invitations came from Ronee Penoi, director of artistic programming at ArtsEmerson. "We had heard about the project and had sent a couple of gentle emails saying, we'd love to host you," Penoi said in an interview. "We got some information that there was this push to do a national tour. So it really felt like both sides of us were coming together to say, 'Oh, ok. What is the opportunity here?'"
Lan and Penoi recognize that setting Amal in America, gives rise to the country's rich and complex history as both a country founded on the displacement of a native population as well as a beacon of hope for the world's tired, restless and tempest-tost. For Penoi, Boston's selection as the start of the nationwide tour fittingly introduces Amal to America. "BeingIndigenous myself, I think a lot of both the truths and the mythologies of Boston as a place of the very first moments of contact with Indigenous peoples with colonists," said Penoi. "We're reckoning a bit with everything that has come past and with who has been made to feel invisible or as refugees on their own lands."
After arriving in Boston by schooner on Thursday, Amal's first public event in the city will be a Welcome Block Party at Dewey Square, hosted by ArtsEmerson. The event will include songs and dances from local immigrant groups followed by a procession to the Chinatown Gate, a part of the city that Penoi notes was once known as Little Syria.
In preparation for Little Amal's arrival, American Repertory Theater at Harvard University has led workshops at Boston Public Library branches throughout the summer where children and guests created signs, notes, and even choreographed dances to welcome Amal. For Diane Paulus, A.R.T. artistic director, Little Amal's visit has the potential to reshape our narratives of how we as a society welcome outsiders. "It's a little counterintuitive," she said, "you think about Little Amal coming to a community and all the focus is on her, but actually what happens is the community needs to come together to tell their story to her." She continued, adding that she hoped the event worked as a catalyst for building relationships between those welcoming and those being welcomed."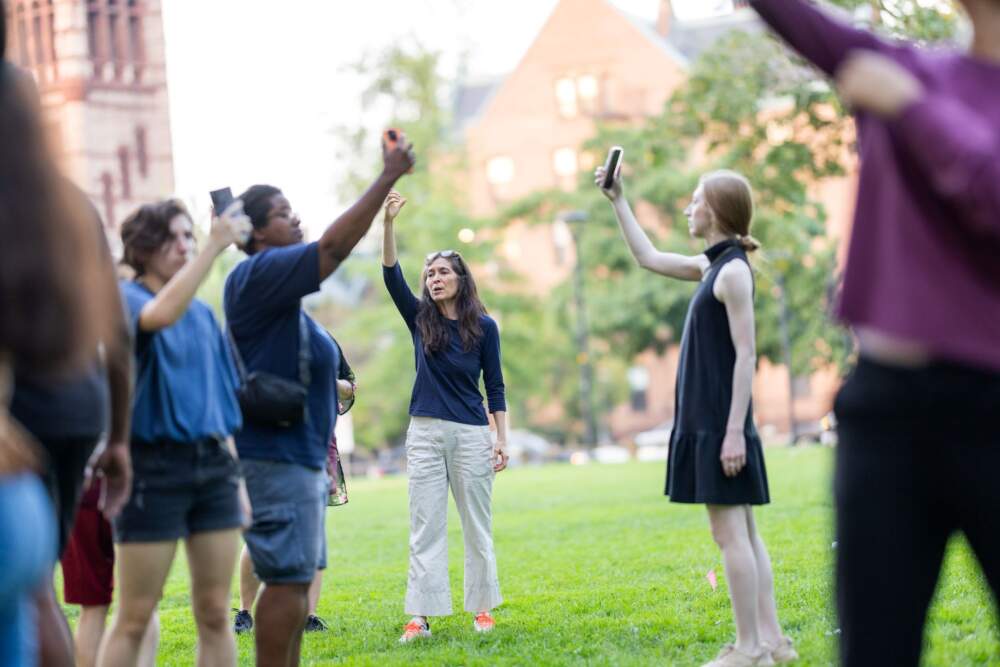 Little Amal comes at a time when anti-immigrant protesters have demonstrated outside hotels temporarily housing migrant families from places such as Haiti, which has encountered natural disasters, food shortages and unrest.
For Lan, Little Amal's message is less for those opposing newcomers and more for those who welcome. "What is she doing? I mean, why are we doing this? Why is she walking? She's coming into your neighborhood in order to say those few words: Don't forget about us.  … The world is full of people of goodwill who are looking for a big way, a small way of communicating their desire to be part of a larger community of humanity," he continued. "One of Amal's great talents is to bring such people together in what we think of as a corridor of friends and to give them courage and strength."
Over the three days that Little Amal will spend in Boston, she will visit Harvard Yard, several branches of the Boston Public Library, and on Saturday, she'll throw a ceremonial first pitch at Fenway Park. In November, after arriving by boat in Boston, she'll end her American journey on the shores of the Pacific Ocean at Mission Bay in San Diego.
This segment aired on September 7, 2023.