Healey declares state of emergency in the wake of flash flooding
Gov. Maura Healey has declared a state of emergency for parts of the state inundated with flash floods during Monday's storm.
State and local emergency officials on Tuesday surveyed the damage following heavy rainfall that flooded parts of Massachusetts and Rhode Island Monday night, leaving behind waterlogged homes, large sinkholes and stranded drivers.
Healey toured the hard-hit areas of Leominster and North Attleborough Tuesday afternoon.
"It was really scary, the amount of water that fell in just a short amount of time and the incredible devastation that it caused," Healey said at a press conference in Leominster.
Speaking earlier in North Attleborough, Healey said her administration was working with the Massachusetts Emergency Management Agency and local partners "to assess the damage to prepare what we need to to get the application in for federal funding." She added that she spoke to the Biden administration and the Massachusetts congressional delegation earlier in the day about federal aid that could be funneled to the affected communities.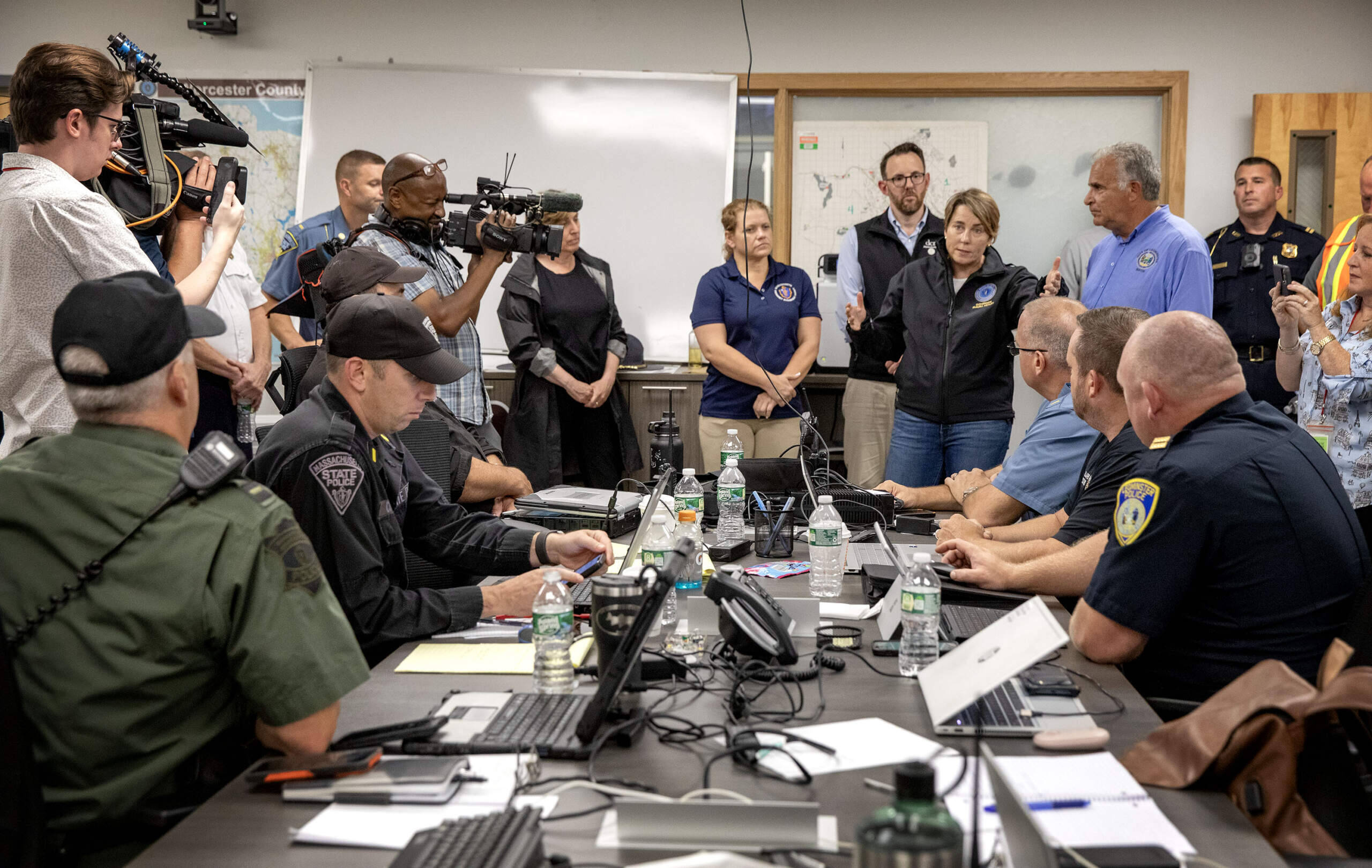 As crews worked to address the aftermath of what weather experts described as a "200-year event," forecasters warned of more storms for Wednesday. Although it was still early, winds and flooding from Hurricane Lee were expected to affect Rhode Island, eastern Massachusetts, southeastern New Hampshire and central and coastal Maine during the weekend, they said.
In a press conference Tuesday morning, Leominster Mayor Dean Mazzarella called the storm "catastrophic." He said rescue efforts via boat and hovercraft took place throughout the night, and about 100 people were in city emergency shelters as of around 7 a.m. Leominster schools were also closed due to the flooding.
"Typically, a rain event is 1 inch, 2 inches, in maybe 24 hours, 48 hours," said Mazzarella. "And this was 11 inches that we know of that hit us within four-and-a-half to five hours."
Meanwhile, local officials in North Attleborough, located 50 miles away, reported hundreds of homes were damaged in the flooding, leaving homeowners devastated.
Both communities declared states of emergency.
Mazzarella posted videos from the flooding in Leominster on Facebook Monday night, including a clip of water rushing through a large sinkhole on Pleasant Street and a home whose foundation had been exposed. There were also reports of a partially collapsed building on Spruce Street, another sinkhole outside Brady's Restaurant on Mechanic Street and a closed-off bridge on Main Street, according to The Massachusetts Emergency Management Agency.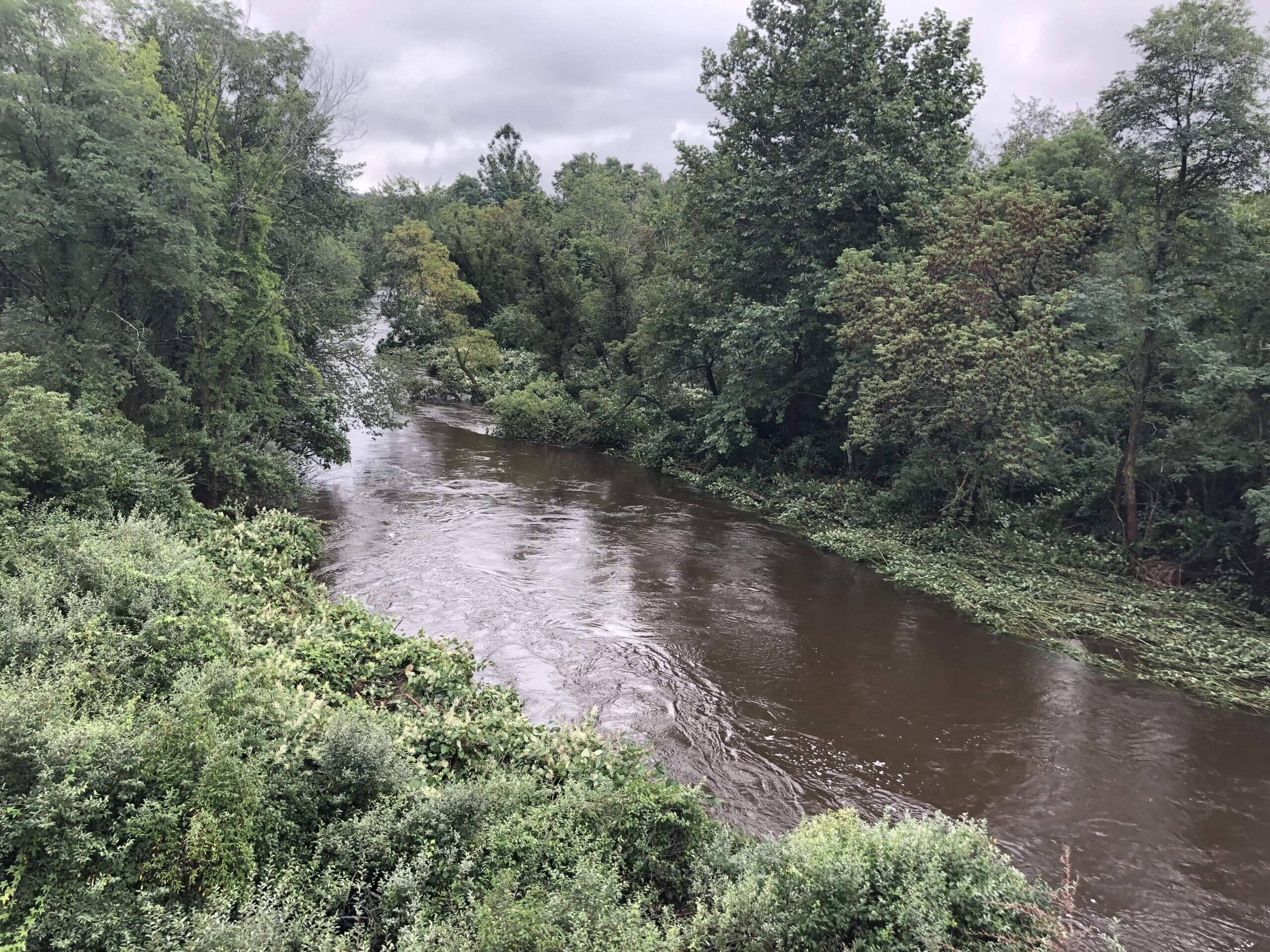 Several residents living on nearby Pleasant and Chestnut Streets told WBUR they remained vigilant but had not yet evacuated as of late Tuesday morning. Among them was Jill Patella, who lives just down the street from some of the homes that were washed out.
"The rain just started and it was so hard, we've never seen anything like it," she recalled of Monday night. "And we knew it was coming down hard, but the next thing you know, you start hearing sirens ... in the distance and then we heard them closer and closer and then you could see the lights so we knew something was going on."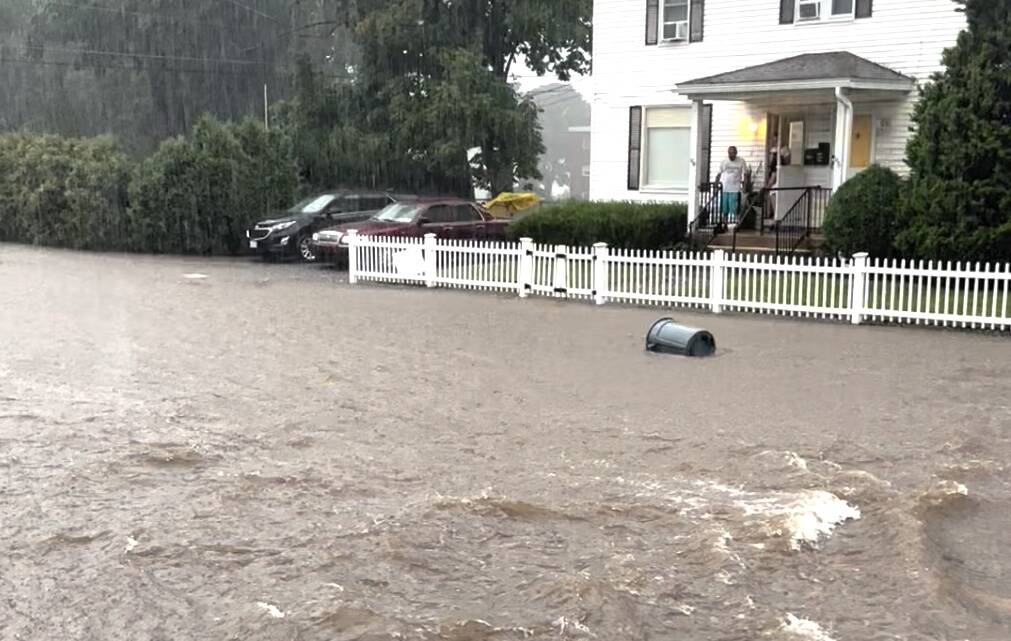 Emergency vehicles and earthmoving equipment have since moved into the neighborhood. Though Mayor Mazzarella urged patience among Leominster residents.
"This is not just a typical storm that you bring street sweepers out and everything will be clean in a couple of days. We're gonna be at this for quite a while before we can get everything back to normal," he said.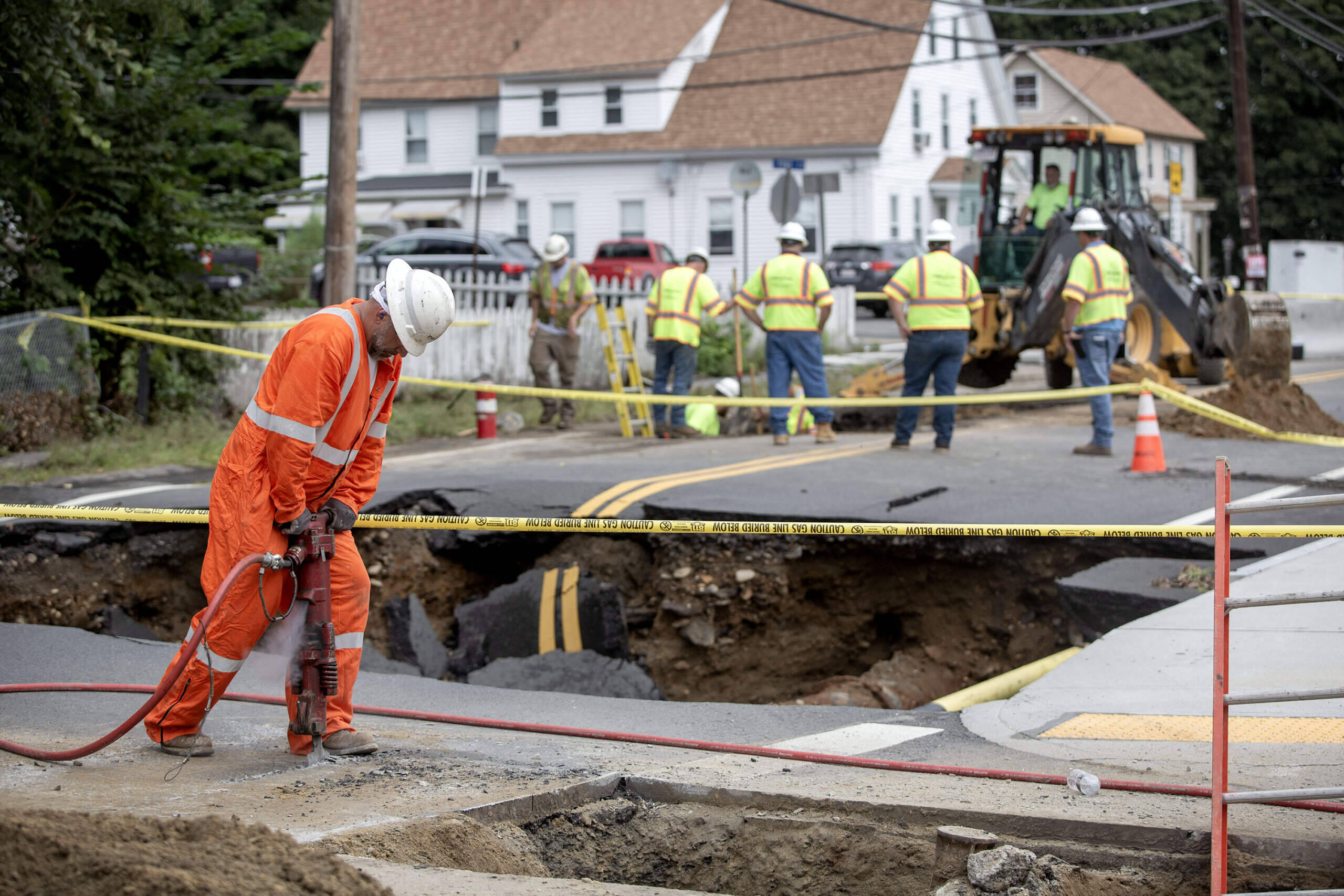 Impacted dams
By Tuesday afternoon, the threat of Barrett Park Pond Dam in Leominster overflowing or breaking had subsided. Earlier, concerns around the dam prompted Mayor Mazzarella to urge people living in areas around a nearby brook and the North Nashua River to "immediately evacuate."
A state database, last updated in 2012, lists the dam as a "significant" hazard. According to the state, that means if it failed, the dam breakage could cause "loss of life" and damage to homes or other property. There are more than 1,000 dams that meet this designation or present a higher level of threat to communities across the state.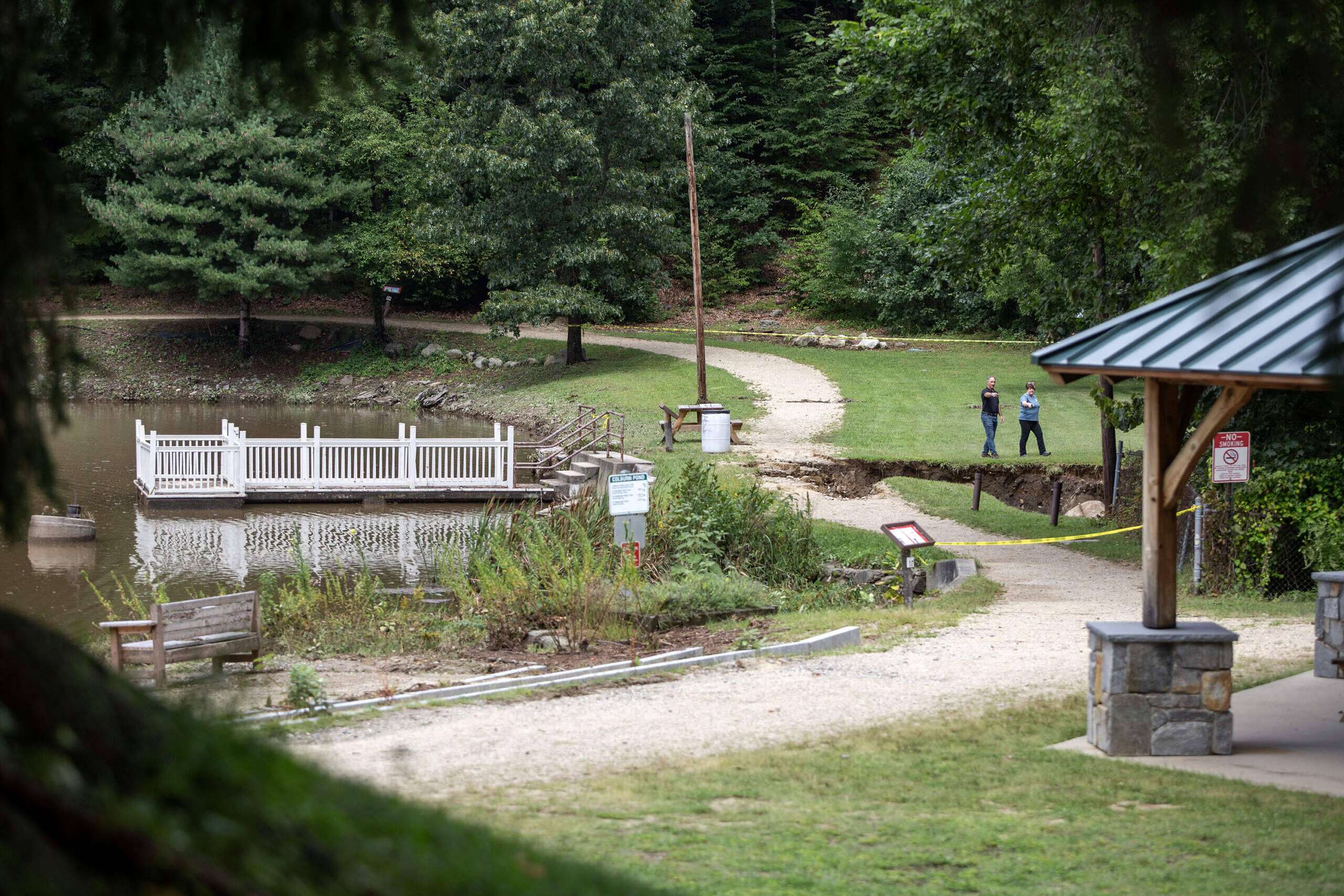 A second dam in Leominster, the Distributing Dam, also experienced "serious damage due to overtopping" from the storm, according to the Department of Conservation and Recreation. Its risk status was expected to get downgraded by Tuesday afternoon, according to the governor.
"A lot of these dams really are at risk [because] they weren't designed for the storms of today and the future," said Robert Kearns, a climate resilience specialist with the Charles River Watershed Association. "They were built 100, 200 years ago. And with the flooding we're seeing now, they're not ready."
Earlier this spring, extreme precipitation in Vermont nearly overtopped a dam in Montpellier, Vermont, which could have made catastrophic flooding in the area even more severe.
The latest in a series of extreme weather events
While it's challenging to say whether the rainstorm that battered north central Massachusetts Monday night was the result of human-caused climate change, it's a good example of the type of weather event climate change encourages, said Paul Kirshen, a professor of Climate Adaptation at UMASS Boston. That's because a warmer atmosphere stimulates the formation of "convective storms," — intense, sudden and local bursts of rain — and holds more water vapor. As a result, when it rains, it often literally pours.
Climate change has already altered rainfall patterns in New England. Over the last few decades, the region has seen a 50% increase in extreme precipitation events. It's a pattern Kirshen and other scientists say is likely to persist as humans continue to burn fossil fuels.
Eleven inches of rain falling within a 24-hour period is "a rare event," the type of storm we might expect to see once every 500 years, he added. "But by the end of this century, this rainfall [pattern] could become the 100-year storm." In other words, the probability of a storm like this happen in any given year will increase by a factor of five.
Traffic and transit disruptions
On Tuesday morning, people went out to collect cars that they had abandoned along Commercial Road near The Mall at Whitney Field, a shopping center off Route 2. Joseph Lafrennie, a New Hampshire resident who works in Leominster, said a truck drove quickly by him during the storm and created powerful waves that washed his car into a ditch.
He called his insurance company to file a claim, but they told him to expect delays on details about his claim and the damage to his vehicle.
"They said most likely it's going to be totaled," said Lafrennie. "Because of the volume of calls, it could take two to three days for them to get back to us."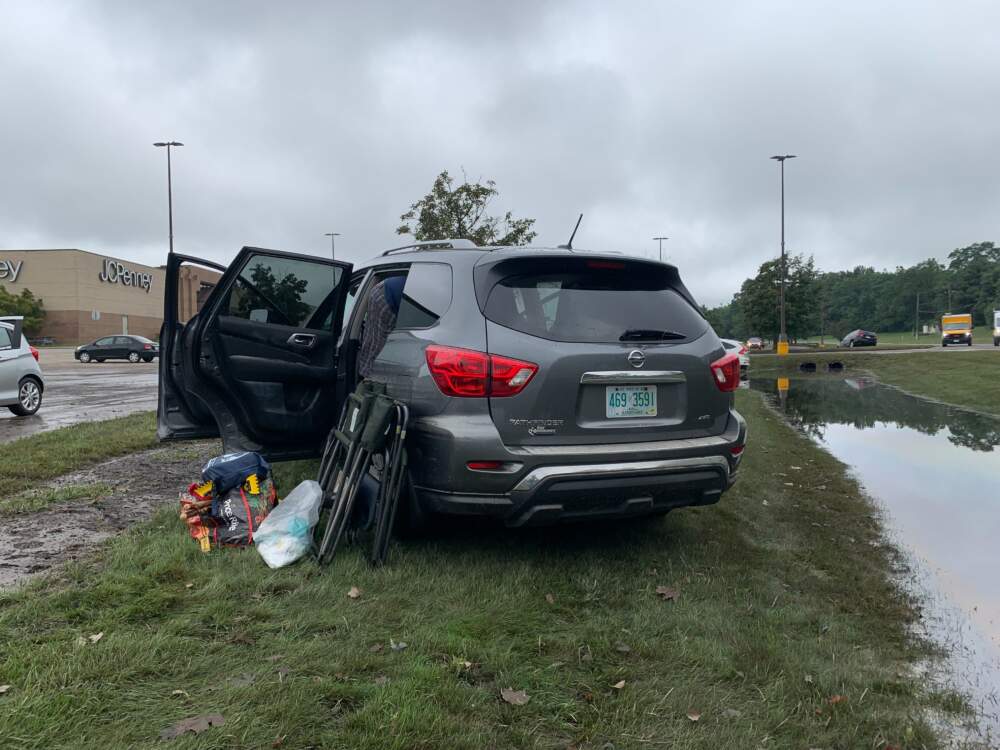 Flooding disrupted MBTA service on Monday night and Tuesday morning. Shuttle buses are replacing commuter rail service between Shirley and Wachusett on the Fitchburg Line through the end of the day on Tuesday due to damage. The commuter rail told riders to expect delays as engineers work on repairs.
Trains on the Providence/Stoughton Line also experienced delays and service changes on Monday night and Tuesday morning due to flooding in the Providence area.
With reporting from WBUR's Carrie Jung and Miriam Wasser. Material from State House News Service and The Associated Press was used in this report. 
This article was originally published on September 12, 2023.