The race to create climate-friendly cement
Resume
On a recent afternoon, Mehdi Rashidi was hard at work shattering concrete.
He held up a concrete column, shaped like an extra tall soup can, for his colleagues to assess.
"Should we break this one as well?" he asked.
Given the green light, Rashidi donned safety glasses and plopped the column into a high-tech vise.
When it reached 39 tons of pressure — pop! — the column splintered into powdery rubble.
"A successful test," he said.
Rashidi is senior scientist at Sublime Systems, a cement-making startup in Somerville. Today he was strength testing concrete made with the firm's proprietary cement. And it passed: the 39 tons of load on a cylinder this size would be plenty to hold up a building or bridge.
A ubiquitous construction material thanks to its unmatched durability and low cost, cement is also a major source of climate pollution.
"Cement is currently 8% of global CO2 emissions," said Sublime CEO Leah Ellis. "That has to go down to zero."
Sublime is one of a handful of start-ups racing to develop construction-ready, emissions-free cement. The effort has pulled in hundreds of millions of venture capital dollars (Sublime alone has banked more than $45 million) in a bid to transform the making of the world's most massively produced material.
Cement's immense carbon footprint comes from how the material has been made for centuries, in part by torching limestone rock at 1,400 degrees Celsius. To reach such scorching temperatures affordably means burning fossil fuel, often coal.
"Very medieval," said Ellis.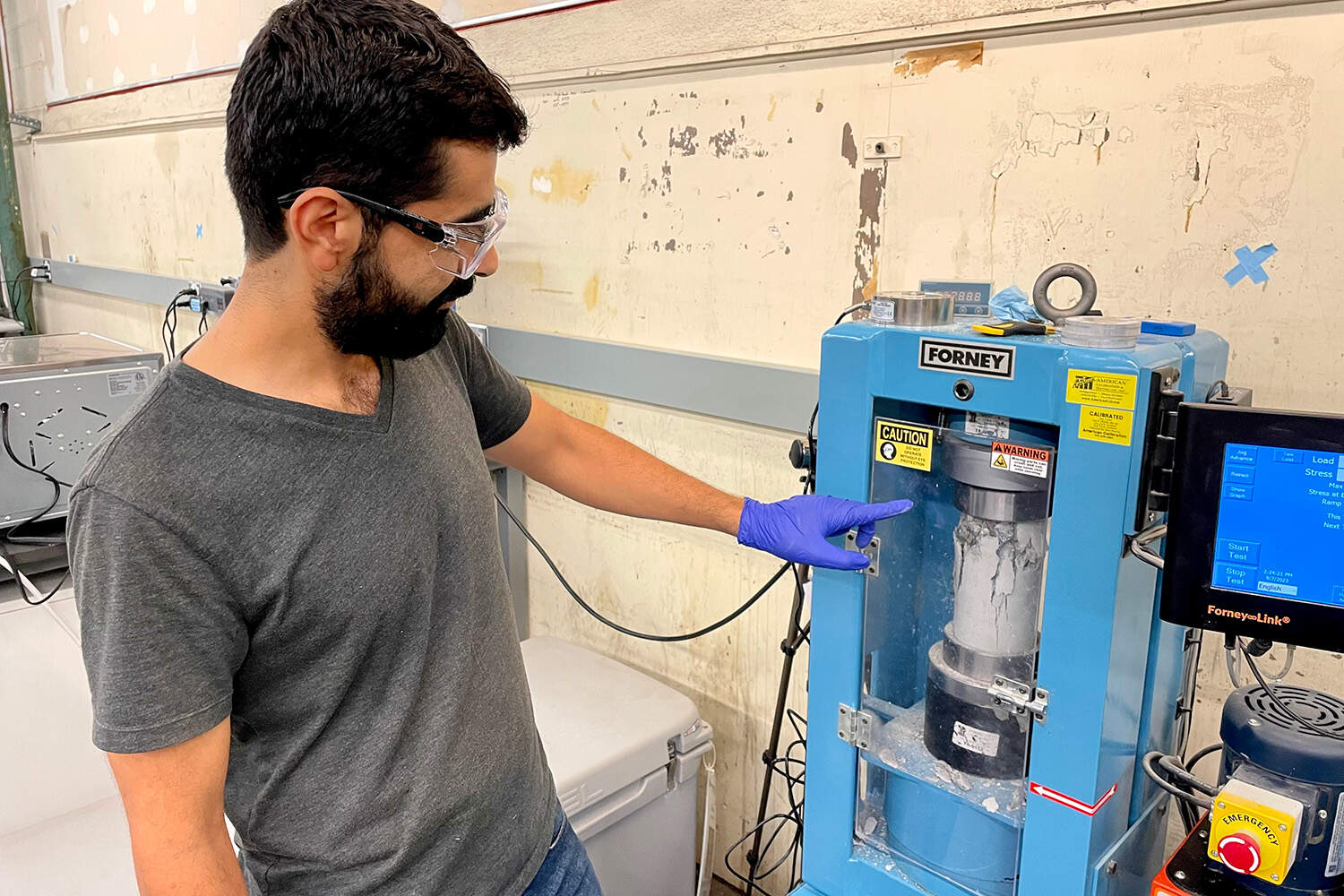 Sublime's new approach uses electricity instead of heat. That means the process can be powered with renewable energy rather than fossil fuels. The method also prevents carbon dioxide from escaping the carbon-rich limestone during combustion.
Competing start-ups have used techniques like starting with carbon-free rocks instead of limestone. Others have done away with cement altogether, using alternative compounds to bind concrete.
For Sublime, perfecting its process in the lab was just the first hurdle — next, the company has to prove its cement is safe to build with. Engineers have centuries worth of data proving the strength and durability of traditional, fossil-fuel-made cement. Building that level of trust in a new construction product's safety is a tall order.
Last month Sublime announced its cement met performance standards laid out by the American Society for Testing and Materials. Just a handful of new cement start-ups have cleared that bar.
The certification will allow Sublime to move its prototype cement closer to market, according to Mike Weber, chief operating officer of Nilebuilt, a developer that builds concrete homes.
"That's a very important certification," he said. "That's the only way you're going to be able to use [the new cement]."
Another major challenge for a startup like Sublime is scaling up their production and distribution, according to Weber. It's not just private developers who want access to low-carbon cement:
"Government has a huge buying power," said Ankita Gangotra, an associate with the World Resources Institute's U.S. Climate Program. She pointed to the public sector's construction of roads, bridges and schools.
"About 45-50% of the cement consumed in the U.S. is through publicly funded construction," she said. "And so government purchasing or public procurement is really one of the key tools to create a market for these products."
Congress last year provided $4.5 billion for federal agencies to buy climate-friendly construction materials like cement as part of the Inflation Reduction Act. The Massachusetts legislature is considering similar state-level bills.
These government incentives "send a demand signal to the market and say, 'Hey, we've committed to purchasing these lower embodied carbon materials,' " said Rebecca Esau, a manager with the Rocky Mountain Institute's Carbon-Free Buildings Program. "So it's really, really big."
Ultimately, widespread adoption of this new way of making cement comes down to cost. Traditional cement production is cheaper than Sublime's method, though the company declined to disclose its production costs.
"As with all startups that scale, the initial prototypes are a little more expensive," said company spokesperson Erin Glabets. "We liken it to the path of something like a Tesla," whose vehicle costs have fallen over time as the company expands production.
And federal and state procurement programs comprise just a sliver of the nearly half-trillion-dollar global market for cement — all of which needs to be zero-carbon by 2050 to meet the goals of the Paris Climate Accords. To get there, an industry that hasn't changed much in centuries, now needs to sprint.
This segment aired on October 13, 2023.