Participation in Boston summer learning programs reached all-time high this year
The number of Boston students who attended city educational summer programs has steadily increased in the years since the pandemic, with roughly 1 in 4 youths between ages five and 14 participating this summer.
Education leaders say they hope summer learning can be a path toward academic recovery for students who lost in-person instruction during the pandemic.
More than 17,000 students enrolled in the city's summer programs this year, based on new data from the nonprofit Boston After School & Beyond. Two-thirds of participating students identify as Black or Hispanic.
Massachusetts leaders say summer learning will play a crucial role in helping kids recoup academic and social-emotional skills.
"I honestly believe it's the way to get our kids back and beyond where they were prior to the pandemic," said Massachusetts Education Commissioner Jeff Riley during a virtual presentation last week. "The safe, trusting and nurturing environments that [schools and centers] are creating are just what our kids need right now, more than ever before."
Based on the data, 255 learning programs were offered to students at no cost across the city this summer. More than half of these programs are affiliated with Boston Public Schools.
Of the 17,000 participating students, nearly half attended a program as part of BPS's growing summer learning initiative, which combines enrichment activities like sailing and filmmaking with related classroom instruction. Roughly 2,300 students were in credit recovery, and about 7,000 kids attended a community-based program not affiliated with BPS.
Participation was highest in Dorchester, with 2,800 students enrolled. Other areas that saw high participation rates were East Boston, Hyde Park, Mattapan and Roxbury.
Riley says he hopes to see more Massachusetts districts expand summer enrichment programming as Boston has done in recent years.
The cost of Boston summer learning programs totaled $6.4 million this year, said Boston After School & Beyond Executive Director Chris Smith. BPS invested $4 million in the effort while the Massachusetts Department of Elementary and Secondary Education invested $1.9 million of COVID relief funds. Private donors added $500,000.
"We are hoping that this is a new baseline in investing in summer learning going forward," said Smith. "Learning during the summer is always a need, especially for low-income young people."
Summer learning has become a common approach to pandemic recovery nationwide.
Nationally, 70% of school districts have created or expanded summer learning opportunities post-pandemic, while more than 40% of school districts have invested COVID relief money into these programs.
But one 2022 study of summer schools aiming to chip away at learning loss found that students made only modest improvements in math and no gains in reading.
Still, there are indications that Boston's summer programs are making up lost ground.
Attendance this summer reached a five-year high. The average student was present roughly 90% of the time, surpassing attendance rates during the regular school year. Nearly half of students returned after participating the previous summer.
Students with high attendance and repeat enrollment are more likely to experience academic and social-emotional growth, according to a study by RAND Corporation.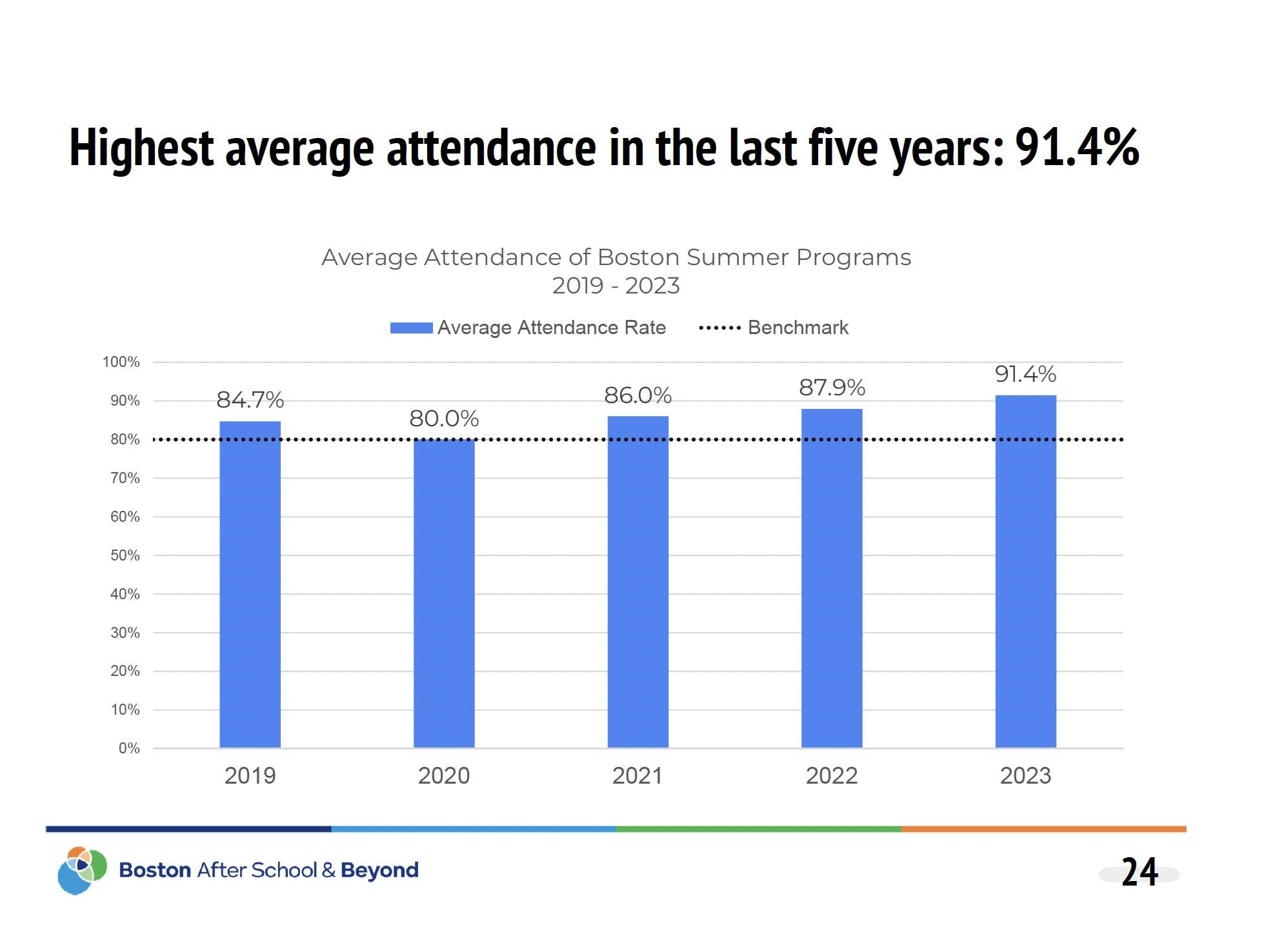 While federal funds from the COVID-19 era will soon sunset, Riley said the Massachusetts Department of Elementary & Secondary Education will continue to support summer programs across the state. A new competitive state grant will be available this year, but the education department will continue to look for other funding sources.
"We've got to find some national funders who will look at what we've already done and take a bet that this is going to be the way forward," Riley said.
WBUR's Carrie Jung contributed to this report.