N.H. unveils new 'I Voted' stickers designed by local fourth graders
New Hampshire voters who participate in next year's presidential primary will get to sport new "I Voted" stickers designed by local fourth graders.
The Secretary of State's office announced the new designs after an inaugural statewide competition that garnered over 1,000 entries.


Ten-year-old Rilynn Bolen was one of three winners. She does art nearly every day but has never won an art competition.
"I love drawing either stuff from movies or stuff from my mind," she said.
Her winning entry shows a moose standing on a ledge in front of an autumnal vista of Mount Washington, with "I Voted" written across a blue sky.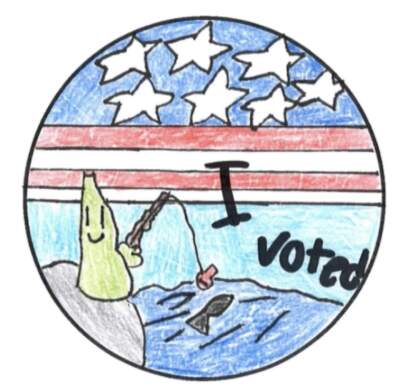 The Secretary of State's office said they were inspired by a similar sticker competition launched by former Plymouth Town Clerk Josie Ewing.
Tiffany Alberts, whose son Jacob is among the winners of the statewide competition, said he had always noticed the "I Voted" stickers at the polls. When he learned about the contest, he got to drawing. After two weeks of sketches, he showed his parents one scene he dreamt up: a cartoon-like figure shaped like the state of New Hampshire, fishing by a lake, under a sky of stripes and stars.
"When he drew it and brought it out, we were like, 'That's it. That's the one!'" Alberts said.
The new stickers will be available at polling places for the 2024 presidential primary, the Secretary of State's office said.
---
This story is a production of the New England News Collaborative. It was originally published by New Hampshire Public Radio.