Somerset approves tax cut to secure new offshore wind cable factory
After months of bitter fighting over a planned undersea cable factory on the town's waterfront, Somerset voters approved a six-year tax reduction for the facility on Monday night, clearing the way locally for a project that politicians from Beacon Hill to the White House have heralded as a building block of a new clean energy economy in New England.
The Prysmian Group, an Italian company that bills itself as the world's largest cable manufacturer, estimates the factory would create between 200 and 360 jobs in Somerset. Local supporters see it as a way for the town to recover financially from the recent losses of Somerset's two biggest taxpayers and employers: a pair of fossil fuel power plants that closed during the 2010s.
Members of Congress, senators and President Biden have all visited Somerset to promote the proposed factory as an opportunity to turn the former site of New England's largest coal-burning power plant into a key manufacturing hub for undersea cable, which carries the electricity generated by offshore wind turbines to the power grid onshore.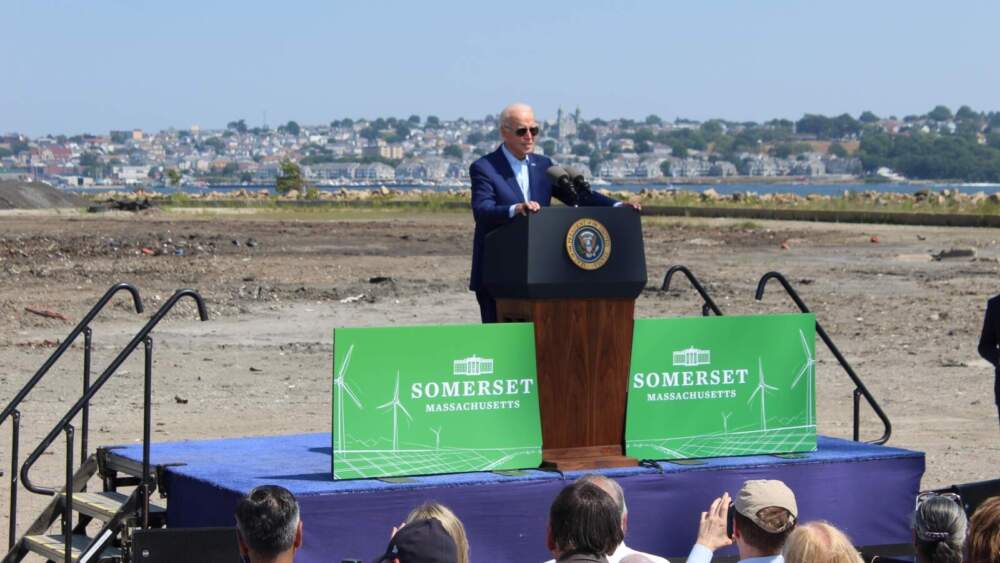 The proposed factory has already been heralded by Democrats as a symbolic victory, showing that a national clean energy transition can bring manufacturing jobs back to regions hurt by deindustrialization.
But those ambitions first had to pass the muster of small-town government in Somerset, a suburb of 18,000 people.
Before taking ownership of a waterfront parcel on Somerset's Brayton Point, Prysmian won approval from a divided zoning board and requested a tax increment financing agreement, also known as a TIF, that would reduce the company's annual property tax bill during the factory's construction and earliest years of operation.
The current owner of the property, the Commercial Development Corporation, paid about $1.1 million in property taxes last year. The St. Louis-based company remains deeply unpopular among residents after it leased space to a scrap metal business that flouted the town's pollution and noise regulations.
Somerset officials estimate that Prysmian would pay a significantly higher annual property tax bill of $10.8 million after buying and redeveloping the same parcel leased to the scrap metal business. Prysmian requested that the town lower that tax bill for six years between 2025 and 2031, a span during which the company would save an average of about $3.4 million per year.
The TIF went before a traditional New England town meeting on Monday for final approval, where every voter in Somerset had the right to speak publicly about the agreement and cast a ballot. Many of the residents were weighing whether Prysmian would still build the factory if voters rejected the tax break.
"A no vote is a gamble. If Prysmian pulls out, we're set to lose all of this," said Somerset resident Brian Michaud. "I don't want to gamble with our future."
Lloyd Mendes, who supported Prysmian during previous steps in the permitting process, called on his neighbors to reject Prysmian's tax break, characterizing suggestions that Prysmian might abandon the project as bluffs. Brayton Point is one of only a handful of large industrial properties with deepwater access still available for redevelopment in New England.
"Somerset is the place to be if you want to be in offshore wind," Mendes said. "I suspect if we sit out this poker hand and look Prysmian in the eye, Prysmian will blink before we do."
Ed Souza, another Brayton Point resident, struck a more populist tone when he called on residents to hold Prysmian accountable for its full property tax bill.
"It's more money in your pocket than a billionaire's pocket," Souza said.
Critics of Prysmian's proposal have dominated public meetings in Somerset for months, helping win concessions from Prysmian that included a commitment to retrofit its entire fleet to run on electricity while docked in Somerset. Brayton Point residents had complained that allowing diesel ships to idle would pollute the neighborhood with loud noises and noxious fumes.
But a firm majority of voters agreed to approve Prysmian's TIF agreement on Monday, with 314 in favor and 200 opposed.
The town meeting drew a low turnout even by modern electoral standards: less than 4% of Somerset's registered voters attended, according to numbers provided by Assistant Town Clerk Kathy Maiato.
Prysmian's tax deal drove much of that attendance. The high school auditorium where the meeting was held emptied out long before voting concluded around 1 a.m. Most of the issues facing the town passed with a simple voice vote: collective groans of "aye" were sufficient to defeat noticeably fainter votes of opposition.
By the time the town moderator called for another counted vote concerning the town's sewer system, the voting bloc had shrunk from 514 people to just 55.
---
The Public's Radio in Rhode Island and WBUR have a partnership in which the news organizations collaborate and share stories. This story was originally published by The Public's Radio.