Aaron Rodgers: 'I Really, Really Like Women'
04:58
Play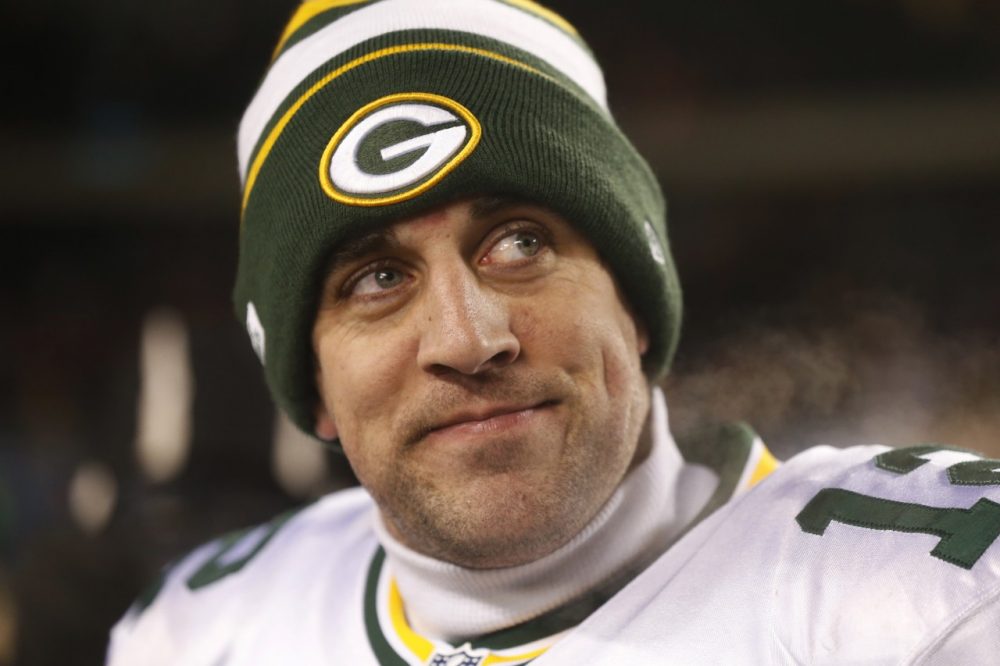 This article is more than 7 years old.
As the Green Bay Packers prepare to take on the San Francisco 49ers in the NFL's wildcard weekend, Packers quarterback Aaron Rodgers might be expected to talk about his recovery from a broken collarbone or about the 49ers defense. Instead, during his weekly "Tuesdays with Aaron" chat on ESPN 540 Milwaukee he said this:
"Yeah, I'm just gonna say I'm not gay. I really, really like women. That's all I can say about that."
Will Leitch wrote about that unusual statement for Sports on Earth. He joined Bill Littlefield.
BL: Will, what provoked Rodgers to tell the world he "really, really" likes women?
WL: Someone had been following Rodgers' roommate on Twitter and had kind of put 1 1/2 and three-fourths together and made 80 to assume that Rodgers and his roommate had had some sort of falling out. And [the story] made the rounds in the weird online world. It's funny because this is the type of story you would think Deadspin would pick up on, but the word kind of got around to the point that Rodgers felt compelled to bring it up on his weekly radio show. The fact that he felt compelled to address it, I think, is maybe its own statement.
BL: You contrast Rodgers' statement to that of actor George Clooney who responded to rumors that he was gay by saying, "I'm not going to let anyone make it seem like being gay is a bad thing. My private life is private." Why isn't that strategy an option for professional athletes such as Aaron Rodgers or others who have been accused of being gay, if that's the right word: Mike Piazza, Manti Te'o, guys like that.
WL: It really is just the culture. It's funny, I wrote a piece for New York Magazine, a long feature in Sept. 2011 proclaiming that we had just gone through the gayest summer ever—the gayest sports summer ever. Charles Barkley had actually kind of started the floodgates a little bit in talking about how "if there's a gay player on my team, I don't care as long as he's good, and anyone that has a problem with that should get out of the game."
There were more people in the sports world who came out, usually retired people or people in the media. And I kind of speculated that it felt like we were really on the verge of sports, kind of the last closet in American culture, was finally ready to break through. That has not happened. In fact, I might make the argument it's regressed a little bit.
Clearly, we saw with Rodgers the idea that not only could he not ignore these things, he really felt like he needed to come out and push it. Not so much for just the media—though I think that's, frankly, a factor in it—but for his teammates and for players. When you talk to players about this there are people that will publicly say, "Of course we would support anyone." Privately speaking they recognize it's a lot more complicated than that, and I think that's why you haven't seen the athletes come out the way many people anticipated they would have by now.
BL: When NBA journeyman Jason Collins came out in late April of last year we at Only A Game thought he would be followed by other major league pro athletes. It's now 2014, and Jason Collins still hasn't played a minute of pro basketball as an openly gay male athlete. Does his sexual orientation have anything to do with his failure to find another team?
WL: It depends on who you talk to. Certainly Collins has not explicitly said that but sort of hinted at that. And I think his defenders have as well. The issue is not so much people don't think that teammates or fans will support a gay player. It's really kind of this vague notion that people always talk about in sports called "distractions." That it's really about team. It's the kind of clouds they put around this issue to make it look like it's not an intolerance issue; it's actually a team issue.
I think we see how much that doesn't really fly anymore, and I think that kind of speaks to the culture that Rodgers is dealing with. It's not so much that they have a specific problem with people who are gay—though some do—it's more that people don't want to deal with it. It puts focus on you rather than the team, and they kind of cloud that issue and make it that much more difficult for people to come out.
BL: It doesn't sound as if you have high hopes that anything will change in 2014.
WL: It's always been a thought that whoever is the first to come out, not only does it have to be someone who is very brave, it has to be someone, frankly, who is so good that there's really not question. There's a famous quote from, I think it was Larry Bowa, who said, "Well I think a gay baseball player would be accepted, but it will be easier if they hit .310 rather than .220." There's an element of truth to that. And I think that was said more than a decade ago, so everyone keeps saying the environment is better, but it keeps not happening.
This segment aired on January 4, 2014.