The Quad Jump: 1440 Degrees Of Controversy
04:14
Play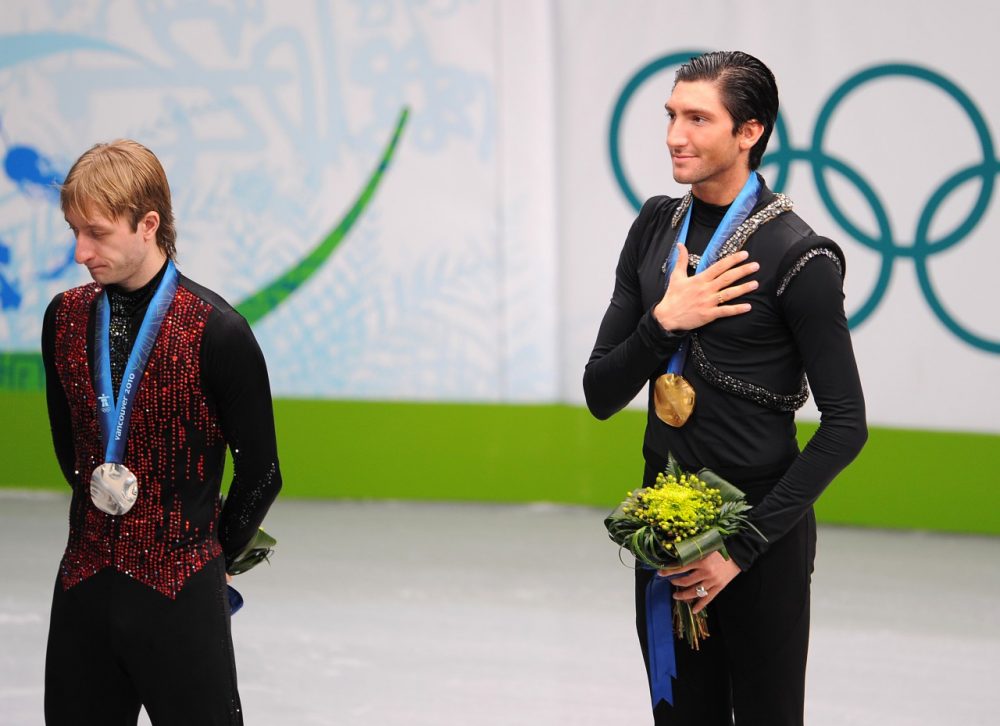 This article is more than 8 years old.
The U.S. Olympic Figure Skating Team will be determined this weekend in Boston where the nation's best spinners and jumpers are currently competing. Earlier this week in the Washington Post, Liz Clarke summarized the conflict between artistry and athleticism in men's figure skating, especially with regard to the quadruple jump.
BL: Liz, explain to me how this one move has become the center of such controversy.
LC: Well, the real flash point was the most recent Olympic Games – the 2010 Vancouver Games – where American Evan Lysacek won the gold medal edging Russia's Evgeni Plushenko without doing what's considered the sport's most difficult—I hate to say—trick, you know, maneuver: the quadruple jump. In the artistic sense, Evan's performance was much cleaner, but Plushenko was really out there really pushing the boundaries of the sport.
So if we think about the Olympic ideal of faster, stronger, higher, and the evolution of other sports like snowboarding, it really is, every four years, the challenge of the athlete to push the boundaries, do something new. You know, show that the human body is capable of something it wasn't just four years earlier. So in that context you could say Lysacek's gold was a bit retro, and Plushenko was kind of pushing it. So that's where it stands I guess.
BL: So maybe the Olympic ideal should be faster, higher, stronger—and more perfect.
LC: Yes, and coda: without falling. As the average viewer can tell you, often figure skating judging is very perplexing to people who don't know the bizarre calculus in that a skater who falls can beat a skater who stays upright the whole time. And as your Boston fans can tell you, Tom Brady can throw the most perfect spiral, but if it's dropped it's an incompletion. There's no points for the beauty of the spiral. It just counts for zero. But in figure skating you get points for trying.
BL: Three-time U.S. champion Johnny Weir told you that the top 10 or so men are all capable of landing at least one quad in competition, which makes it seems like it's not an impossible task. What makes the quadruple jump so difficult?
LC: Well, you know, I wish I could tell you from personal experience, but I can't turn around four times on the ground. I am told that the best way to imagine the rigor is if you're on a tight rope racing at 20 miles an hour on a tiny blade, and you leap up, spin around four times, and must land back on that little blade, but make it look perfectly effortless.
But that said, there are people all over the world—men—you know, doing the quadruple jump, probably the most beautiful are done by Canada's Patrick Chan, and several of the Japanese skaters.  And we have Americans who can do them. But then add on that all the nerves and anxiety and stress--that adds a whole new element of why some people can do them in practice but kind of melt down when it matters.
BL: At the 2010 Games artistry won out. What are the chances that the 2014 men's figure skating champion will win Olympic gold without a quadruple jump?
LC: Boy, I think it's pretty much impossible. You know, there really are 10 or 11 men in the world who are capable of it. So some will be performing two quads in one program. There's a young Italian who has performed three quads in one program. So I think the window—the mathematical window—for gliding to gold without a quad is really infinitesimal right now.
This segment aired on January 11, 2014.