Cubs' Offseason Surprise: Clark The Mascot
Resume
There are plenty of egos in the world of professional sports. Even by that standard, the newest member of the Chicago Cubs has a big head. But, to be fair, Clark is an oversized bear in a Cubs jersey.
Desperate times call for desperate measures. The Cubs' last playoff appearance was in 2008. Their last World Series appearance was in 1945. They lost. Their last World Series title happened in 1908. So on Monday, the Cubs unveiled an unexpected offseason acquisition: a mascot.
Chicago Sun-Times columnist Neil Steinberg normally writes about actual news. But, he put a column about Israel and Palestine on hold when the Cubs made the announcement.
"You've got this bear with this ineffable look of pain in its eyes. Its wearing a backwards baseball cap to show that it's cool," Steinberg told Only A Game.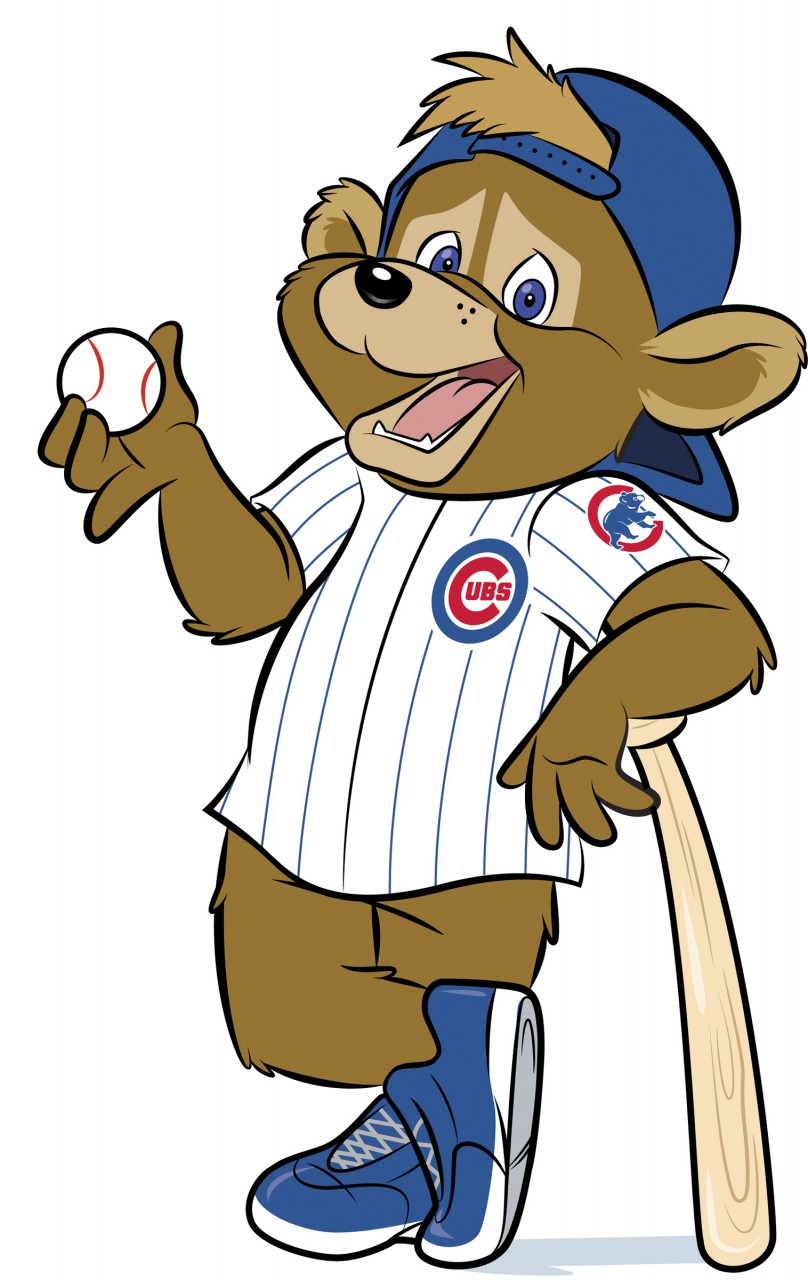 His main complaint is that Clark seems too familiar.
"That's what really got me going on this. Where did I see that [before]? Is that a Berenstain bear? No. Is that a Care Bear? No," Steinberg said. "Actually for a second, I thought it was Chuck E. Cheese. It's exactly like some 1990s furry Disney generic, central-casting, clip-art character."
Steinberg isn't alone. Clark might be warm and fuzzy, but the welcome he received on the Internet was decidedly not. This is a family show, so I'll leave the tweets about Clark's lack of pants and the related Photoshopping to your imagination. A more common theme was despair. One comment on the Cubs website sums it up: "What do you mean he can't hit, he can't field and can't pitch? Well he should fit right in."
AJ Mass was the man inside Mr. Met from 1994 to 1997. Today he writes for ESPN's Rumor Central, is a fantasy sports expert, and has an upcoming book about mascots titled Yes, It's Hot in Here. Mass says the Mets brought Mr. Met and his giant baseball-shaped melon to life to help make their games more family friendly. He thinks the Cubs are making a smart move.
"They're going about it the right way. They're looking at it as a marketing tool and a way to connect with younger fans," Mass said. "I think part of the problems that you hear [about], the negative comments toward baseball, is it's too slow for the kids of today, and the audience is kind of like aging out."
According to a survey conducted last year by Sports Business Journal, of the 122 MLB, NFL, NBA, and NHL franchises, just 20 — now 19 thanks to Clark — do not have a mascot. But Mass says the San Diego Chicken and the Phillie Phanatic loom large over their larger-than-life colleagues.
"There's certainly a Mount Rushmore of mascots throughout all four sports," Mass said. "On the field, there is no doubt that the Chicken and the Phanatic, for baseball, are the two most successful. You can argue about maybe who the other two are. I would say K.C. Wolf for the Kansas City Chiefs and the Phoenix Suns' Gorilla."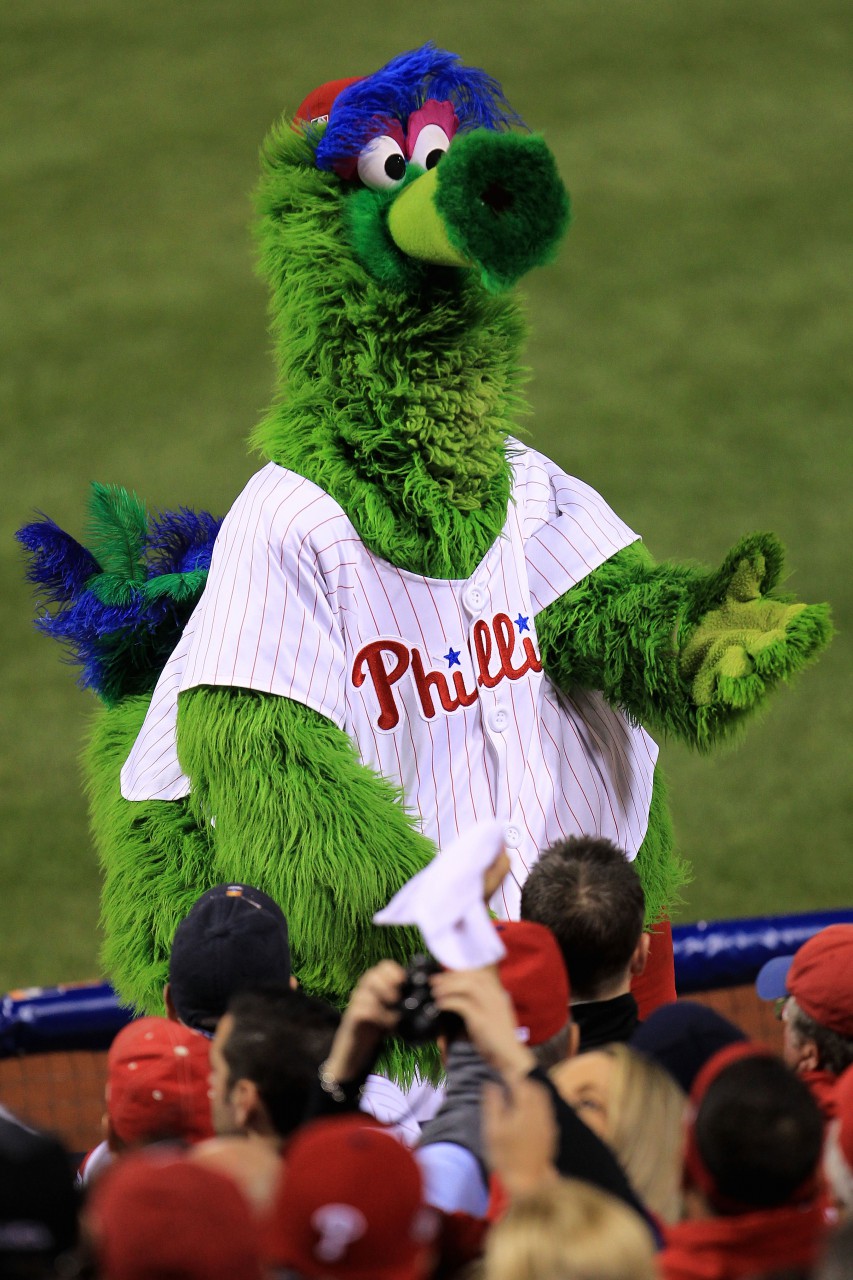 Bonnie Erickson created the Phanatic, who made his debut in 1978.
"The Phillies fans are a tough audience, but the Phanatic has always, from the very start, had a bit of an attitude," she said.
Erickson got her start making Muppets for Jim Henson and designed the puppet for another well-known character: Miss Piggy. She and her husband Wayde Harrison run Harrison-Erickson and have created more than 15 pro sports mascots. Erickson says there are three things behind every successful character: a good costume, a true performer inside of it, and "the support of the team. The promotion of the team and the acceptance of the team. Part of that has to do with the players and everyone else being part of that whole picture."
Erickson and Harrison believe a lack of promotion contributed to the downfall of Dandy, their mustachioed creation who served as the New York Yankees mascot from 1979 to 1981. But support has never been a problem in Philadelphia. After briefly leasing him, the Phillies bought their loveable green lunatic. Harrison says today the mascot's social calendar is loaded with brand-building appearances outside the stadium. And popular mascots can be profitable.
"It was designed from the outset to be merchandisable, which means it would easily translate into toys and into graphics that could be used on t-shirts and whatever," Harrison said. "And on top of all of that, he is one of the central pillars of their promotion and marketing of the team."
Unlike many mascots, Clark won't be on the field. He'll mostly greet fans outside the park before games. The last Cubs mascot worked outside the stadium, too. It was a live bear. That was in 1916, so the announcement this week took fans by surprise. But Harrison and Erickson spoke with the team about developing a mascot back in the 1980s.
"And we met with them and we talked with them about it," Erickson said. "And they declined to go forward on a project at that time. So it's been in their thought process for quite a long while."
In 2005, back in his days with the Boston Red Sox, Cubs General Manager Theo Epstein once wore a gorilla suit to avoid talking to the media on his way out of Fenway Park. If the Cubs don't start winning soon, Epstein might need to borrow Clark to escape the no-longer-friendly confines of Wrigley Field.
This segment aired on January 18, 2014.