Shane Battier And The NBA's Nickname Game
Play
This article is more than 9 years old.
It's the NBA's version of "The Name Game."
Here on the court of King James, the two-time defending champion Miami Heat are getting used to their new nickname jerseys. But not everyone is thrilled with the idea.
"I'm gonna be honest," Heat forward Chris Bosh said. "I don't like it."
Bosh, aka "CB", says he's old school, and prefers not to tamper with what it says on the back of his jersey.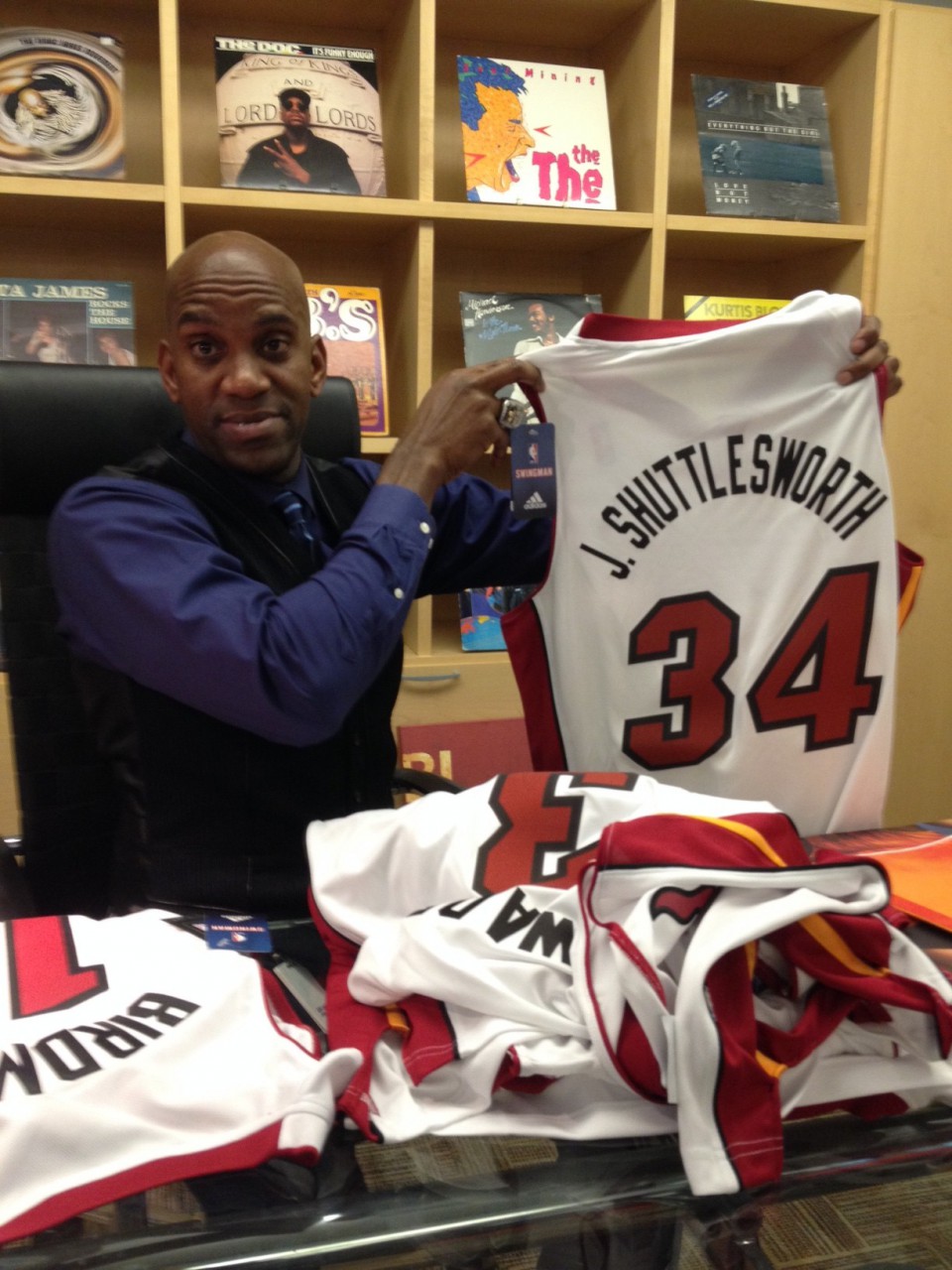 "My last name is enough," he said. "All the old school players are gonna make fun of us. Nicknames--I think that's more for kids."
Miami's coach Erik Spoelstra is similarly nonplussed.
"I don't know if I'm for it, or against it,"  Spoelstra said." I'm pretty neutral about. It doesn't affect what I do, what I'm responsible for. I don't think it affects the game, so it hasn't been on my radar."
In the front office however, there's a different view of the nickname campaign.
Michael McCullough is the Heat's Vice President of Marketing.
"That's how the media refers to the players. That's how the players refer to each other, and that's how the fans know these players," he said. "So, we're not really asking people to make anything up. This is something that really kind of happened organically because that's how the players talk about themselves."
And for one player, it actually does mean a great deal.
"I'm using this opportunity for the nickname jersey to pay a tribute to a great lady, who passed away and touched a lot of people," Heat forward Shane Battier said. "It's my way of saying, 'I love you grandma.'"
Battier's  grandmother Mary Battle died last year. It's her surname he's taking as a nickname, and he explains the story behind it:
"My dad grew up Eddie Battle. But when he joined the Army, the Army recruiter had his own interpretation of what was on the birth certificate. So my dad shows up and says, 'Private Battle reporting for duty', and [the] Sergeant says, 'Uncle Sam says your name's Battier,' so my dad says, 'All right, I guess I'm a Battier now.'"
After his parents got married, his mom decided to change the pronunciation because it looked more French.
So, while the nickname jerseys have little or no importance to most on the team, to Shane Battier it's a chance to pay tribute to his roots.
It's a once-in-a-lifetime thing, to pay homage to my family, and to see them fired up and care so much about something that is trivial to most of the guys.

Shane Battier, Heat forward
It's also "cool" cash for the team and the NBA, who roll out yet another jersey for fans to plunk down on.
But the Heat's marketing man McCullough says there's more to it than just making money.
"While there is a retail aspect, there's also  a marketing aspect to it as well that we hope ends up driving viewers to the game, fans to the game to watch it, and a lot of social media and online chatter."
Spoken like a true Duke graduate, Battier admits the campaign is also a wise business move by the team, and the league.
"Well, we are not doing this for charity," Battier said. "We are all capitalists. And the NBA has done a fine job of creating liquidity where there has been none previously. So, this is just an extension of that."
So in the NBA these days, it's all in the name.
This segment aired on January 18, 2014.