Seahawks Fans In NYC Flock To Carlow East
Resume
I've been spending quite a bit of time in Manhattan's Upper East Side, and not for the reasons you might expect. On Lexington Ave just south of 85th St. is Carlow East, the home of the NYCeahawks. And while the city's hotels and restaurants have been going out of their way to welcome Super Bowl enthusiasts for the big game, the Seahawks banner outside Carlow East has been there since 2009.
"I'm a founding member only in the sense that I've been here the longest," said Zach Jump, who is from Tenino, Wash.
Jump was one of a handful of die-hard New York Seahawks fans who began looking for the right home in 2006. In the land of the Jets and the Giants, this wasn't easy. Having a losing team didn't help, either.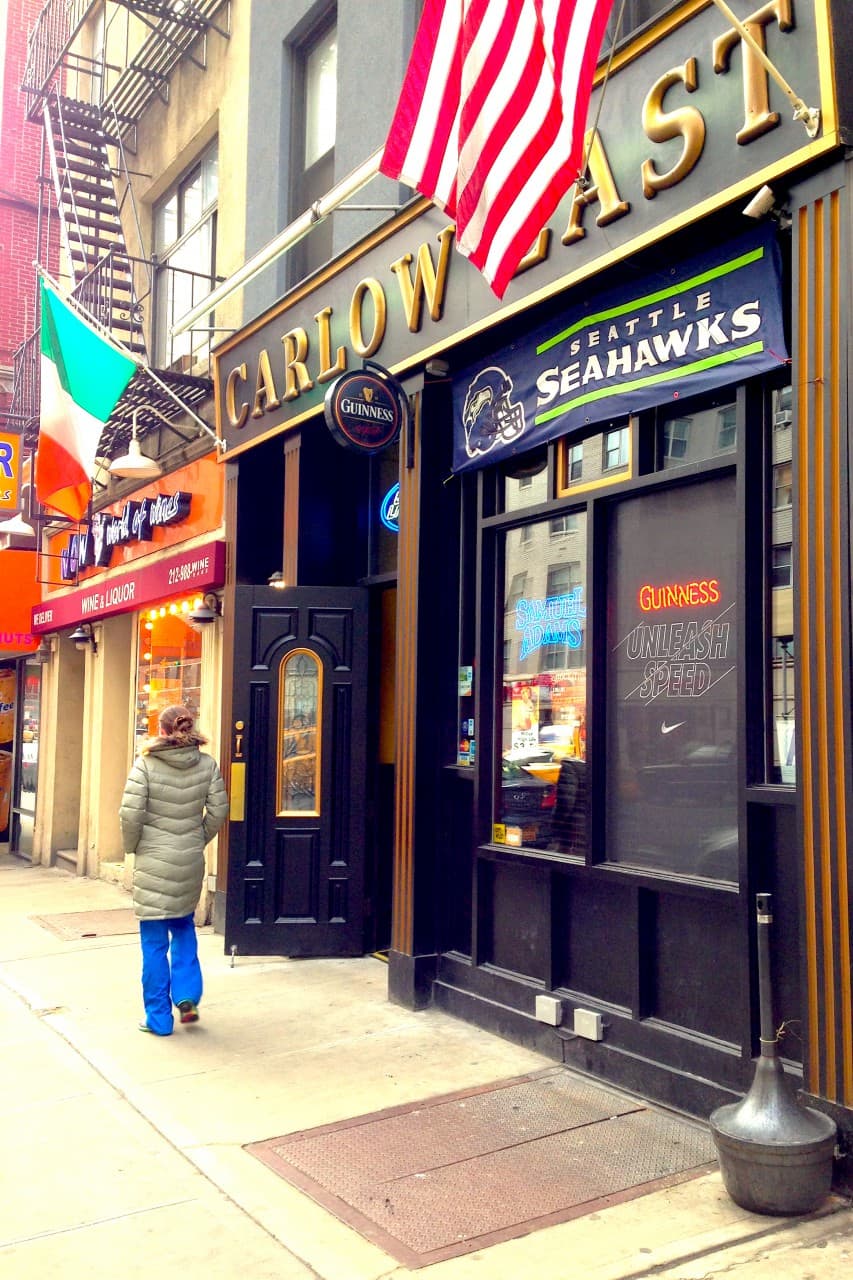 "One issue that I think we ran into over time was the first game or two you'd have a huge turnout--everyone's excited for the new season," Jump said. "But then when the Seahawks didn't do so well, the crowd would really trickle off. These bars would think you'd have this huge fan base and suddenly it would just be 10 loyal fans sitting there, and [the bar's] interest in keeping you really would wane. We knew that was the pattern when we came [to Carlow East], and we admitted it up front."
After three years of bouncing around, Carlow East bartender Pat Shalvoy found the group on Facebook. He wanted to try something new and get a good group of people together while he was at it.
"I wasn't fielding offers; I wasn't looking for all kinds of teams; to tell you the truth I wasn't looking that hard," Shalvoy said. "It was something that just popped up on my feed, and I just got thinking. It was July of 2009. I'm like, 'Yeah, football season's coming up.' I had really worked a football season at this bar. And I'm like, 'Yeah, that'd be fun. That'd be cool.'"
Zach told me how he watched the group grow.
"First we used to have just a couple tables we'd sit at, and then it was the surrounding tables and then it spread down the bar," he said. "And then it was the corners, and then it was standing room only, and then it was getting here early to even get standing room."
So much of Carlow East's success as a Seahawks bar has to do with the connection you just can't find anywhere else. Pat described a typical conversation.
[sidebar title="Steelers Bars Are Sweeping The Nation" align="right"] The Seahawks aren't the only team with fans across the nation. Read Lauren Ober's account of Steelers bars. [/sidebar] "'You're from Pullman, you're from Yakima, bababa,'" he said. "'You're a [Washington State] Coug, I'm a Coug. You're a [University of Washington ] husky.' You should see this stuff."
Carlow East also organizes events outside of the bar. Kelly Weber's first introduction to the NYCeahawks was at a tailgate party when the Seahawks played the Giants. She went with her husband, Adam, back in December.
"We were researching and we ran into a couple Seahawks fans and they're like, 'There's this bar, and they're having this huge tailgate party,'" Weber said. "And so we went, and there was this huge contingency of Seahawks fans in New York City that we had no idea about."
And due to a spectacular season that knowledge has spread. Where before it was hard to fill the bar, now they have Seahawks players tweeting at them. A Sea Gal stopped by the bar for a visit. The bar even had a feature in the Seattle Times. While the attention is nice, Jump's becoming concerned that it's gotten too big.
"Our issue now is that we've almost outgrown the space," he said. "It's a nice, limited little bar, very cozy, but every day we're over capacity for games. And especially with the Super Bowl now, there's no way we could even begin to host everyone."
Pat'll be working from behind the bar on Super Bowl Sunday pouring Hawkikaze shots after every touchdown, and cheering like a native.
"I'm from East Islip, N. Y," he said. "It's about 50 miles east of Manhattan on Long Island, on the south shore."
"So you're converted?" I asked.
"I'm converted. I'm adopted," he said. "Yeah, no doubt about it. I wouldn't even pretend to be anything else."
This segment aired on February 1, 2014.