Sochi Olympics Filled With Political Controversy
04:02
Play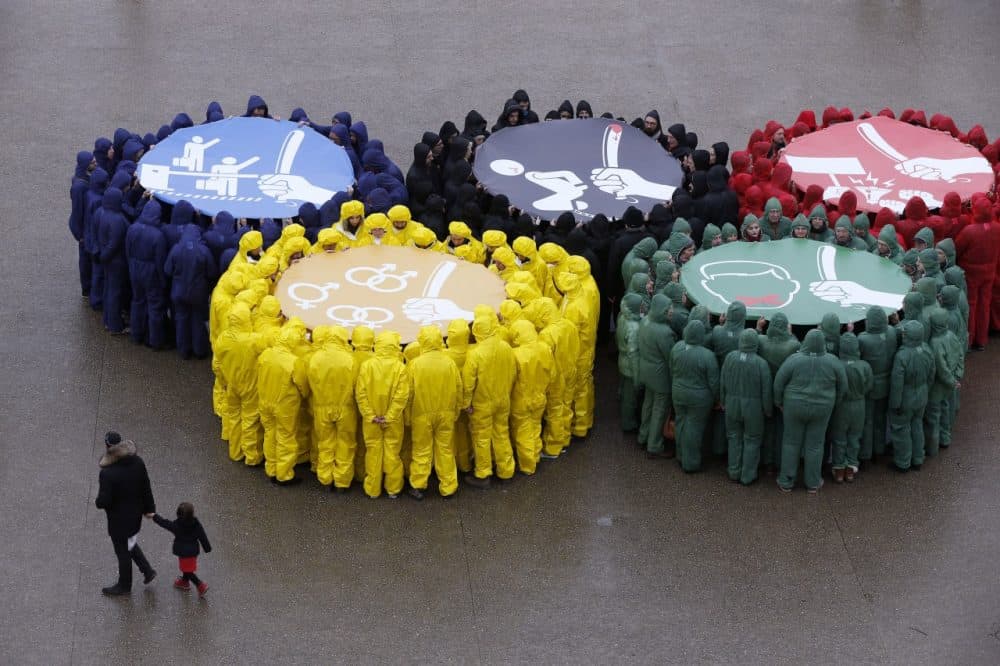 This article is more than 6 years old.
Russia has been eagerly waiting for these winter Olympics to come to fruition for the past seven years. The country has poured at least $50 billion into them. Russian president Vladimir Putin has promised, in his own words, to make them the biggest, best and safest the world has ever seen.
Despite Putin's support, there has been significant backlash against many of the country's domestic policies. Amid accusations of corruption, Moscow has struggled with the gargantuan task of transforming a former soviet summer resort into a world class winter venue. Security remains an issue.
Masha Lipman is a political analyst with the Carnegie Center here in Moscow; she says this year's games are much more politicized than in years past.
There is a wave of negative publicity in the Western media with regards to Russia, which is actually getting worse, not better.

Masha Lipman, political analyst
"This has to do with Russia and the deterioration of relations between Russia and Western countries in the past couple of years," Lipman said. "As a result, there is a wave of negative publicity in the Western media with regards to Russia, which is actually getting worse, not better. The games are seen through a lens of Russia and what we think about it."
Much of the negative publicity centers around a so-called anti-gay propaganda law passed by the Russian government in the lead up to the games. The legislation has garnered worldwide condemnation. Critics say it is meant to punish and crackdown on homosexuals. The Kremlin denies the claims and says it's meant to keep children safe.
Lipman said the Kremlin had no idea this legislation would have such a negative impact.
"This piece of legislation is seen as Russia going backwards just as we in the West go forward," Lipman said. "The Kremlin didn't expect such a reaction to this piece of legislation. They didn't expect it to be such a headache."
And that's part of Russia's problem, according to Tanya Lokshina, director of Human Rights Watch here in Russia. Moscow continually forgets t hat it is representing all different walks of life when it hosts a major event like this.
"Prestige always comes with responsibility," Lokshina said. "Russia often forgets its responsibility as a host country. The Olympic Charter says very clearly that non-discrimination is one of the core principals of the Olympics."
So does the Kremlin even care about its image? About the fact that world leaders including French President François Hollande and Britain's Prime Minister won't attend the games?
[sidebar title="Sochi 2014" width="320" align="right"] For more of Only A Game's Olympics coverage, click here. [/sidebar]"I think the Kremlin does cares, but time and time again there are higher priorities for the Kremlin," Lipman said. "It's not that Russia isn't spending money and Russia is actually hiring first class international public relations specialists. Even the best in the world cannot change a picture from black to white. I think this means that they may care, but there's nothing you can do about it."
But according to Lipman, Moscow has been admirably handling security.
The Kremlin has long been battling an insurgency in the Northern Caucasus, which is right next door to Sochi. Rebels want to create an Islamic state.
The self-proclaimed leader of the Caucasus Emirate, Doku Umarov, has called on his followers to stop the games. December's dual suicide bombings in Volgograd, some 600 miles north of Sochi, have also increased fears of violence at the events.
Russia has created a 1,600 mile security zone around Sochi, some 10,000 troops have been deployed and even Russians have to have a visa if they'd like to attend the games.
Muscovite, Ramzan, who didn't want to use his last name, says he won't be going to Sochi.
"I'm not going," he said. "I have no time. I'm not interested."
Muscovite Yelena, who didn't give her last name, says she doesn't care about the bad press.
"I'm going to the games," She said. "I think it's really wonderful. I'm excited and I'm going with pleasure!"
Yelena's positive attitude is what the Kremlin is banking on.
This segment aired on February 8, 2014.