U.S. Vs. Canada: A Brother's Perspective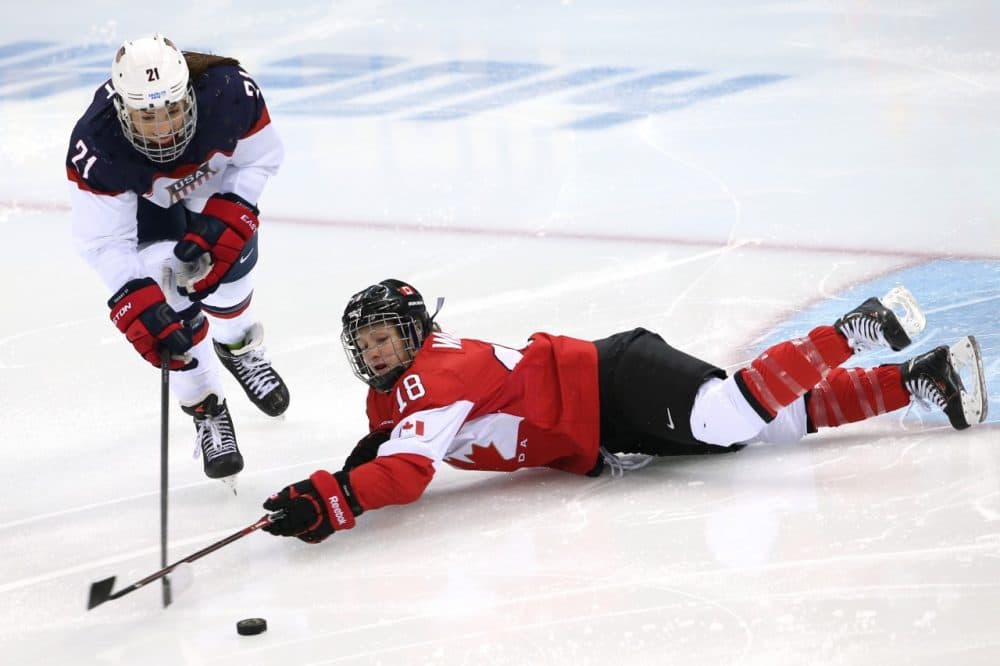 This article is more than 8 years old.
Hilary Knight started her Olympic campaign in Sochi with a bang. She scored the first goal for the U.S. Women's hockey team just 53 seconds into the game against Finland. This marked the fastest start to an opening game in Olympic history.
24-year-old Knight is a power forward for Team USA. She won a silver medal with the team in the 2010 Vancouver Games and was the first alternate in 2006 in Torino.
The women's hockey team is shooting to redeem themselves and bring gold back to the U.S. This means that there can be no distractions.
Knight's entire family — parents Cynthia and Jim and her three brothers James, Remington, and William — is in Sochi for her, but the support is from afar.
"It is something else to watch my sister compete here," James said in an email. "I really wish I could spend more time with her, the whole time they have been on lockdown with minimal interaction with friends and family. The goal is gold, nothing else matters, not even going to the opening ceremony; everything will be for nothing if they don't beat Canada."
Canada and the U.S. have been far and away the best teams in women's hockey since its Olympic debut in 1998. In the past four Olympics, only Sweden has been able to sneak into the Olympic gold medal game and that was in 2006.
What does the North American's domination mean for the future of the sport at the Olympics?
In 2010 after Canada slaughtered Slovakia 18-0, then-International Olympic Committee president Jacques Rogge said, "we cannot continue without improvement."
Ever since Vancouver in 2010, the International Ice Hockey Federation has been working to improve ice hockey internationally.  They implemented coaching symposiums and summer camps around the world, and the Olympic format was modified.
James describes the dominance of the U.S. and Canada as a double edged sword.
"Yes, the two nations are pretty dominant, but I think it is time for other nations to step up and start contributing to their women's programs. Russia, Norway, Czech, Latvia all are teams who are considered hockey powerhouses — where are their women's teams?"
At the same time, he isn't worried that the sport is in danger of losing its Olympic status.
"If the IOC doesn't keep women's hockey, then they will create one of the biggest controversies in sports history. Softball was taken off because other countries didn't have a male counterpart (baseball) to help support the women's side. That isn't the case here."
For now, James and the rest of the Knight family are enjoying the Olympics and are hoping that Hilary and the U.S. women will be able to bring home gold.
"I think it will be a very close match, as it always is, but I think the US will win," said James. "It's been too long and the girls are hitting on all cylinders. It is their time!"