John Powers: Ice Hockey And More
04:43
Play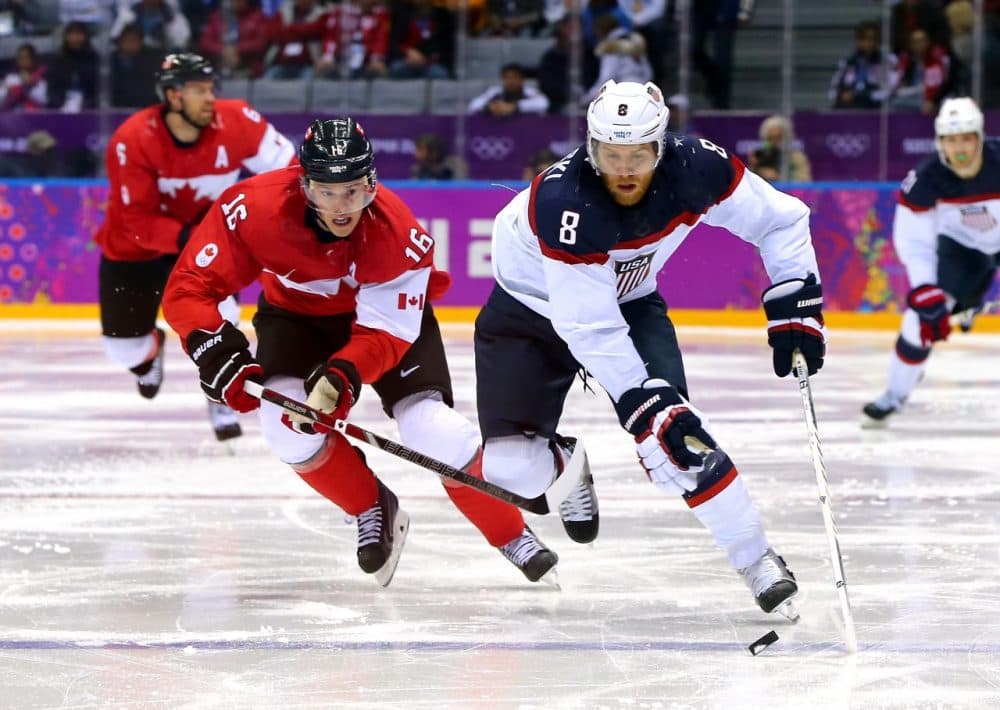 This article is more than 6 years old.
The men's hockey final will pit Canada against Sweden. The Canadians are the defending Olympic champions. The Swedes, with an injury-depleted roster, have won five straight games during these Olympics. John Powers has been updating us on the Olympics from Sochi, and he joined us again to talk about hockey and his favorite parts of reporting from Sochi.
BL: John, will it be Canada's NHL players or Sweden's NHL players returning to the NHL wearing gold?
[sidebar title="Only A Game Covers The 2014 Winter Olympics" align="right"]Check out all of Only A Game's in-depth coverage of the Olympics in Sochi.[/sidebar]JP: I think it may be the Canadians. They looked awfully good against the Americans. It's the first time that they have shut the Americans out at the Olympic Games since 1936: 1-0. They got a goal in the second period basically from Jamie Benn and that was it. It's a very tough week here for the Americans. The women, of course, [lost] in overtime to the Canadians after being up 2-0 in the final four minutes. [The U.S. men] at least will get to play for bronze and that will be some consolation.
BL: Which was the greater heartbreak: the men losing 1-0 or the women losing in overtime?
JP: It was the women's for sure. They had not won the Olympics since 1998. They had a number of women that had hung on — because they did lose last time — for one more shot. They thought that they had them, and to lose in overtime, to lose after they had pulled the goalie, it's just very, very hard for them to take. It's always nice to get a medal, but the one that they wanted was a gold. They have way too much silver for their tastes.
BL: John, for the Russians, the discouraging hockey news came several days earlier when their men's team crashed out in the quarterfinals courtesy of Finland. Gloom must have prevailed throughout the land. 
JP:  As a matter of fact, one of the headlines in the papers was "Burned in Finnish Sauna." It was a very difficult loss for them. This was the second time in a row that they've gone out in the quarter finals and what they did at least was they got a gold medal in women's figure skating from Adelina Sotnikova. They never got that before. So it's not a bad trade off, but most of Russia would rather take the hockey [gold].
BL: The NHL had already threatened to keep its players home from the Olympics in 2018. That was before the New York Islanders lost star John Tavares for the rest of the season to a knee injury in Sochi. Will this be the last time we see and Olympic final of NHLers vs. NHLers?
JP: It may well be. The owners have never liked interrupting the season. One of the fears was always that they would lose a star player. They don't get a whole lot from going to Korea like going to Salt Lake or Vancouver or [Sochi] where they have markets. There are no Koreans in the NHL, so what you could see is the Boys of Winter for the U.S. — Mike Eruzione did sell his jersey on auction, but I'm sure he could get another one.
BL: All right, John, I want to give you a chance to step away from hockey. These games will soon be over. What lasting memories will you bring home from Sochi?
JP: The amazing thing was for the first time in my four visits to Russia, we had smiling waiters. We had buses that ran on time and lights that worked — that was one of the big miracles. So basically Putin's paradise was good for the 17 days I think. These Games were much better games than anybody thought. They were much better organized. Venues were just spectacular. People got into it. Great volunteers here. And it's still very odd to be walking by the Black Sea and looking up at mountains of snow almost close enough to touch.
BL: Have you reached the point where you're looking forward to the closing ceremonies? And if so, what wonders will they offer?
JP: Well, I think usually the closing ceremonies are a kind of bittersweet thing here. What'll be different about these is there was so much foreboding coming into these games — I think there'll be a sense of relief and almost of regret that many people didn't have as good a time here as they'd hope to have cause they were afraid something was going to happen. What has been interesting here is the Russian people really embraced these games in a way that we thought they might not.  I think many of us leaving here we will probably never be back here again unless we're going to be staying in a seaside dacha during the summertime.
This segment aired on February 22, 2014.