Ski Resorts Struggle To Balance Popularity And Risks Of 'Skinning'
Resume
To most skiers, that 15 or 20 minutes on the chairlift provides the perfect chance to relax, grab a quick nap or chat up a stranger. But an increasing number of skiers looking for a workout are forgoing lifts. They're sticking synthetic skins to the bottom of their skis, climbing up their favorite ski trail, then skiing down. The practice is commonly known as "skinning."
[sidebar title="X-Games Star Kevin Pearce's Long Recovery" align="right"]In a crash that nearly killed him, snowboarder Kevin Pearce suffered a traumatic brain injury.  Check out our story on Pearce and "The Crash Reel," a documentary about him.[/sidebar]
As skinning's popularity grows, the increase in uphill traffic before, during and after hours is creating safety concerns at many ski resorts and forcing them to rethink how and if to allow uphill travel.
At the Outdoor Gear Exchange, a Burlington, Vt., retailer that specializes in backcountry ski equipment, buyer Joshua Stephens said they sell more than 1,000 pairs of climbing skins a season.
Fellow employee Jake Evans said he uses his at a number of local resorts.
"Smugglers Notch, Jay Peak, sometimes at Stowe," he said. "It's what I love to do."
But both men admitted not every ski resort welcomes uphill travelers, even when those skinning up are pass holders.
"It really seems to run the gamut," Stevens said. "At Mad River, who's very encouraging to people going uphill and their neighbor, right next door, Sugarbush, has been just the opposite to the whole scene, has been very aggressively not wanting people to skin a lot of the time, particularly when the resort is open."
"Every ski resort in the country is going through this because of the proliferation of [skinning] gear."

Adam Howard, editor <em>Backcountry Magazine</em>
"What we have been encouraging is the resorts to come up with a policy," Stephens said. "Even if the policy is no, we don't want uphill travel. So be it, that's fine. What we want to know is: What are the rules?"
Adam Howard, editor of Backcountry Magazine, agrees.
"Every ski resort in the country is going through this because of the proliferation of this kind of gear," Howard said.
Telemark and hot-selling alpine touring bindings allow skiers' heels to lift free, which makes climbing much easier.
Howard said most resorts want to capitalize on the interest in this gear, so they are creating uphill policies. But read the fine print, he said, because they're all different.
"[Ski resort] Jackson Hole — [which] was way ahead of the curve opening their boundaries to national forest land to let people ski out of bounds — doesn't allow anybody to go up the hill at any time," Howard said. "The flip of that is Steamboat. They've got a really progressive policy."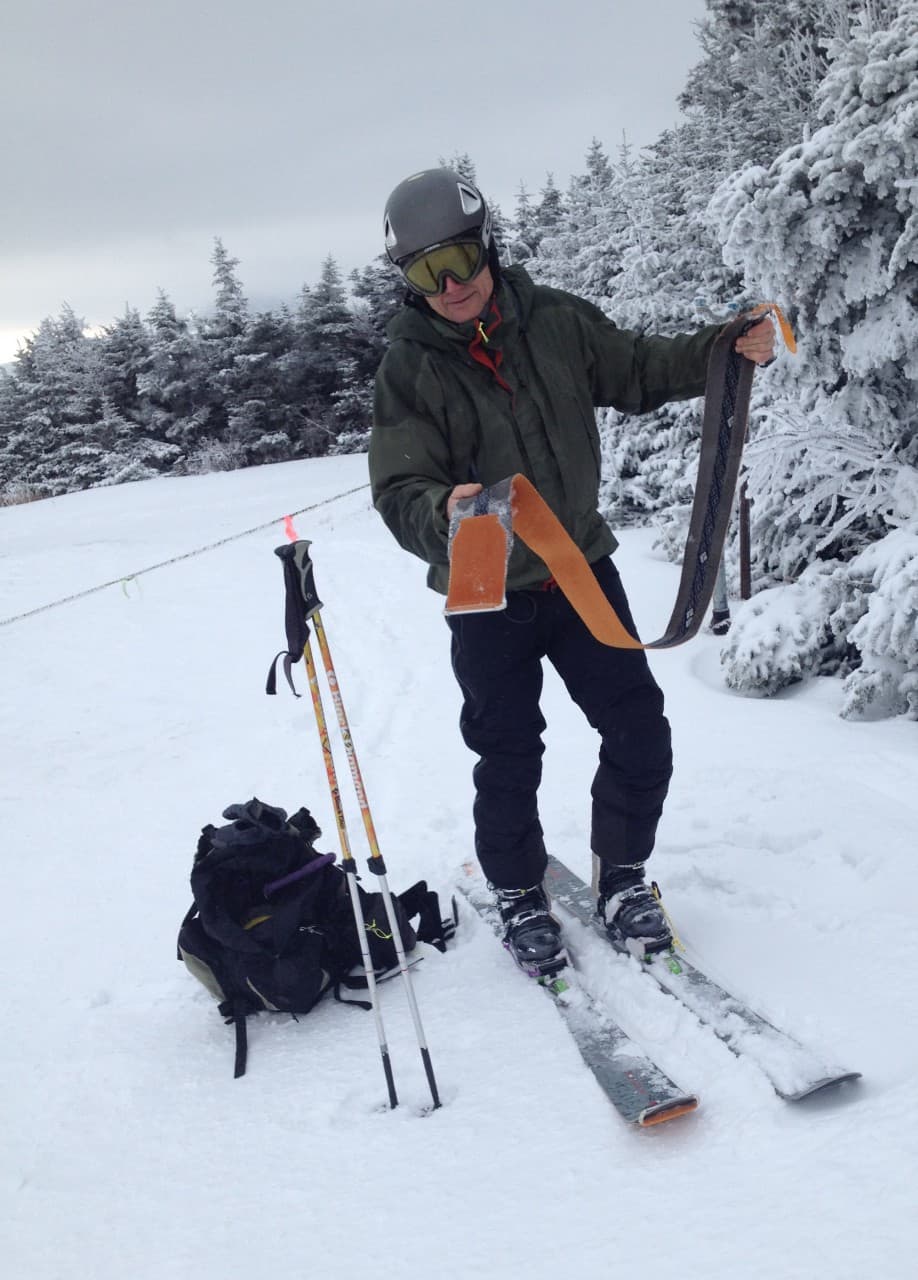 As long as you're skinning up during off hours. Steamboat doesn't allow uphill travel when their lifts are running.
Mike Snyder is commissioner of Vermont's Forests Parks and Recreation Department, which leases land to seven Vermont ski areas. While Snyder believes most resorts want to accommodate uphill traffic, he said they're struggling with how to do it safely.
"Think about it," he said. "You have people coming down fast with no expectation that anybody might be coming up. It's just not the norm, and you come around the corner and there's a party of three or four folks skinning up."
Backcountry's Howard thinks after-hours skinning can create even bigger safety concerns: for instance, "when you've got 15, 20, 30, 40 people skinning up in the dark with headlamps, with dogs, going up to the top of the mountain and hanging out for a while. [That's] when there's mountain-ops activity — whether it's snowmaking, snow machining to service snow guns, and certainly grooming."
At Killington Ski Resort, the largest ski resort in eastern North America, all grooming and snowmaking is coordinated by Operations Manager Jeff Temple. He said several dozen people skin up the mountain every day, most after dark or at dawn when big grooming tractors are on the slopes.
"Somebody coming along — a skinner, snowshoer, snowmobile — could actually go over that cable and get lifted in the air or, or worse."
It's the kind of what-if scenario that every resort has to think about, considering America's passion for litigation.
Temple said Killington hasn't had any accidents, but he said they have had some near misses, which is why the resort unveiled its first comprehensive uphill policy this year, with designated routes and rules.
"That makes sure that we're all on the same page for education and the dos and don'ts so it's successful for all involved," he said.
He said those who already own a season pass will be asked to sign up for a season skinning pass at no charge. For those without a season pass, an uphill version will cost $20.  But Temple said skinners with passes will be welcome 24/7.
The U.S. Ski Mountaineering Association has uphill policies for most resorts on its website. Killington and Magic Mountain in Vermont, Sugar Bowl in California, and Aspen and Arapahoe Basin in Colorado have some of the most liberal policies.
Howard hopes more resorts will follow their leads.
"We're seeing triple-digit growth with the sales of this kind of equipment year on year on year. It's the only growth area in the sport," he said. "Regardless of what one ski area decides to do on this issue, another ski area is going to find an opportunity."
Because when planning ski trips, Howard says said he and a growing number of skinning enthusiasts will choose resorts where climbing is welcome.
This segment aired on February 22, 2014.