NFL Considers Penalty For Slurs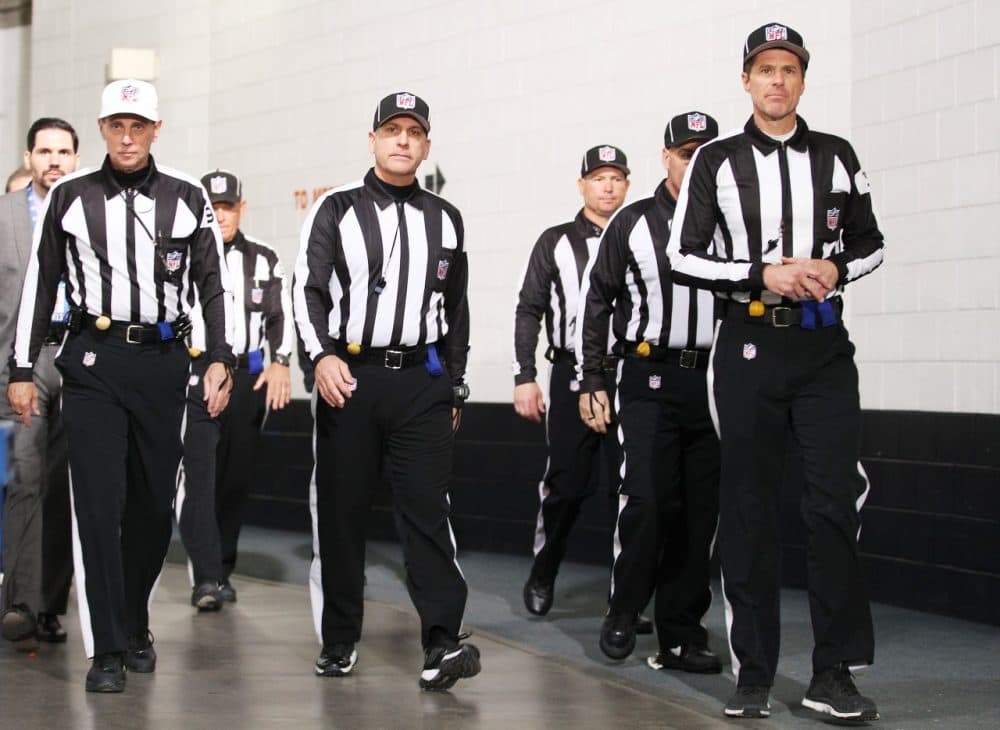 This article is more than 6 years old.
The NFL's competition committee is considering punishing players for using racially discriminatory language on the field. Players would be penalized 15 yards if caught.
But how will the referees be able to catch every infraction on the field?
Baltimore Ravens General Manager Ozzie Newsome told reporters at the NFL Combine that the many microphones already on the field would help, but monitoring all language might be unfeasible.
If every sound can't be verified, what happens if a 15-yard penalty is the deciding factor in a game?
Players acknowledge that racial slurs are heard on the field.
"On the field, I'd be lying if I said I hadn't heard it," Minnesota defensive back Brock Vereen told the New York Times. "But not enough to where I would see a rule change be necessary."
ESPN's Michael Wilbon is skeptical that the rule will work.
[sidebar align="right"]ESPN's Michael Wilbon will also appear on this week's Only A Game.[/sidebar]"I understand the need to look at it," Wilbon said during special report on the "n-word" by "Outside The Lines" on ESPN. "I'm not sure it can be legislated successfully. Because the use of this particular word, the objection to it, the embracing of it, the emotion wrapped around it is more complex than any word that I can think of in the English language."
Some have suggested this rule would impinge on players' freedom of speech. Plus, players don't always use racial slurs in derogatory ways.
"[White people] don't know how it's used as a term of endearment, as an insult, as just a greeting," said Wilbon.
But the NFL isn't the only sports league dealing with the issue.
In December 2013, Krys Barch was ejected from an NHL matchup between the Montreal Canadians and the Florida Panthers for allegedly using a racial slur. He was later suspended for one game. Barch denied using a racial slur, but admitted his remarks were too explicit to repeat to the media, saying, "My grandma wouldn't want to hear it."
Major League Baseball suspended Toronto Bluejays shortstop Yunel Escobar for three days in 2012 when he wore eye black with a homophobic slur written on it in Spanish.
Philadelphia Eagles wide receiver Riley Cooper took a leave of absence from the team after his use of the "n-word" at a Kenny Chesney concert in 2013 created a major controversy.
The NBA banned a fan for directing a racial slur at Houston Rockets center Dikembe Mutombo in 2006. In a recent radio interview, the Miami Heat's Chris Bosh said he'd like all slurs to be banned from the league.
Where is the line between freedom of speech and behavior that can be regulated? Are on the field penalties the best way to deal with discrimination? Should the rule include homophobic language?
We'll have to wait and see what the NFL elects to do.