Baseball Card Industry: 25 Years Of Upper Deck
07:37
Play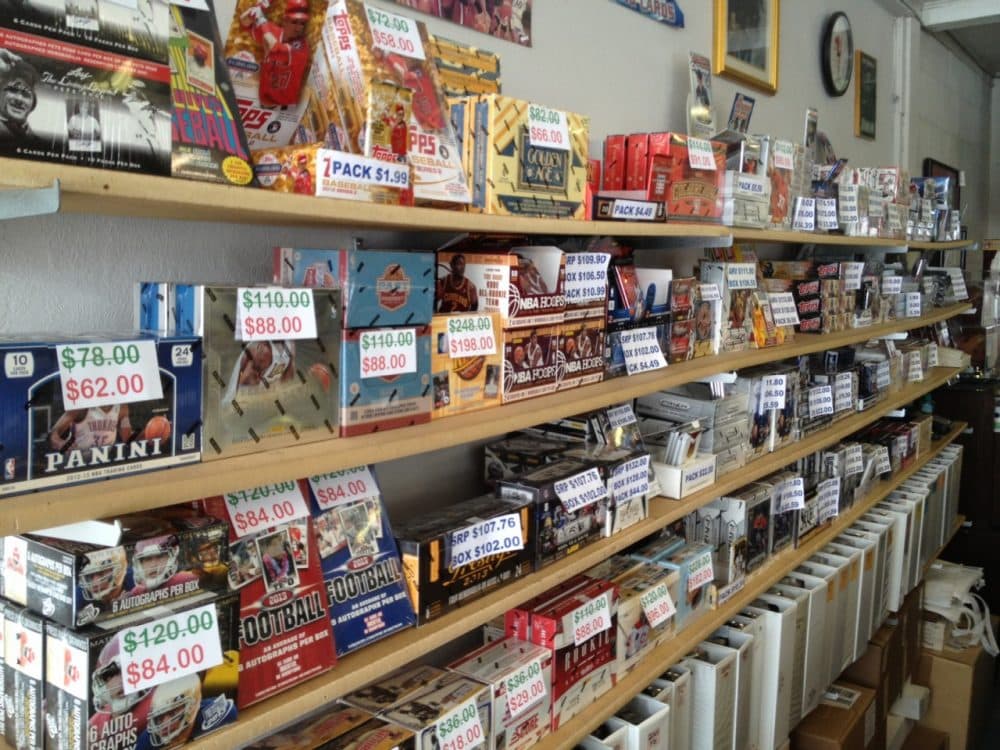 This article is more than 7 years old.
It's a rainy Saturday morning in southern Idaho and Kody Rathe is making his usual stop at Jerry's Rookie Shop, a sports card store in Boise owned by Jerry McClusky.
Rathe is here to see if McClusky has received any new stock since his last visit.
"You know what, this week absolutely nothing new came in," said McClusky. "Nothing new came in this week.  I have a ton of stuff due in new this month. But nothing new this week."
Rathe stands back and stares at a large wall of unopened packs. It's clear he's going to buy something, he's just not sure what. He finally decides on a pack of Leaf-brand Sports Heroes. It's a pack of six autographed cards that goes for $150. By the time he leaves the store about a half-hour later, Rathe has spent $470.  And in today's sports card industry, this is not unusual. And experts say the world of sports cards is like it is today, because of what happened 25 years ago.
Late winter 1989.  Gas was about a buck a gallon. The Soviet Union still existed.

And baseball cards made in the 1950's and 60's were worth hundreds of dollars. That was driving interest in collectibles. Seeing an opportunity, the founders of Upper Deck decided to print high-end photographs on both sides of shiny white cards. Something else that was different, says Upper Deck president, Jason Masherah, tiny holograms meant to ensure authenticity.
"There were a lot of concerns about older cards, vintage cards, being reprinted, counterfeited, things of that nature," said Masherah. "That was really the first time that that situation had been addressed."
Collectors, desperate for the first real innovation in baseball cards in years, couldn't wait. Anticipation built.  There were production delays.  The fervor grew even more.  Then, finally, on February 28, 1989, Upper Deck delivered its first cards to a card shop in Tulsa, Oklahoma.  The new foil packs – another innovation meant to do away with tampering - sold for twice what other cards went for. Author Pete Williams – who documented the Upper Deck story in his 1995 book Card Sharks – says early demand was overwhelming.
"Cases of cards which might have wholesaled for $600, were suddenly doubling, tripling – all the way up to $10,000 a case – you were hearing reports of," said Williams.
Almost immediately, the buzz over Upper Deck sent a ripple through the entire sports card hobby.  Over the next few years, card companies flooded the market with more brands and sets than the industry had ever seen. Baseball card shows were regular events in hotels and malls. Interest was so high that even small towns could support baseball card shops.
Williams says Upper Deck did $300 million in business a year at one point, in an industry experts estimate was doing about a billion dollars in sales.  But it was a bubble.  And like bubbles in any industry, this one was bound to pop. Williams says the beginning of the end came in the mid 1990's.
"People realized, hey, this market has gotten ridiculous. The cards are being overproduced. There are too many sets by too many companies. Nobody can possibly keep up with it all. They're only producing star cards. They've taken the collector out of it, the fun of collecting a set just isn't there anymore."
Ever since, the world of sports card collecting hasn't been the same. Masherah, of Upper Deck, says today's industry does about one-fifth of the business it did in its peak.  Experiments with digital cards haven't caught on.  While a collector might pull a card autographed by LeBron James, or part of a jersey worn by Yasiel Puig, many packs costs in the hundreds of dollars apiece now. That affects how many kids are interested in the hobby.
As a former collector, Williams says it makes him sad that the industry is a shell of its old self.
"It's a niche. You're not somehow gonna put the genie back in the bottle and say 'Okay, we're gonna return to our roots as a collectible product'. That doesn't exist. You've lost at the very least one generation of people, the so-called millennials – I don't think they collect.  I know as a father of young boys myself, there's zero interest on the part of those guys. So what do you do?"
But at Upper Deck, Masherah says it's unfair to compare today's market to the one his company helped create 25 years ago. He thinks that era was polluted by outsiders and wasn't sustainable.  He says today's industry is certainly smaller, but that it's purer because it consists of collectors and not speculators.   And he says effects of the innovation Upper Deck brought to the market are still being felt today.
"You know, we'd probably still have the grey card stock cards and the bad wax seals," said Masherah. "And, you know, a lot of the innovations that have happened like the autographed cards and game-used jersey cards would have never happened, so it might still be kind of the old school hobby that you saw back in the 80's."
Back at Jerry's Rookie Shop in Boise, Kody Rathe has just paid over $200 for a box of cards. He's hoping to get a superstar.
"Jaime Callahan, Hunter Harvey and another Allen Webster. Four out of 125. I did know that guy."
He doesn't get it.
I asked him if $52 for a pack of four cards with three autographs was worth it.
"Not yet," said Rathe. "It will be though."
And with that, Rathe proves that for some, no matter how much things change, the optimism and the thrill of the hunt that brought them into the hobby in the first place hasn't gone anywhere.
This segment aired on March 1, 2014.