PGA Tour's First Par-3 Tournament
04:02
Play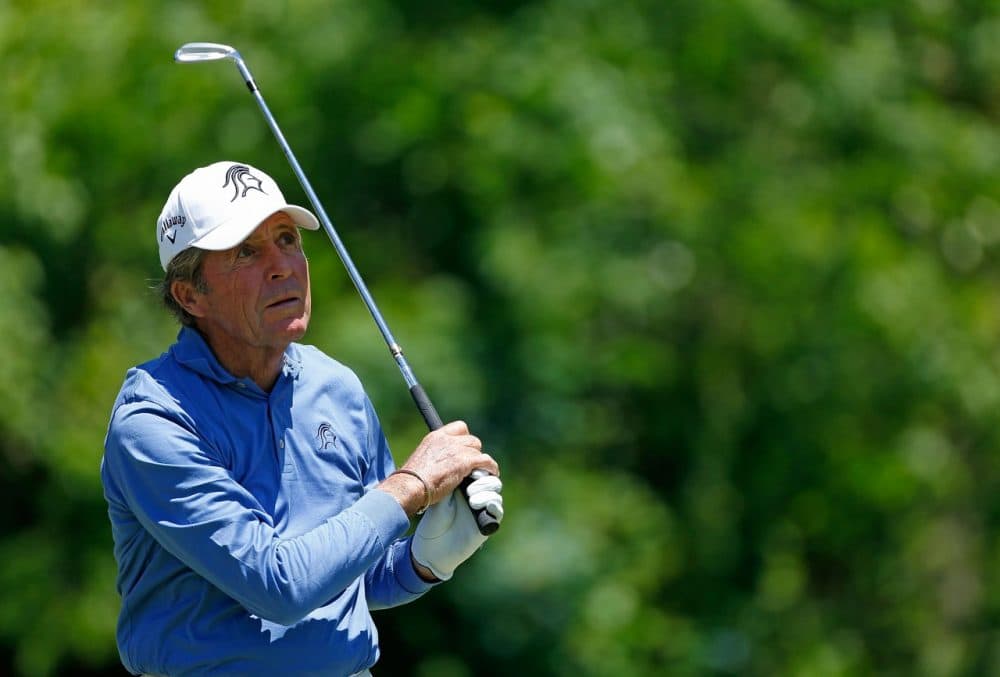 This article is more than 7 years old.
The PGA Tour has a long history, but it's about to add a new –- short –- chapter. In June, for the first time, the PGA will host a sanctioned event that includes play on a par-3 course. A portion of the Legends of Golf tournament will be played at the Top of the Rock nine-hole par-3 course in Ridgedale, Mo. PGA Tour Executive Vice President Ty Votaw joined Bill Littlefield on Only A Game to discuss par-3 golf.
---
BL: The Legends of Golf is a two-man team tournament and there will be two divisions: ages 50 to 65 and ages 65 and older. Jack Nicklaus, Gary Player, Hale Irwin, and Tom Watson are among those in the field. Come on, they're getting older, but does a par-3 course stand a chance against those guys?
TV: Well, it's a heck of a par-3 course. Top of the Rock is, I think, going to be a great test and everybody you just named are legends in the game which makes this an aptly named tournament. Obviously, this is a little bit of uncharted territory with us and we're excited about it because we think it's going to be a great platform to show people the virtues of some alternative golf courses.
BL: I have to acknowledge when I first became aware of this, I wondered if some of these 65-year-old golfers were coming to you and saying, 'Hey, I can't hit the ball 290 yards anymore. Let's play a par-3 course tournament.' How'd the players react to the idea?
TV: They were very supportive. And just so you know, it's not going to be 100% on this 9-hole par-3 golf course. Everybody's going to play at least one round on an 18-hole championship golf course designed by Tom Fazio. So there's a nice blending of a championship level golf course and a par-3, but you look at this golf course and you see 230 yard par-3 at the tips on a couple of occasions. It's a Jack Nicklaus designed golf course, so the challenges on the greens are going to be prevalent as well.
[sidebar title="Gary Player On Only A Game" align="right"]Listen to our interview with golf legend Gary Player about the demise of the Eisenhower Tree at Augusta National.[/sidebar]BL: Normally, golfers are allowed 14 clubs in their bags. I'm guessing they won't need quite that many for the nine holes on the par-3 course.
TV: I'm guessing they probably won't Bill. Yes.
BL: Whadya think, an 8-iron, maybe a 6-iron?
TV: Yeah, as I said there're some yardages that are going to be a challenge. To a person that we've spoken with on the players as far as the player advisory council, the four player directors on the Champions Tour policy board, they're enthusiastic about it and they're looking forward because they think it's going to be a fun presentation to their fans.
BL: You're talking about this par-3 course as a real challenge. What would you say to people who say, 'Nah, this is a gimmick.'
TV: The proof will be the week of the event. What we want to be able to demonstrate to people is golf is golf. They're all using the same equipment. They're all teeing off the same yardages and hitting to the same greens, so from a competitive perspective seeing how this plays out is going to be interesting to watch.
And when you look at the most prevalent barriers keeping people from taking up the game or playing more golf: time, cost, and difficulty are at the top of the list. And in this time crunched world we live in, people don't necessarily realize that there are 800 par-3 golf courses in the United States and the vast majority — or 85 percent — are public facilities. And when you add that in to the number of nine-hole golf courses and executive golf courses, 30 percent of the total number of golf courses in the United States are in that alternative golf course or alternative golf course facility category.
BL: Is it safe to say the PGA Tour record for most holes-in-one in a single tournament is in jeopardy?
TV: Time will tell and we'll see, but if that record falls it'll be fun to watch.
This segment aired on March 1, 2014.