Vivek Ranadive: Sacramento's Savior, NBA's First Indian-Born Owner
06:10
Play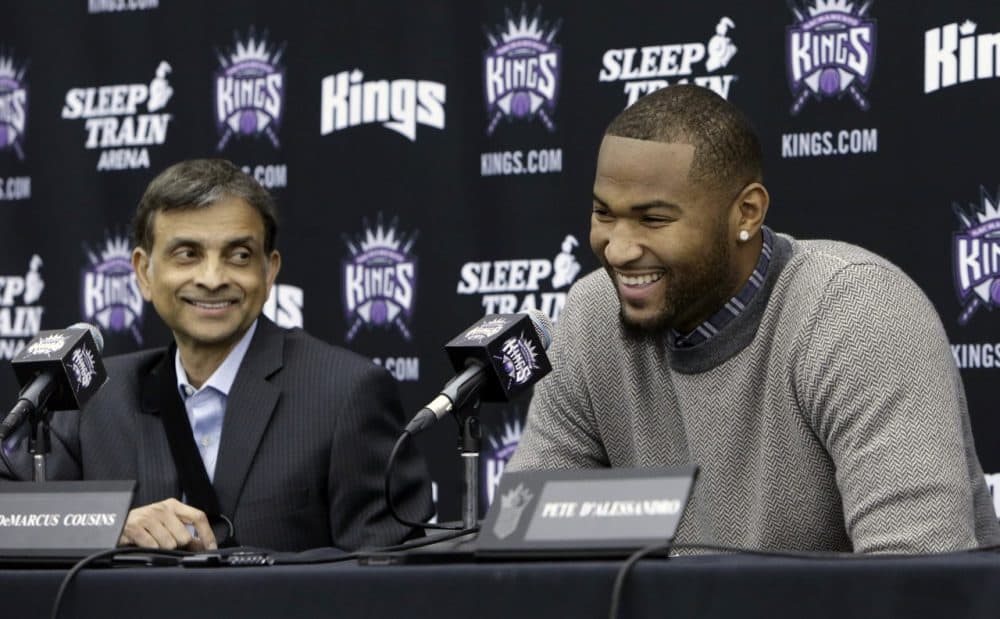 This article is more than 7 years old.
The NBA's Sacramento Kings are on their way to their eighth straight losing season. But the real story is that the Kings are still in Sacramento. After nearly reaching a deal that would have sent the Kings out of town, the Maloof family sold the team in May to a group headed by Vivek Ranadive.
In addition to being a pioneer in the field of computer software, Ranadive is now the NBA's first Indian-born majority owner. In the 1980s, Vivek Ranadive founded a software company that helped automate trading on Wall Street. Today he's the chairman and CEO of another firm: TIBCO Software. But Ranadive isn't new to the NBA. Prior to acquiring the Kings, he was a vice-president and co-owner of the Golden State Warriors. He lives near San Francisco.
Earlier this month, after appearing at the MIT Sloan Sports Analytics Conference in Boston, Ranadive sat down with Only A Game's Doug Tribou to talk about saving Sacramento's only sports team, basketball as a global game, and the role of technology in the NBA.
---
DT: Had you been thinking about buying the Kings for a long time?
VR: I really didn't have that much experience dealing with the Kings or even going to Sacramento. I'd been there, but I hadn't spent a lot of time there. But what happened was the team was going to be bought and relocated to Seattle. Sacramento is our state capital. I came to California with nothing. And at some point I felt that it would be just a tragedy if this team that the city loved — and they had no other team — was moved. So I felt if there was something I could do I should do it. That's how I ended up being an owner of the Sacramento Kings.
[sidebar title="Boy Going Blind Travels From New Zealand To See NBA Game" width="330" align="right"]Louis Corbett is 12 and losing his sight. His family is helping him build a visual memory bank. Tops on his wish list? Seeing a Boston Celtics game.[/sidebar]DT: One thing that really resonated with me when you were talking was the idea that you're in a one-team town. Seattle's got the Seahawks. They've got a soccer team. And a lot of the other franchise cities have something to fall back on, but Sacramento is one of the few that don't.
VR: Yeah, so Sacramento doesn't have any other sports teams. They don't even have a college team. Taking this team out of the city of Sacramento would have really ripped the heart out of the city.
DT: At one point, the Kings' former owners – the Maloofs – announced the team would be sold to a group in Seattle. But one of the unusual aspects of the Kings' story is the fact that Sacramento's mayor is former Phoenix Suns guard Kevin Johnson. What role did Johnson play in preventing the Kings from going to another city?
VR: Well, without Kevin Johnson the Sacramento Kings would not be in Sacramento today. So he was the one who convinced me to get involved. He was the one who rallied the fans, went to the NBA. He's a very charismatic, brilliant, visionary leader. But he's also a person who that just doesn't talk — he takes action.
DT: One of the questions that came up in the panel you were in [at MIT's conference] is the plan for change. And obviously there's a lot of things that need to be changed in Sacramento to rebuild that tradition. What are some of the big priorities for you?
Basketball will be the global sport of the 21st century.

Vivek Ranadive, Sacramento Kings majority owner
So, that's where a lot of our focus is. On the game side, we're in a rebuilding process. The fans in Sacramento are extremely knowledgeable, and we're not trying to create something where we succeed once, but we're trying to create something where we have a sustained record of success, and so they have given us that time.
DT: The NBA is currently experimenting with sensors that D-League players are wearing to record their movements and speed during games. How do you see analytics and technology impacting the NBA?
VR: There's six overhead cameras in every arena. We are actually pushing the envelope on that. We'll look at about 30 gigabytes of data [after this season], which is more than all the data that existed in the history of the NBA. So from our perspective it all enhances — on the one hand the fan experience, but also on the other hand how the game is played.
DT: I want to step away from the NBA for a second and ask you about your view of basketball on a global scale and maybe trying to expand its global footprint.
[sidebar title="March Madness 'Giant Killers'" width="330" align="right"]What are the makings of an NCAA Tournament upset? Do VCU, George Mason, Butler and other iconic underdogs have something in common? We asked the writers behind ESPN.com's Giant Killers Blog.[/sidebar]VR: I have a vision called NBA 3.0. Really it comes down to the belief that basketball will be the global sport of the 21st century. It's a sport that can be played by boys, by girls, by one person, a few people, indoors, outdoors, in cities, in villages, in rich countries, in poor countries. And unlike sports like soccer or cricket, you don't need a lot of room. It's caught on in China. Obviously, it's grown in Europe. And I believe that over time it will become the second-most popular sport in India [after cricket].
DT: What is the state of the game in India right now?
VR: The game is arguably the fastest growing sport in India right now. We have our games broadcast live in India — many of our games. There's more and more people who know who the Sacramento Kings are. We've sent our dance team to India. The commissioner's going to go with me to India in the near future.
DT: How do you see that sort of thing factoring into the NBA? Is it feeding talent? Is it just growing interest?
VR: I think that this is a huge plus for the NBA. Getting a global audience, getting a global talent pool, leveraging technology so that the content can be consumed around the clock around the globe. And there will be ways to monetize that in the future, but that's not the focus right now. The focus is simply to share the world's greatest experience with people everywhere.
This segment aired on March 15, 2014.