South Carolina's Dawn Staley Chasing First National Title
05:05
Play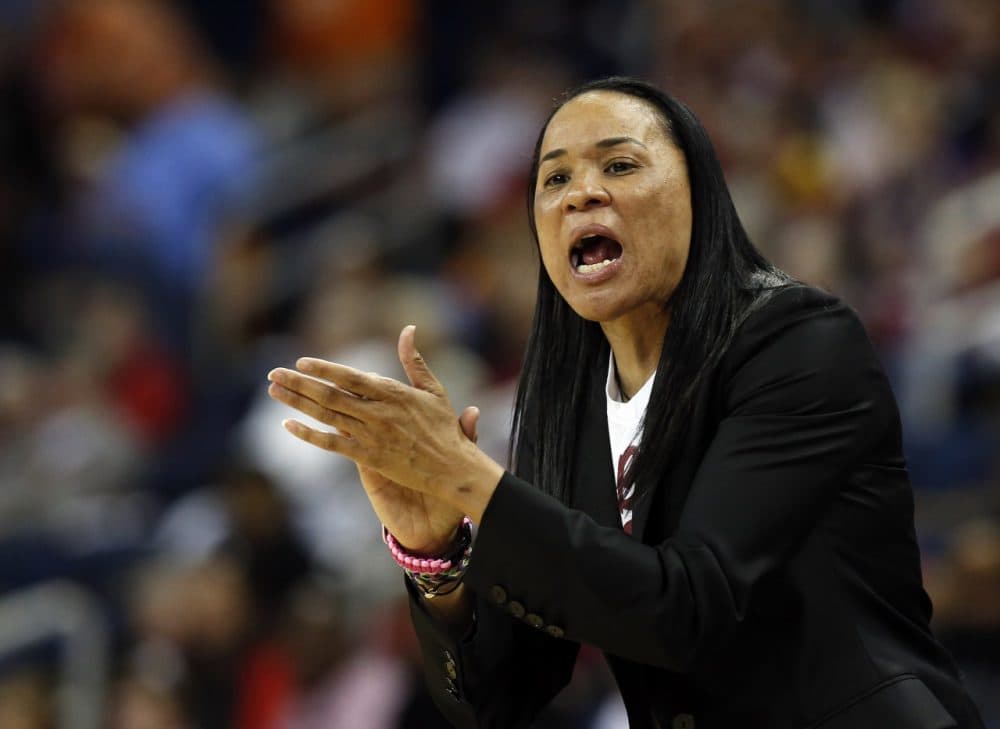 This article is more than 7 years old.
The Women's NCAA tournament proceeds this weekend with regional games. And it doesn't get more regional than the Carolinas, where basketball is king, unless you're in the Carolina that's further south. On Sunday, the University of South Carolina will take on the more seasoned North Carolina Tar Heels to determine which will go to the Elite Eight.
Only A Game's Karen Given spoke with Gamecocks coach Dawn Staley.
KG: This is South Carolina's first time as a No. 1 seed. What's it like to be one of the new kids on the block?
[sidebar title="WNBA Rising Stars" align="right"]In 2013, the WNBA got three ready-for-primetime stars from the college ranks. The league made the "3 to See" rookies a key part of its promotional efforts.[/sidebar]DS: To be a No. 1 seed for the first time, I think it's exciting because it's usually for those traditionally rich programs that have won national championships and have gone to Final Fours year in and year out. And to have someone new like the University of South Carolina, I think it gives the whole country a breath of fresh air.
KG: South Carolina did have an Elite Eight appearance in 2002, but the year before you arrived the Gamecocks won only two games in their conference. What did it take to turn the team around?
DS: You have to do things the right way. You have to instill discipline. And then you have to recruit, and you have to recruit, and then you have to recruit some more. Early on we would outwork teams and we would come up short. We didn't get outworked, we got out-talented. And now we're at a point in our program where our talent level is just as good as everybody else throughout the country. And when you have that, when you have talent, when you have discipline, and when you have belief, you can be incredibly successful and that's what happened to our program.
KG: During your playing career you were named national high school player of the year, you were twice the national player of the year in college, you've won three Olympic gold medals, and you were a six-time WNBA All-Star. Do all those awards make it any easier to convince your players that your way is the right way?
[sidebar title="UConn's Auriemma Trying For Title No. 9 " align="right"]The UConn women won the 2013 title, giving head coach Geno Auriemma his eighth title, tying Tennessee icon Pat Summitt's record.[/sidebar]DS: Honestly I wish I could say yes. But I'm at an age where I played before they were born. I think kids nowadays, yes they have access to the Internet to figure out the history of myself and some of the other coaches that are on our staff. But it's so far gone that we can't even use that. They just think we're old fogeys. But they're making history of their own this year.
KG: Your team's success has not gone unnoticed. This week, a columnist for the Post and Courier compared you to the Dalai Lama. And when Ohio State tried to recruit you away from the Gamecocks, the governor called personally to ask you to stay. What has all that attention been like for you?
DS: The attention has been great because it raises the awareness of women's basketball in the state of South Carolina, and we're breaking down barriers. Our attendance has skyrocketed. On our last home game we had close to 13,000 fans witness us win a regular season SEC championship. So when the governor calls, and when your boss, Ray Tanner, doesn't want you to leave, and he shows you, he gives you your flowers while you can smell them, we can only be successful when you have that much support around you.
KG: Your team only lost four times this season, but one of those losses was to North Carolina. Is that on your players' minds as you head into Sunday's game?
DS: I would hope, you know, that it is on their minds. I think our players are really focused in on the task at hand, being able to play North Carolina with the stakes being higher than they were earlier this season.
KG: I understand that your team is young and that you have a pretty good recruiting class on the way. Should we get used to seeing South Carolina at the top of our brackets?
DS: If I'm a betting woman, I would put my money on South Carolina. You know, if you've seen the growth on our program, the tight-knit group of players that we have, to the recruits that we have coming into the future — when all of those things line up, it leads to you having sustainable success in years to come.
This segment aired on March 29, 2014.