March Sadness: NCAA Confiscates Kitty Cat Mug
05:07
Play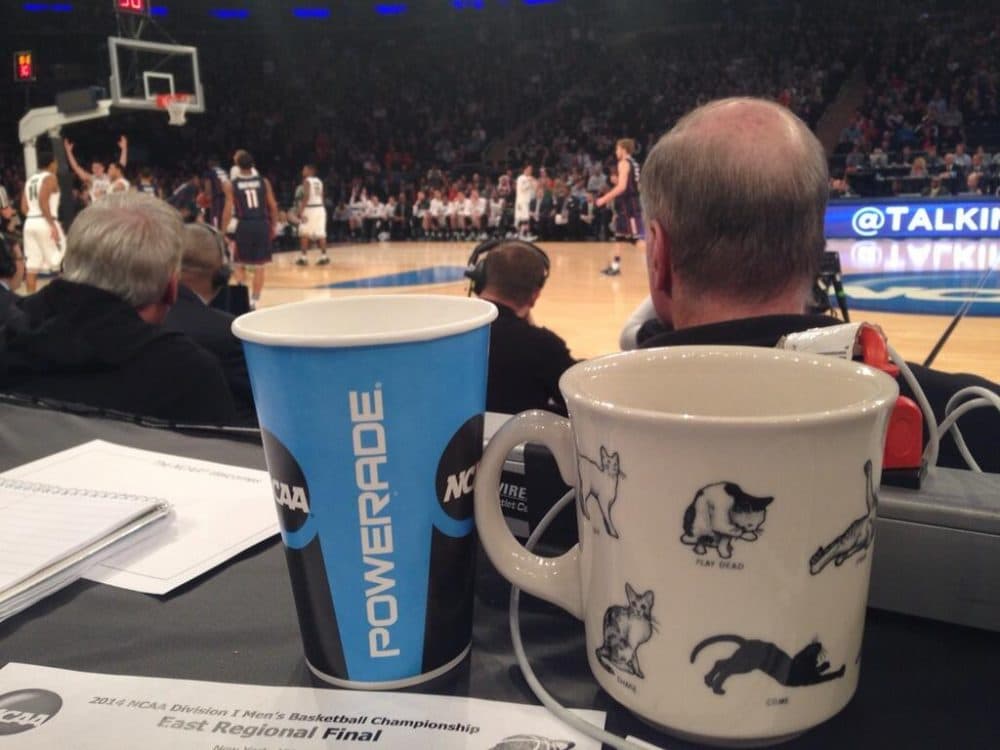 This article is more than 6 years old.
Sponsors for this weekend's men's Final Four in Dallas include a major phone company that keeps things simple, a candy manufacturer that makes chocolate that once lured an alien, and a prominent hydration drink. Sponsors for the men's Final Four do not include the maker of a 12 ounce ceramic mug covered in drawings of cats.
There in lies the crux of sportswriter Jason Gay's column in the Wall Street Journal this week. Gay joined Bill Littlefield to discuss his criminal, kitty-covered cup.
---
BL: The cat mug in question accompanied you to the East Regional final at Madison Square Garden last Sunday. Why was the cat mug chosen for this important mission?
[sidebar title="More College Hoops Coverage" width="330" align="right"]March may be over, but the madness continues. Check out OAG's NCAA basketball coverage.[/sidebar]JG: Always the answer is: why not a cat mug, Bill? But the reason I wanted to do it was as someone who had covered several NCAA tournaments over the years, [I] had gotten the experience of the cup police at the NCAA tournament. They make a big point of it. There are signs leading into the arena that say "NCAA cups only." There are cups there for the taking if you make the mistake of bringing in an outside cup. Basically, this is a policy that you see at other kinds of events, but it's just so strictly enforced at the NCAA. I just found it comical, and I wanted to push it a little bit. Therefore, I brought in the cat mug.
BL: You did not take along the cat mug and tweet out a couple of pictures of it by accident as you have suggested or because you didn't know that outside cups were forbidden and banned by the NCAA.
JG: Bill, we're going to be 100 percent on the level here. This was a cat-mug provocation inflicted by myself and I got what I was looking for.
BL: [You got] what you were looking for — eventually your mug was confiscated by an NCAA staffer who I'm sure did not smile. Was he at all embarrassed to be asking you to turn over your piece of illicit crockery?
JG: You know truthfully, Bill, this happened with about four minutes to go. And it has occurred to me a lot in the last couple of days that had they just let it go we wouldn't be sitting here talking. I mean, this just would have been a non-story. I wouldn't have gotten anything out of it. But with about four minutes to go — and this was a great game let's not forget, UConn and Michigan State —  this individual came over and made a joke about taking the cup and mailing it to me. And I thought we were just having a laugh about it, but then it became relatively clear that the cup was being asked for.
I just want to get to the big picture here, which is of course--as you've talked about on your program multiple times--there are many great important substantive questions right now about how big college sports have become and the NCAA's role in that. And we look around and we see the incredible compensation for conferences and coaches and at the same time the strict enforcement of the smallest kind of rules against college athletes to the point where they're not able to make any kind of nickel on their efforts. You know that strikes a lot of people as being hypocritical, and I wanted to, in a very small way, call attention to what I feel is a strange selective enforcement of the NCAA.
BL: As journalists covering these sorts of events we are of course bound by whatever rules the team, or the league, or the NCAA decides to enforce. Did you consider at all refusing to hand over the mug?
JG: You know I wish I was a stronger, bolder man, Bill. I really do. And had I had many, many years of training in civil disobedience, I probably would have been a little bit more firm, but I just wasn't capable of it. I chickened out. I just chickened out, Bill. It occurred to me, and it's important to note here that the Wall Street Journal does not just cover sports through the prism of cat mugs. There are a great number of terrific reporters, many of whom have been on your program, who cover collegiate sport in a very aggressive and thoughtful way. And it occurred to me that I wasn't about to impugn their work by getting caught up in the big cat mug controversy of 2014. You know I didn't want them to lose their ability to cover the sport, so yeah, I chickened out Bill. What do you want from me?
BL: And you did ultimately get the confiscated cat mug back, right?
JG: Yeah, the Smithsonian has yet to ask for it, Bill.
BL: No, it's not going to be the Smithsonian, Jason. It's going to be the Basketball Hall of Fame. 
JG: Springfield! That would be an incredible honor. Nothing would be better. It could be right there next to the peach basket.
BL: Now look, one last thing. I assume you own a cat. And if so, does your cat have a Jason mug, or perhaps a bowl, or Jason litterbox?
JG: How meta do you think I am, Bill? Come on, there are limits to this absurdity.
This segment aired on April 5, 2014.