Hobey Baker: A Hockey Legend Lost Too Soon
04:06
Play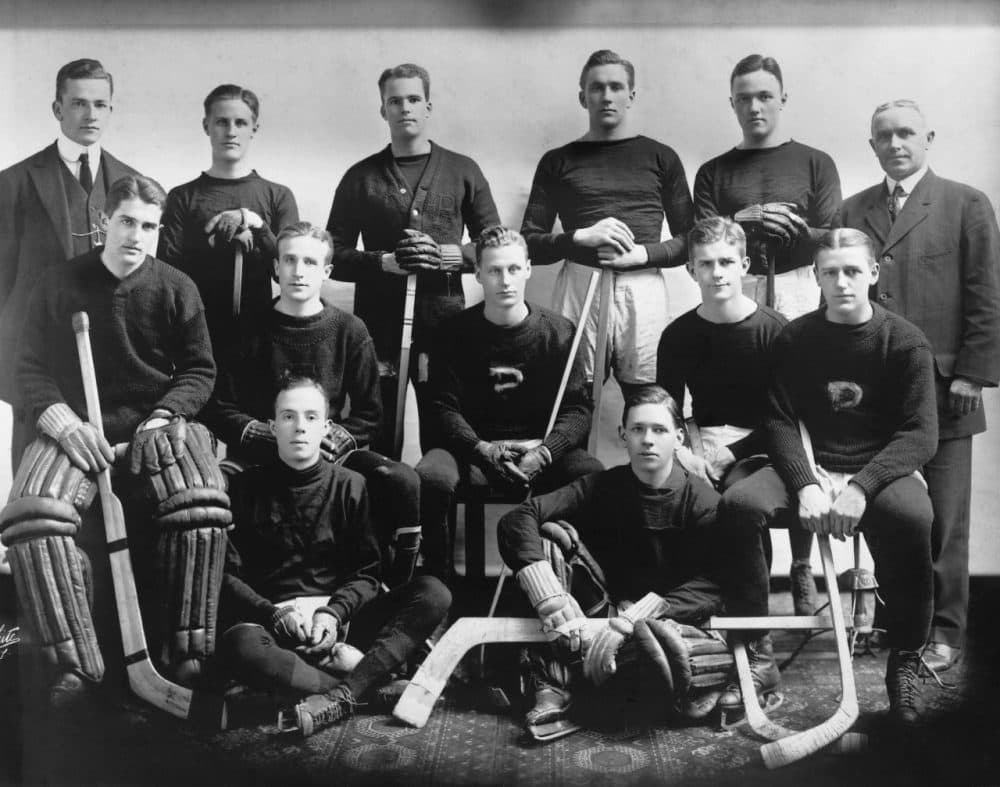 This article is more than 5 years old.
On Friday night in Philadelphia, Boston College's Johnny Gaudreau was announced as the the 2014 Hobey Baker Memorial Award winner. The annual honor is given to college hockey's top player. The 100 years ago, Baker was the preeminent American athlete.
WHYY's John Weber has the story of the man behind college hockey's highest individual honor.
---
Hobey Baker was the son of wealthy upholsterer Alfred Thornton Baker and Mary Augusta Pemberton, a Philadelphia socialite. His parents divorced when he was 11, and Hobey and his brother Thornton were shipped off to St. Paul's, a residential high school in Concord, N. H. Paul Lally, who wrote and directed "Golden: The Hobey Baker Story," says it was there that Baker discovered he was a natural athlete
"There wasn't any sport that he got near that he wasn't able to master," Lally said. "And instead of the guys being jealous of him, this kid was so gentle of spirit and so natural at what he did that they just admired him."
It was at St. Paul's where Baker learned to play hockey and it is said that he would skate in the dark of night on the frozen ponds of New Hampshire to perfect his skating and stick handling skills. He made the varsity team his sophomore year. Upon graduation, Baker headed to Princeton University in 1910 where he starred in hockey and football.
"When he showed up and got hold of a football and just ran up and down that field, people were astonished," Lally said. "And with hockey they started to call him the Blond Adonis, and Princeton was glad to have him."
Baker tallied 180 points on the gridiron, a Princeton record that stood for half a century. He's believed to have scored 120 goals in hockey for Old Nassau. But it wasn't just his athletic prowess he was known for.  Langhorne, Pa., resident Adam Wodon, managing editor of College Hockey News, says Hobey Baker was both the ultimate gentleman and sportsman
"He was considered not just the greatest athlete of his generation along with Jim Thorpe, but also one of the greatest gentlemen," Wodon said. "He took one penalty in his career, that's the legendary story. All the research you do suggests that is indeed true, not just apocryphal."
After graduation from Princeton, Baker worked for a time on Wall Street, but according to the official Hobey Baker website, he was bored by corporate America. So when World War I broke out, he had a calling.
"He then went into the military when the United States entered World War I," said Wally Shaver, the legendary radio voice of the Minnesota Golden Gophers hockey team as well as the publicity director for the Hobey Baker Foundation and Award. "He was part of the US Army Air Corps where he flew in several missions over France and was credited with three kills during his career."
"Unfortunately, Hobey Baker died," Shaver continued. "He had his return papers in his pocket, but took a repaired aircraft up for one last flight. It went a quarter mile down the runway, got airborne, crash landed, and Hobey Baker passed away in the ambulance on the way to the hospital."
When news of his death reached the states, a national day of mourning was declared. In 1923, a hockey arena was built in his name at Princeton. Even though he's the only athlete to have been inducted into the Hockey and College Football Halls of Fame, Baker had faded out of the national consciousness. Then in 1981, a group of enthusiasts in Minnesota established The Hobey Baker Award.
Paul Lally hopes that more people will come to know about the gentleman-sportsman from Bala Cynwyd, Pa.
"Hobey was the greatest player ever to put on a pair of skates," Lally said.
This year's ceremony took place at the Kimmel Center, less than five miles away from Baker's final resting place in Laurel Hill Cemetery.
This segment aired on April 12, 2014.