A Conversation With Baseball Legend Johnny Bench
06:08
Play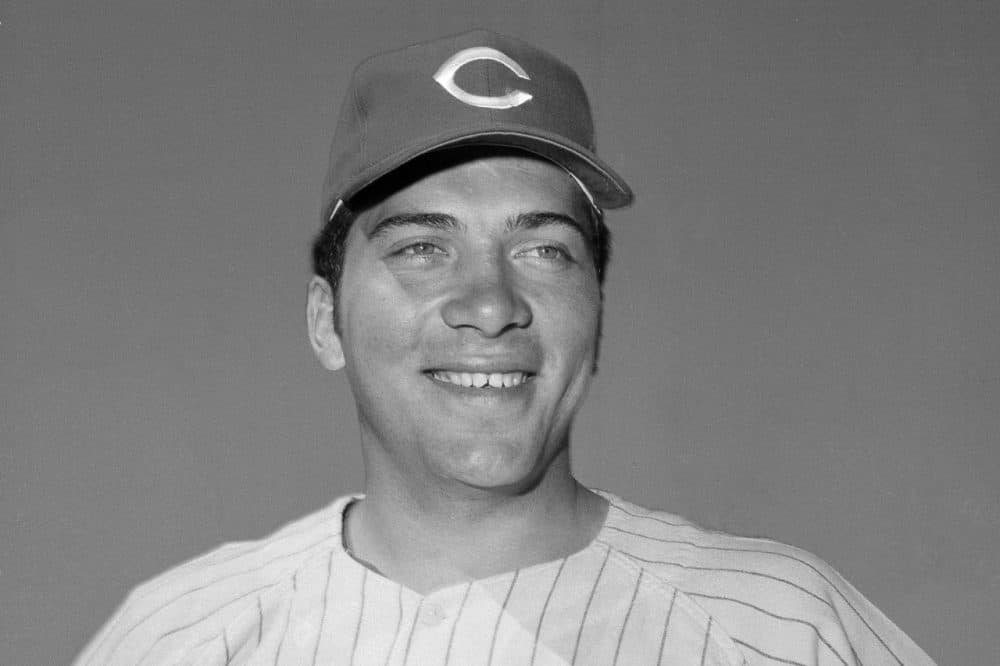 This article is more than 5 years old.
From 1967 to 1983, Johnny Bench of the Cincinnati Reds earned the Rookie of the Year award, two National League MVP awards, 14 trips to the All-Star Game, and 10 Golden Glove awards. For good measure, he played in four World Series with the Big Red Machine. Bench is widely considered to be one of the greatest catchers of all time. These day's he's into baseball cards. He joined Bill Littlefield to discuss his hobby and more.
---
JB: I am such a big fan [of baseball cards]. I mean growing up in a small town in Oklahoma with Mickey Mantle as my idol and being a true card collector hoping to get Mickey Mantle's '52 card, rookie card, which was my total goal in life even though I never got it. And now, when I go around to memorabilia shows I go around buying my cards back up. Of course, now Topps is coming out with their 2014 Series 1 set.
You can get all the young stars, players of the past. You can win top-50 rookies, win memorabilia — you can even win a Mickey Mantle. I never got a Mickey Mantle card, so I may have to try and do it this way. I may have to go online myself if I can get my kids to figure out how to get me online.
BL: Johnny, you're working with the Topps baseball card company. Do you remember receiving your first card after you reached the majors?
JB: Surely you jest. Of course I do, my goodness gracious. That's what made you a major leaguer. So I loved it. I thought it was the greatest thing ever. Now I say "Look at me." You could carry 'em around, "Here, have my card."
BL: Were there other cards that you remember from your boyhood besides that elusive Mickey Mantle card?
JB: Rocky Colavito. I don't know what it was, but that name, just sort of like Rocky. And he looked like a Rocky, and he was kind of like — you have some really cool cards, and I was a fan of all the players and everything else, but we only got the paper once a week in my town. So it wasn't like they had the box scores and you knew everything was going on.
But, you know, the Game of the Week, when my dad and I would go down and get a half gallon of Neapolitan ice cream, and we'd watch the Game of the Week. And of course the Yankees were on their most of the time. Tony Cuccinello! I mean here was Dizzy [Dean] throwing out the name doing all the stuff. And here I am 19-years-old, and I'm in Connie Mack Stadium and there's Johnny Callison and Richie Allen. And you go to the All Star game and here's Willie Mays, and here's Hank Aaron, and you're catching behind him, so yeah I was a lucky man.

BL: In the 1970s the Reds went to the World Series four times, winning twice, and went to another two National League Championship Series. Your first full season with the team was 1968. How quickly did you realize you were part of an extraordinary team?
JB: Well, in 1970 we started off the year 70-30. In our era, I'm playing with Tony Perez in '68, Pete Rose, Tommy Helms, Vada Pinson. And we were close. We were really close. It just seemed like we needed one more thing to make it happen. In 1970 we started off with Lee May hitting and we were just dominating.
We had teams say, "Why don't we just give it to them now?" And then we were 32-30, and yet here we were 32-30 to end the year and we won 102 games. I mean, it was just phenomenal. And then when we failed a little bit in '71 the trade was made for Joe Morgan for Cesar Geronimo for Jack Billingham. Dennis Mickey came over and Ed Armbrister. And that's when we really got it. We had a swagger. That's when Joe had a chip on his shoulder and Pete Rose was Pete Rose. And we had a Gold Glove center fielder and Gold Glove shortstop in David Concepcion. We had Ken Griffey. I mean we had other teams come out to watch us take batting practice. They'd watch us take batting practice. It was that kind of ball club.
BL: St. Louis Cardinals legend Lou Brock, one of the games greatest base stealers, spoke to you after you had thrown him out early in your career — threw him out at second base by a pretty significant margin. Tell us a little bit about what happened next.
JB: Well, we had a pitcher named Jack Fisher, and Lou had stolen 33 bases in a row I think it was. And he took off against Jack, and Jack looked slow, but he wasn't. I threw it to second and Lou, he hadn't started his slide. He stopped and looked back at me, just looked back at me like, "What the hell was that?" And so after the game I'm sitting in my locker and I look up and it's Lou. He looked down and said, "Next time, kid, make it look close." And it was the most amazing thing to me. I'm a young kid.
He told me later on at the Hall of Fame when we were sitting around, he says, "You know you threw me out three times in one game." I said, "Did I really?" He said, '"You know what I told you when I came up the fourth time?" "Knowing you Lou, you said 'If I get him I'm going again.'" And he did. That's what it was.
BL: You started playing pro golf in the 1990s on the Senior PGA Tour and Champions Tour. What was it like trying to compete at the elite level at a second sport?
JB: It was fun. They accepted me. I wasn't going to beat them. They already knew that. These guys were so good. But it was really cool. It was a fun thing. I brought people in to the tournaments. One time Chi Chi [Rodriguez] and I had everyone on the golf course following us. And I played with Arnold Palmer 'cause we usually by that time had the worst scores, and so we played together probably 10 times. And I played with Jack Nicklaus in Park City and it was fun.
BL: What catchers do you enjoy watching particularly today?
JB: Buster Posey. This kid Salvador Perez from Kansas City is a stud. You got Yadier [Molina]. You got Mike Zunino up in Seattle. Believe me there's some great catchers out there and until they start leading the league in RBIs or home runs, you're not going to hear a lot about them. There's only 13 catchers in the Hall of Fame I think and that's one a decade. So they don't come along that often.
This segment aired on April 19, 2014.