At NFL Draft, Johnny Manziel Slides To 22
04:04
Play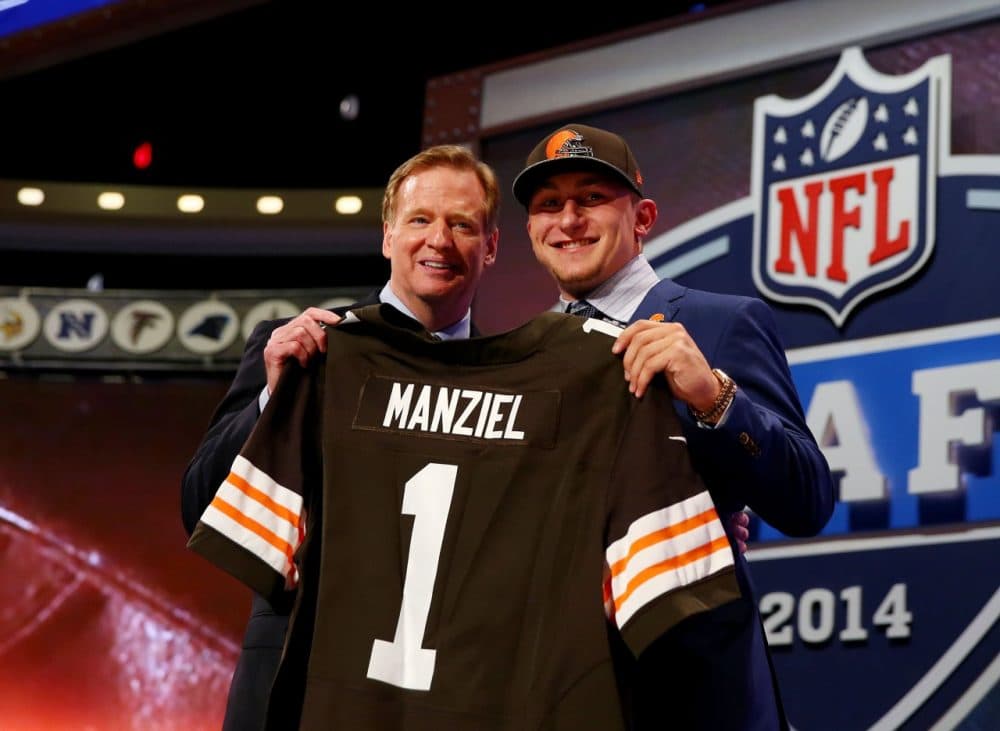 This article is more than 7 years old.
Speculation had swirled for months about where Texas A&M quarterback Johnny Manziel would be selected in the 2014 NFL Draft. And for what must have seemed an interminable stretch for the young man who calls himself "Johnny Football," that speculation continued for a couple hours after the first round began on Thursday night. He was expected to go in the top 5, but he was selected at 22 by the Cleveland Browns. CBS Sports national columnist Gregg Doyel joined Bill Littlefield to discuss Manziel's new home.
BL: How's Johnny Manziel doing and is Cleveland a good home for him?
[sidebar title="More On Manziel" align="right"] Earlier this year, Bill spoke with Wright Thompson, who profiled Manziel.[/sidebar]GD: Well I don't think Cleveland's a good home for anyone in football. I'm not sure they have a good football franchise at all. You know they will give him a lot of chances to play, and that is what he needs. The problem is as a quarterback you're really only as good as the people around you. And they don't have anybody around him. I wish he'd gone somewhere else, and I live in Ohio. I get to see him now. That's fun for me, but I think he should have gone to the Texans [No.] 1 overall.
BL: How long will it take Johnny Manziel to establish himself as a successful NFL quarterback? In other words, how long before we know whether this pick was a good pick?
GD: I think we'll know within the first six or eight games. I mean because he's got all the skill in the world. The question is does his size, does his style translate to the NFL. The question is not can he get better, can his throws be better, can he be more athletic. Either his incredible athleticism and enthusiasm and guts — that will work in the NFL or that will get his block knocked off. We'll find out pretty quick.
BL: Houston, which some had thought would take Johnny Manziel with their No. 1 pick, instead went with South Carolina defensive lineman Jadeveon Clowney. Good choice for the Texans and how soon do we know about that?
GD: You know if he does one of those lightning bolt games — I mean he's a guy who could get four sacks his first game — we could know right off the bat this is going to work out. But that's a scary pick. He had the worst season of anybody in the first round. Three sacks in 12 [to] 13 games for this freak athlete. That is the worst production of anyone in the draft. Therefore I don't like it.
[sidebar title="Jacksonville's NFL Woes" align="right"] Earlier this year, Bill spoke with George Diaz about the Florida's football failures and the Jaguars' struggle to succeed.[/sidebar]BL: Why did so many teams pass on Johnny Manziel?
GD: Cause NFL teams are stupid. Look at Jacksonville. I mean there is a reason Jacksonville is Jacksonville. You know the Jaguars are the Jaguars because they needed a quarterback and they picked Blake Bortles. You don't know who Blake Bortles is. I don't know who he is. Allegedly he played at Central Florida this year. I'm not sure about that. I never saw him. You know it's like Jacksonville couldn't get Tebow so they got the next best thing five years later. I don't know what they're doing. I don't know what the Texans are doing either because they've got a great defensive end already: J.J. Watt. Clowney's great, true, but Manziel's magical. And he's magical right up the road. I just don't know what they're doing.
BL: What other first round picks are worthy of our attention?
GD: Anthony Barr at No. 9 for the Vikings. I think he might end up being the best player in this draft. He went under the radar. There were a lot of defensive players at his position — [they] got a lot more attention. But I think he might be the best guy in here.
BL: This year, the draft changed to a Thursday/Friday/Saturday format. NFL Commissioner Roger Goodell recently said that next year's draft might be extended into Sunday. I'm sorry, I can't say that without smiling. Is there no limit to the entertainment potential of a bunch of NFL executives sitting around selecting players out of college?
GD: You know what, what Goodell's missing on, I think, is we care about the first round the first day, and I guess we'll care about the second day a little bit. The third day we're not interested. A fourth day, are you kidding me? I don't know what the ratings will be, but if you're watching the fourth day of the NFL Draft, you need a life. And I know they're are a lot of people that'll watch it. There are a lot of people in this country that need lives and a lot of them are running the Jacksonville Jaguars, but I won't be watching that thing.
This segment aired on May 10, 2014.