The NBA's New MVP: Kevin Durant
04:08
Play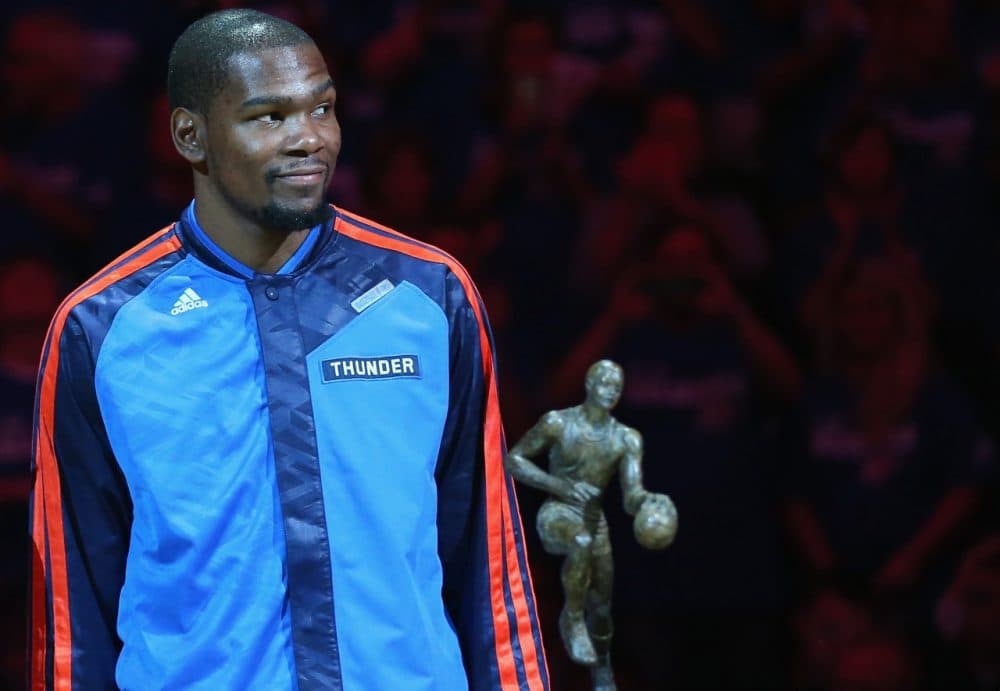 This article is more than 7 years old.
In the second round of the NBA playoffs, the Oklahoma City Thunder and Los Angeles Clippers are battling to advance to the Western Conference Finals. On Tuesday, Oklahoma City forward Kevin Durant was named league MVP. Columnist Berry Tramel of The Oklahoman joined Bill Littlefield to discuss Durant's season.
---
BL: Last week a certain unnamed Oklahoma newspaper dubbed Kevin Durant "Mr. Unreliable" despite a mind-boggling stretch this season wherein Durant scored 25 or more points for 41 straight games. So is he valuable and unreliable, or valuable and entirely reliable?
BT: Oh, he's completely reliable. It was a bad headline. Kevin Durant didn't play well early during the Memphis series, but in the Durant way he reared up and answered that with two great performances to lift the Thunder from the brink of defeat and to win two games and to get the Thunder into the Western semifinals. So Oklahoma City is lucky to have him.
BL: You were at this week's press conference in which Durant said that his mom is the real Most Valuable Player and that all he had really hoped for when he was younger was that he could be a rec league coach. Is he really that humble?
BT: In terms of superstars in the American culture today it would be hard to find somebody who displays humility any better or any more than Kevin Durant does. And this is a guy who includes his teammates at every turn, including in the ceremony Tuesday when he named each one by name. He talked about the attributes that inspire him. He's [a] very giving guy. You know, when the tornadoes hit Oklahoma last May he was on the ground going through some of the rubble with survivors — turned up, donated $1 million to the relief effort. Just a solid citizen and just a perfect franchise-type player.
BL: Of course I probably should mention that in an interview Durant acknowledged that he was the second best player on his high school team, the second pick in the NBA draft, and finished second in the MVP voting three times. So he was probably pretty happy to be the MVP. 
BT: He's not a guy without ego — humility and ego are not mutually exclusive, I don't think. And Kevin Durant is a very driven player. He wants to reach the summit. He wants to reach the peak. He wants to be the best player in the world.
BL: Miami Heat forward LeBron James had won the MVP four out of the previous five years. James said before this year's MVP was named that Durant was the guy who deserved to win it, and I guess he knows of which he speaks. I wonder if that influenced the voters at all.
BT: I don't think so. The people who were LeBron loyalists, they probably thought "If LeBron says it's OK, I'm gonna feel better doing this." The season that Durant had was really unassailable. I mean he was scoring 40 points on 50 percent shooting virtually every night for a stretch there. It was just an unbelievable string of basketball performance. So I don't think it was much of a debate this year for the MVP race.
BL: If the Thunder fail to make it to the NBA Finals this year, does that take any of the luster off of Durant's individual achievement?
BT: Yes. For better or worse, NBA superstars are defined by team success. LeBron was a fabulous player before he won that 2012 title with the Miami Heat — of course he's won another one since. But I don't know if LeBron's any [of a] better player now than in May of 2012. But when you win that title you sort of get validated. Durant needs playoff success which he's had a ton of, but he needs more, and he eventually needs that championship trophy whether it comes this season or next or whenever. He definitely will be judged by how he does in the postseason.
This segment aired on May 10, 2014.