Southern California's Growing Hockey Rivalry
04:18
Play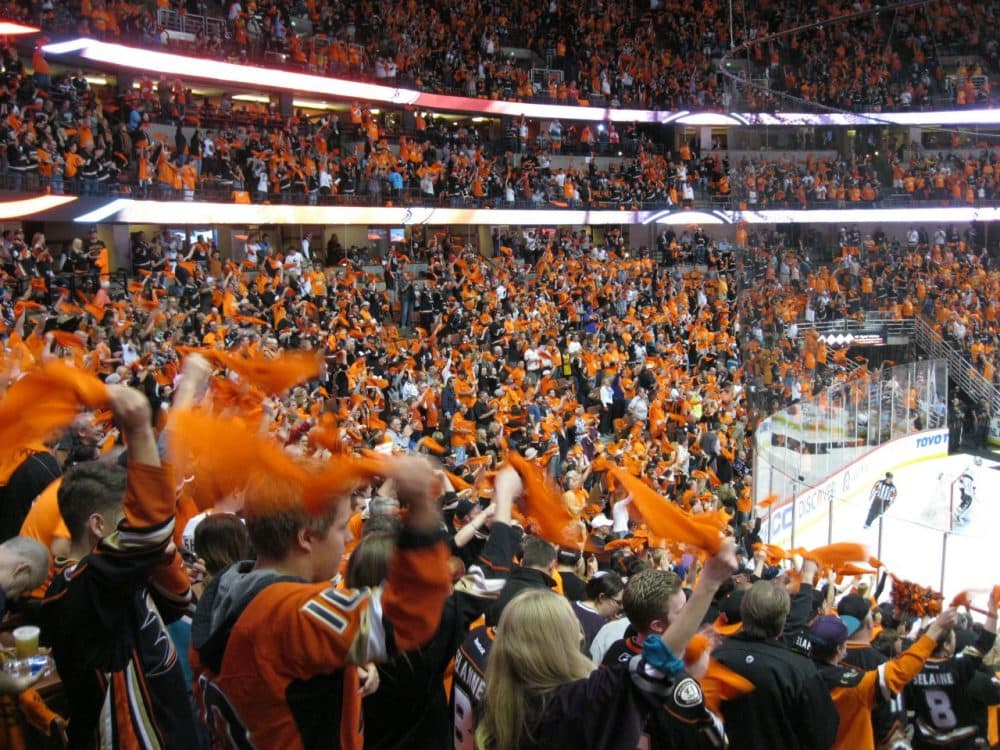 This article is more than 7 years old.
This is Anaheim Ducks' territory, but with the stadium concourse peppered with both orange Ducks jerseys and black Kings jerseys, it's hard to tell.
The jabbing goes back and forth, like a puck bouncing off the boards at a hockey rink.
"Bottom line is, either you're a Ducks fan or you're a Kings fan and you hate the Ducks or you hate the Kings," said Ralph Leiker, who, for the record, hates the Kings. "That's just how it is."
"You've got to understand, the Ducks were the first ones to win the Stanley Cup," Leiker continued. "They've been a predominant force in, in the NHL for at least the past five, six, seven years, and they've really embraced the area real well in Southern California and brought hockey more into the forefront in SoCal more than Los Angeles has."
Until LA won its own Cup two years ago, that Ducks championship win was tough to take for LA fans.
Kings fans — like Bob Weinberg, who lives smack in the middle of Ducks territory — poke fun at Anaheim fans for rooting for a team that was named after a Disney movie.
"Yeah, you have a lot of soccer moms here wearing Ducks gear," Weinberg said. "What do you think they're going to throw at us?"
But Weinberg said despite the friendly ribbing, he doesn't think the Kings and Ducks have a true rivalry yet. He points out that without LA and the Kings' former owner, the Ducks wouldn't even be here.
"One thing that the Ducks fans don't understand is that back in 1993 when they were born, the owner Bruce McNall actually had the territorial rights to Southern California, and he gave up those rights for $25 million," Weinberg explained. "So the Ducks actually owe their entire life to the Kings."
While many fans say they won't root for their crosstown rivals further into the playoffs, many others here say they'll cheer for the California team, even if it's not their own. Kings fan Jeff Trenton of LA said it's great just to see competitive hockey. But he said Anaheim fans are too nice.
"It doesn't feel like a hockey rink," Trenton said. "I mean, when they have a bass violin come out for the intro, it's like, 'OK, when is the wine and cheese going to be served?' It's a very pleasant, fan-oriented experience, but it doesn't feel like a hockey game. It feels like, I don't know, an opera."
Trenton said the rivalry's still building.
"It's not really a rivalry yet," he said. "It really isn't. I mean, these guys hang out in the offseason in Manhattan Beach. They live in the same neighborhoods. They all know each other. So it's really not yet a rivalry. But a series like this can create a rivalry, and it's just great to see both clubs at a competitive level."
Anaheim fan Susan Miller was decked out in her Ducks gear.
"Ducked out is what I call it!" she said.
Miller's neck was weighed down by bead necklaces with Ducks logos.
"And these are flashers," Miller said. "My ducks flash."
She's talking about mini rubber duckies that form another necklace. Miller — known to fans as the "Duck Lady" — has been a Ducks fan since they were ducklings. She said the rivalry is a friendly one.
"It's fun jabbing, and, you know, the Ducks, they want to hunt Ducks and make meals out of us and so on," Miller said. "And there's nothing we can do with the Kings, really. What are we going to do with them, you know? Dethrone 'em.  That's all I can come up with. But most of the time we don't have problems. It's just really intense."
Long-time Ducks fan Kevin Mattson calls it a "cordial rivalry."
"Boston-Montreal, obviously no," Mattson said. "Pittsburgh-Philadelphia, obviously no. But I think it's there in spirit, and it's going to build up to that point. And it is the playoff series that will do it, right?"
Mattson said he can see the rivalry on his own inline hockey team.
"And half my team is Kings fans and half my team is Ducks fans," Mattson said. "And you know, we were all texting each other, like doing watch parties. Oh, what are we going to do? And then we realized, we might not all be friends after this series!"
But Mattson said Kings fans aren't the worst.
"I have a joke," Mattson said. "I say, what's worse than a Kings fan? A Sharks fan. Ohhhhh!"
And that's something Kings and Ducks fans can all agree on.
This segment aired on May 10, 2014.