For Women's Hockey, Progress With Room To Grow
04:20
Play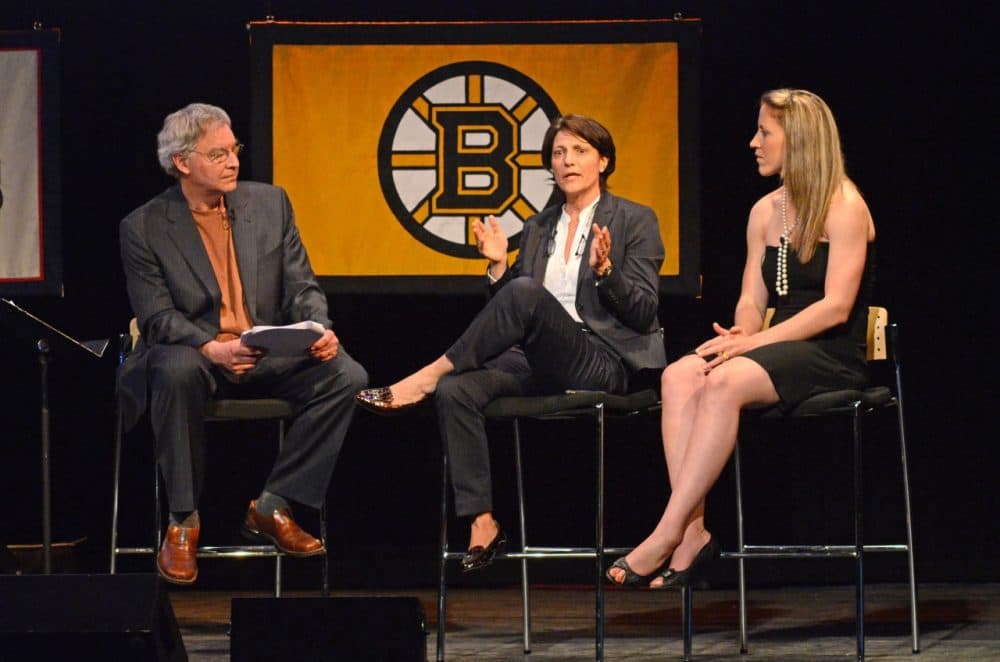 This article is more than 7 years old.
One of the things that has made Only A Game unique during it's 20-year run is our coverage of women's sports. And one of the female sports that has changed dramatically in our time on the air is ice hockey. For the OAG 20th Anniversary Live Show, we invited two prominent women in the game today to join Bill Littlefield on stage at the Somerville Theatre in Somerville, Mass.
While at Brown University, Digit Murphy became the most successful women's coach in the country and helped develop players for the U.S. national team that won world championships and Olympic gold. She's now the head coach of the Boston Blades of the Canadian Women's Hockey League.
Meghan Duggan is captain of the U.S. national team. She is also a forward for the Boston Blades. Duggan helped bring home two gold medals and one silver at the World Championships, as well as a silver from the 2010 Winter Olympics and another in 2014.
Highlights From Our Interview With Digit Murphy And Meghan Duggan
BL: Digit, you played your college hockey at Cornell. You coached some spectacularly successful teams at Brown. You've worked with the National Team in various capacities. Now you head the Boston Blades. Tell us a little about how the women's game has grown over the past couple of decades.
DM:  The biggest thing that's changed is the resources, the amount of resources that have been actually given to the women athletes. I remember back in the Cornell days we traveled in like vans if we were lucky. We had a part-time coach who actually was a painter on the side, so when we got into his van, literally, we had paint in the van.
But, you know, as the game evolved, many more resources, the skill is phenomenal. I would have given my right arm to play on an Olympic team [women's hockey made its Olympic debut in 1998 when Murphy was already coaching] and to get what these [current players] get.
BL: The world championship of women's hockey is always decided by the U.S. and Canada. They are two excellent teams, but it is a good thing that there aren't eight excellent teams?
MD: There have been a lot of teams making a great punch in the last little bit. I know Finland's given us a hard time. And even Switzerland capturing a bronze, Russia capturing a bronze recently. I think they're all on the ups. I think those countries will continue to grow and get better.
BL: Soon?
DM:  Yeah, I think it's going to be soon. I also think that people forget how long it took the U.S. men to get to where they are. It took 100 years. There were the Russians that were No. 1, the Canadians were No. 1, so it's gonna take a little while. But I will say that I think women's sports is a little more cooperative and we need each other to grow the game. I think that at the end of the day, the [U.S. - Canada] rivalry's great, but it's still something that we need to continue to work at together as athletes, as women athletes.
This segment aired on May 17, 2014.