Patriots Owner Robert Kraft On Belichick, Politics And Football Safety
07:38
Play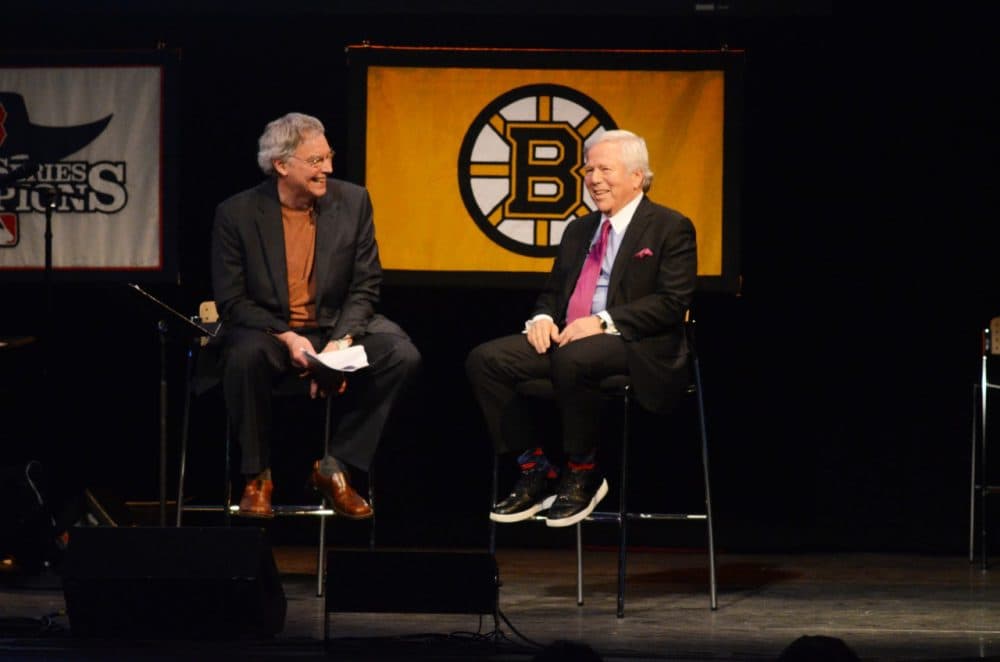 This article is more than 7 years old.
Rumor has it when Robert Kraft asks Bill Belichick a question, he gets an answer other than "It is what it is." If that is true then this alone lifts Robert Kraft above the plane of mere mortals. Kraft has distinguished himself not only as the owner of the New England Patriots, a spectacularly successful football team that wins the Super Bowl from time to time, and as one of the league's more influential characters, but also as a generous supporter of a score of worthy causes.
Kraft joined Bill Littlefield for Only A Game's 20th Anniversary Live Show.
Robert Kraft: I just want to say up front, I'm really here out of respect to my sweetheart, [who] loved this guy and this show. [Kraft's wife of 48 years, Myra, died in 2011.]
Bill Littlefield: I guess the first thing I have to ask you since it got a much larger response [from the audience] than I had anticipated when I mentioned it: Is it true that when you and Bill Belichick have a private conversation, he answers your questions with something other than "It is what it is?"
RK: I don't know. [crowd laughs]
[sidebar title="Football In America" width="330" align="right"]At Only A Game's 20th Anniversary Live Show, sports journalists Bob Ryan, Andrea Kremer and Will Leitch discussed football, the concussion crisis and the evolution of sports over the past 20 years.[/sidebar]No, you know, actually Bill is quite engaging and, as everyone knows, quite intelligent, and he plays it close to the vest 'cause there's a lot of friendly folks out in the media that would like to take a little — present company excluded — who want to take a little morsel of information and then blow it up pretty good. We actually have an excellent working relationship, and he's actually a pretty funny guy when you get him in the right setting.
BL: My experience is that owners who employ head coaches who win the Super Bowl generally have pretty good relationships with those head coaches.
RK: Well, that isn't always so. Especially when you go to the Super Bowl. What we try to do at the Kraft group is hire key people who check their egos in at the door and truly put team first. And we need more of that in Washington today, to be very frank: people who want to come together for the team. This is the greatest country in the world, and we have to do a better job coming together in Washington to create jobs for working class families who just want an opportunity. And this pettiness that goes on – it's just — it's inexcusable.
BL: I didn't see that coming, but I'm glad it did.
RK: It's only a game.
BL: Yeah, absolutely. You know we have something else in common besides sitting here together on this stage. Your tenure as an NFL owner coincides with my tenure as the host of Only A Game. So congratulations on your 20th anniversary.
RK: Well, thank you ... [Bill Littlefield] doesn't know, but he inspired and motivated me to buy the team. Once he was doing this [show], I wanted to follow in his footsteps. I knew that Belichick would be very comfortable answering your questions.
BL: Of course, it would be an understatement to say that the league has grown over the last two decades, but what's the biggest change that you've seen over those two decades?
[sidebar title="Football Safety Summit" width="330" align="right"]In 2013, NFL Commissioner Roger Goodell and Ohio State Head Coach Urban Meyer hosted a clinic in Columbus, Ohio for football moms.[/sidebar]Reporter Mike Foley has our story.RK: You know, I think what's happened in America, but pretty much the Western world, is people are wedded to their smartphones and their iPads, and they're texting and they're not connecting with one another. When 70,000 people come to our stadium on a Sunday, they're all about the team on the field, and I think everybody has a sense of community in supporting these teams.
You know, it was amazing to me: this past weekend we had the [NFL] draft, and almost 50 million people watched the draft, double the ratings of the NBA [playoffs], triple of the hockey, and this is a draft, that's passive. And it's just because people are into – they play fantasy football with their kids, and they're just into what we try to create and integrate into community.
BL: The Patriots, obviously, have been terrifically successful on the field. They've certainly been a successful investment as well. The NFL runs the nation's most popular sports-related business, but the participation of youngsters in organized football — Pop Warner, that level — has declined dramatically over the past several years. Does that concern you?
RK: Yes. I think we've done a very poor job in educating mothers — young mothers — how really safe the game is. I played. My sons played. I have three grandsons who play now. And the health and safety, whether it's equipment or the medical care, is way better than what has been put out there. And one of the things my sweetheart – she loved Sundays in the Kraft house because I used to take my four sons down to the old Foxboro Stadium, and she would do, she'd have peace and quiet, she'd do the Sunday [New York] Times crossword puzzle, in ink, and go to the chick flicks and just had a quiet, quiet time – until we bought the team and we paid so much.
She got scared. It's the only time in our marriage she got scared with what I did. She said, "Is the summer house in my name?" But more importantly, she figured "I better figure out what's going on," and she saw how intelligent you have to be, how much work, the strategy, and building s sense of team and camaraderie. And you've got to learn to get along with people from different backgrounds, which are just great life lessons. So we have to get the message out better on what you raised.
This segment aired on May 17, 2014.